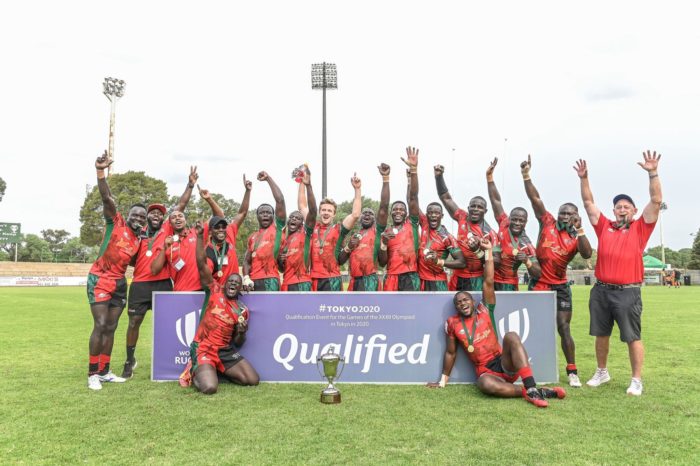 The Kenya sevens, popularly known as Shujaa,  team was in imperious form at the 2020 Olympic qualifiers that were held at the Bosman Stadium in Brakpan South Africa. They easily dispatched all opposition, scoring 214 points while conceding only 28 points. Which means Kenya were solid both on offense and defence.
Its easy to dismiss the results by stating that the opposition was not strong. But remember that some of these are teams that Kenya has struggled against. In fact at the last Olympic qualifiers, Kenya almost came unstuck against Zimbabwe. The final hooter had gone with Kenya trailing Zimbabwe 17-12. It took a heroic last gasp try by Dennis Ombachi to secure Kenya's place at the 2016 Rio Olympics. And it is not too long ago that Uganda would beat Kenya in 7s rugby then their media would brag about it endlessly. Further evidence of Kenya's improvement lies in the fact that whereas Kenya beat Senegal 26-0 in the last qualifier, this time they demolished the Senegalese 50-0.
This goes to show that with the right set up in place, the right technical staff, the right backroom staff and good selection, Kenya's potential is through the roof. Credit is therefore due to the new KRFU regime led by Oduor Gangla, the coaching staff  led by Paul Feeney and the players. May they continue down this path.
This bodes well for Kenya's campaign not just in the upcoming World sevens series, but also in other campaigns such as the Olympics and the Sevens world cup. Kenya's performance in these tournaments has been abysmal.
Results
Group Stage:
Kenya 36 Ivory Coast 7
Kenya 50 Senegal 0
Kenya 33 Namibia 0
Kenya 24 Uganda 7
Semi Final: Kenya 40 Madagascar 14
Final: Kenya 31 Uganda 0
Final Standings
1 Kenya
2 Uganda
3 Zimbabwe
4 Madagascar
5 Namibia
6 Zambia
7 Senegal
8 Nigeria
9 Ghana
10 Morocco
11 Tunisia
12 Côte D'Ivoire
13 Mauritius
14 Botswana
Kenya Squad
1. Andrew Amonde (C) 2. Willy Ambaka 3. Alvin Otieno 4. Bush Mwale 5. Vincent Onyala 6. Daniel Taabu 7. Johnstone Olindi 8. Oscar Dennis 9. Billy Odhiambo 10. Nelson Oyoo 11. Jeffrey Oluoch (VC) 12. Jacob Ojee (VC).
Gallery