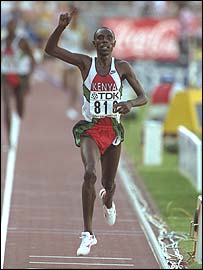 The 1995 World Championships in Athletics, were held at the Ullevi Stadium, Gothenburg, Sweden on 5–13 August 1995. 1995 also marked the first time that a Kenyan represented a different country. Wilson Kipketer, who had represented  Kenya at the youth level, switched allegiance to Denmark and won the gold medal for his adopted country in the 800m.
Kenya ended up with two gold medals. A starke contrast to 1991 when the country garnered 4 gold medals. It was the beginning of the EPO era, a period where athletes all over the world had free reign with EPO because there was no EPO test. Kenyan athletes struggled to keep up during this period.
Interestingly, both Kenya's gold medals were won by first cousins, Moses Kiptanui and Ismael Kirui.
5000m: Ismael Kirui retains his title
20 year old Ismael Kirui had a tall order as he attempted to retain the title he had won two years earlier. He had to contend with a strong trio of Moroccans including Khalid Boulami as well as veterans Fita Bayisa of Ethiopia and Dieter Baumann of Germany, all who had won world titles.
Whereas Kirui had won in 1993 by setting up an massive lead, this time he stayed with the pack and made his move with 250 metres to go and won in convincing fashion. Shem Kororia finished in 3rd place.
That was the last time Kirui won a title though he was only 20 years old. He never won any titles after that. His last performance was 3rd place at the 1996 world cross country title. An achilles tendon injury doomed his career. This was the era when many Kenyan runners literally ran themselves into the ground by participating in too many races.
Race Video
3000m steeplechase: Dominant display by Kiptanui
Moses Kiptanui won the event for the 3rd successive time. This time he did in dominant fashion. He and Christopher Kosgei were significantly ahead of the rest of the field with a lap to go. Kiptanui then switched to high gear and ran a blazing last lap to win in a championship record of 8:04.16. Kosgei was second. The third Kenyan Mathew Birir, who was the defending Olympic champion, started hobbling with 500m to go,  fell down twice in the last lap and ended up in 9th place.
Race Video
Other medalists
Shem Kororia finished in 3rd place in the 5000m behind Kirui and Boulami. Paul Tergat finished 3rd in the 10,000m