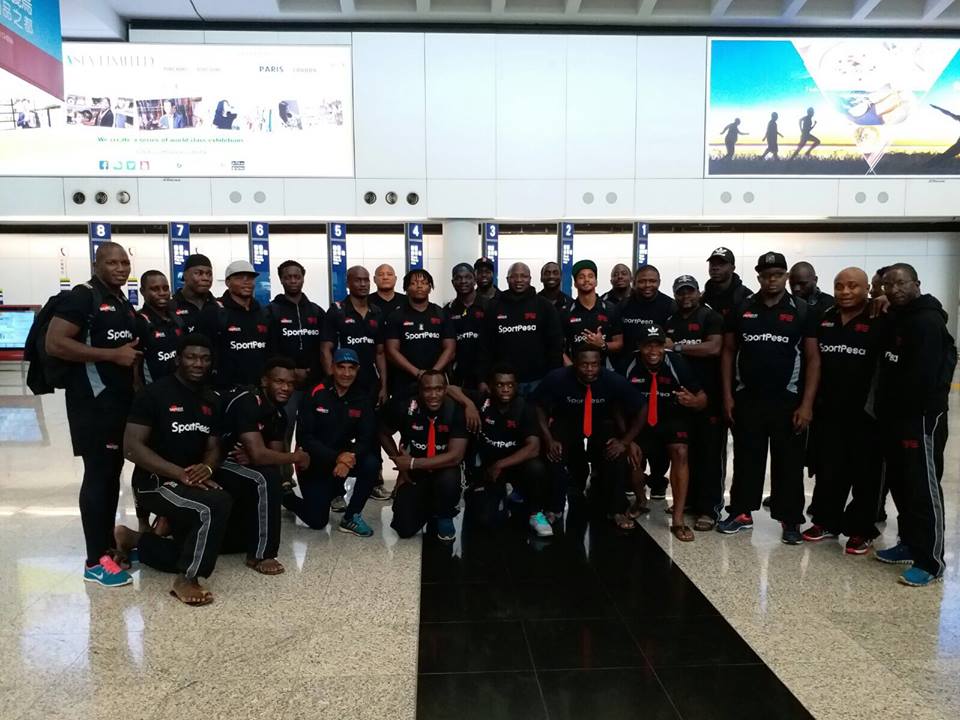 South American side Chile, gave Kenya a dose of reality and brought home the fact that Kenya still has a long way to go if it is to make any kind of significant impact in world rugby. Chile were clearly the better side and the match exposed some significant gaps in Kenya's game some of which can be fixed in the short term, but some of which require a long term plan.
Poor Ball Handling
Kenya missed scoring opportunities due to dropped balls. In some cases, set pieces were ruined due to very basic handling errors at the base of the scrum. Phases ended due to dropped balls.
Good ball handling is something that needs to be developed during a player's formative years through constant ball handling drills. As such poor / unstructured coaching at secondary school level is the main culprit. The KRFU has basically outsourced player development to the schools yet most schools don't even have qualified coaches. This is an issue that must be fixed long term with KRFU working closely with the schools.
A small percentage of the ball handling errors were a result of lack of focus. This is something coach Jerome Paarwater can fix.
Kenya is too predictable: Lack of Variety in moves
All Kenya's backline moves involve swinging the ball wide down the backline. There are no sudden changes of direction to confuse defences, no decoy runs, no zig zag runs. As such Chile found it very easy to defend against Kenya.
Kenya's inability to perform innovative backline moves is once again due to poor ball handling. You cannot run these complex backline moves if players cannot handle passes. As such coacj Jerome Paarwaters options are limited.
Kenya's pack moves are also very predictable and basically involve trying to gain hard yards by running through tackles using brute force. Again there is no variety.
When Kenya beat Zimbabwe earlier this year, it was because Zim had no answer for Kenya's power. The likes of Kopo simply sliced through the Zim defence using power. However against the likes of Chile and Namibia, Kenya runs into brick walls and some guile is needed.
Note: This inability to create variety in backline moves is also an achiles heel for Kenya in sevens. Indeed Chile has beaten in Kenya at sevens on a couple of occasions and almost beat Kenya in Lav vegas in 2017 despite Kenya having faster/ bigger players.
Poor Scrummaging
The Kenyan pack was bigger than the Chilean pack. The front row of Karia, Amusala and Lilako were clearly bigger than their Chilean counterparts as were the backrow trio of Kopondo, Chisanga and Mangeni. Yet the Kenyan pack was overwhelmed by Chile in scrumdowns and constantly put under pressure.
Why would a smaller Chile pack overwhelm Kenya. One culprit might be poor scrummaging technique. Proper technique is supposed to be taught at secondary school level. In other nations, each school likely has a scrumming machine, which is a critical component in teaching proper technique.
Tackling: A strength for Kenya
Having watched Kenya rugby for decades now, one aspect of Kenya rugby that has drastically improved is defence. Kenya's tackling was on point and there were numerous try saving tackles. Chile had a lot of possession and would have scored several tries had it not been for timely tackles by Kenya. This is a stark contrast to what pertained in the Kenya national team as recently as 10 years ago when tackling was abysmal.
Match report
Courtesy of the Daily Nation
Kenya Simbas launched their Hong Kong Cup of Nations campaign on a wrong footing when they were crushed 23-3 by Chile at the Kings Park grounds, Hong Kong on Friday.
Simbas failed to score a single try in a woeful display that was characterised by poor ball handling from Jerome Paarwater's boys while the Chileans exhibited powerful runs for the touch downs.
The Simbas' hunt had a turbulent start when Nato Simiyu and Davis Chenge were sin-binned, forcing Biko Adema and Eric Kerre to cover up for them.
Chile could only manage a penalty through Tomas Ianiszewski as Kenya put up some good defence and upon the return of Nato and Chenge, Simbas upped their game with Darwin Mukidza curling over a penalty to draw level 3-3.
The Chileans easily won turnovers after capitalising on Simbas' poor ball handling in the ruck to go 6-3 up at the break from another penalty.
Chile were in a class of their own in the second half, pinning the Kenyans in their own half but failed to stretch their lead after getting a penalty that Ianiszewski blasted low.
The unrelenting Chileans finally got their first try through Ianiszewski, who went on to convert to stretch their lead to 13-3.
Ianiszewski then converted Benjamin Soto's try after a superb flow from the Chileans to go up 20-3.
Ianiszewski added another penalty to see Chile go 23-3 to leave the hapless Simbas stunned.
Russia scored a last-gasp penalty to tame Hong Kong 16-13 in the second match of the tournament.
The championships resume on Tuesday next week where Kenya take on Russia with Hong Kong playing Chile.
It will draw to a close on November 18 where Kenya will play Hong Kong with the Russian testing the Chileans.
The Simbas are using the championship to prepare for next year's 2019 Rugby World Cup qualifiers.