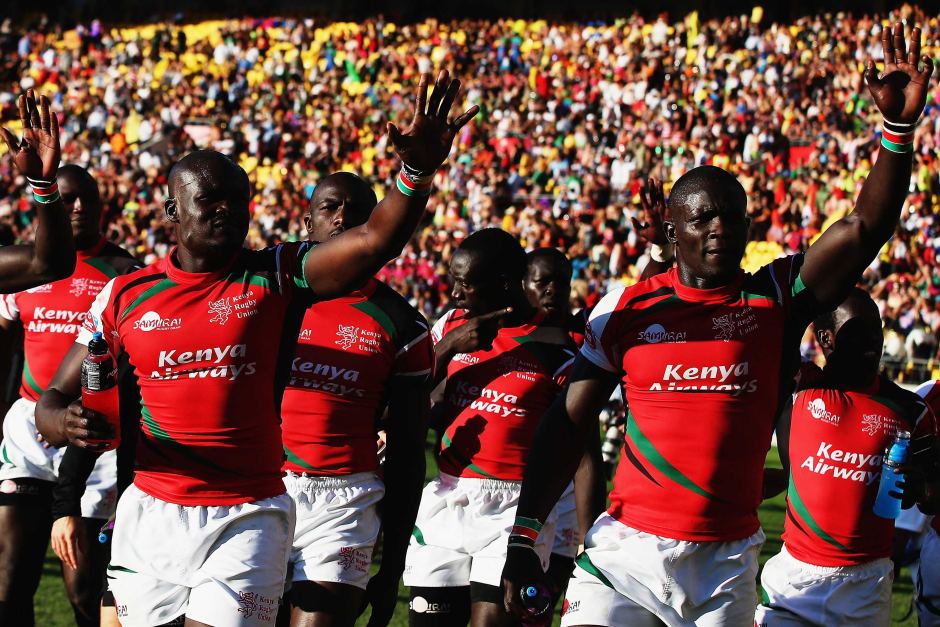 To say the Kenya rugby sevens team has come of age would be an understatement. A more accurate statement would be "Kenya has taken the world of sevens rugby by storm".
Kenya reached the finals of the New Zealand sevens in grand style. On their way their , they outgunned heavyweights like Argentina, France, South Africa and New Zealand, all teams that are in the top 8 in the standings.
This was not the first time that Kenya reached the final of an IRB sevens tournament. It happened in 2009 when that stellar team with Kayange, Injera, Oduor, Asego and others reached the final of the Adelaide sevens. It was a good team to be fair but back then, reaching the final was considered a lucky event for Kenya, something that was bound to happen once in a while but with no consistency.
Self Belief
Things are different in 2013. This Kenya team has self belief and mental strength such that they go into every game believing they can win. The fans have come to expect a win against any team.
Consistency
In the past Kenya would beat a team like England in one game then proceed to loose to minnows South Korea in the next team. This Kenyan team has no such inconsistency. The big teams are routinely beaten while the minnows are absolutely put to the sword.
In the past, Kenya would beat a team like Argentina once then lose to Argentina the next four times they met. This Kenya team has consistently beaten the top guns including several successive wins over giants Argentina. This is a team that 5 years ago would routinely beat Kenya with scored like 33-5.
Never Count Kenya out
Team Kenya has mastered the art of the comeback. In the quarter-final match against hosts New Zealand, it looked like the All Blacks had left them for dead with the score at 14-0. However Kenya came back storming with three tries to win 19-14. The home crowd was shocked. Just look at the expression on the young mans face below as Kenya celebrate.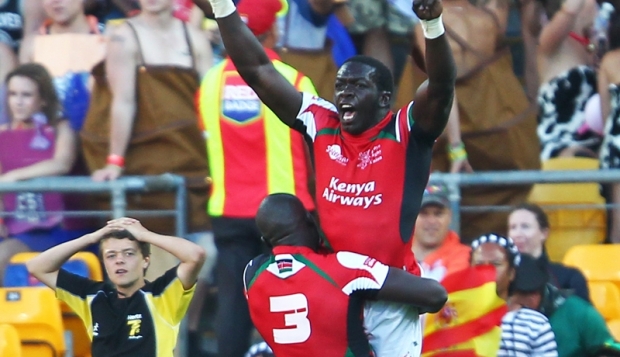 A similar scenario had played itself out in the opening round when the Blitz Bokke of South Africa led Kenya 15-7. Kenya stormed back with two late tries to win 21-20.
In the final Kenya came back storming after being down 12-0 to England before loosing in heart breaking extra time loss.
Achieving the Unthinkable
Beating the All Blacks is quite an achievement. But beating them in front of their own home crowd is the stuff of legend. This after all is the top rugby playing nation on earth. They dominate every aspect of the game be it 15- aside, sevens , Under 19s  and Under 21s. This is a country where everyone lives and breathes rugby as soon as they can walk. And New Zealand has dominated sevens for almost a decade now. Beating them infront of their home fans is no easy task. Yet Kenya did just that.
Running through Brick walls
In Willy Ambaka, Oscar Ouma and Horace Otieno, Kenya has three players with the ability to break tackles in a manner reminiscent of a bulldozer at a construction site. Other teams have massive players as well. But hardly any have the combination of strength and speed that this Kenyan trio has. Argentina found this out when Oscar Ouma broke three Argentinian tackles to score Kenya's second try. And this was after he had received a very high pass with defenders bearing down on him, what is popularly known as a "suicide pass" in Kenya rugby circles.
Speed to burn.
As the "speedy" Argentinian winger found out if you give Ambaka a chance to run in open space, good luck catching him. Ambaka ran around the Argie winger and left him for dead as he scored Kenya's first try. And of course there is always Collins Injera.
Physicality
Kenya's physical conditioning has gone up several notches. Whereas Kenyan forwards were often muscled out of possession and territory ar breakdowns, this Kenyan team can mix it up with anyone.
Legendary New Zealand coach Gordon Tietjens once remarked that the way to beat Kenya is to attack them physically at breakdowns as this was their weakness. Today's Kenyan forwards led by skipper Andrew Amonde are quite capable of competing with any side in terms of physicality, thanks in large part to the training regimen of Chris Brown. Yours truly has been following the Kenya sevens team since the 1990s. This is one area I never thought Kenya would improve after all physical rugby Pacific Island style is not something you often see in Kenya school rugby.
Tactical Maturity
Thanks to the astute coaching Mike Brown, gone are the wasteful kicks of the past. Kenya are now able to make good use of the possession The predictable play of 2011 and 2012 where Kenya simply swung the ball from one end of the field to the other is gone, replaced by an array of moves that often find one of the Kenyan speedsters out in the open much to the bewilderment of opponents.
Highest ever ranking
Kenya is now ranked second in the IRB sevens series with 56 points. The best ever ranking for Kenya. In fact this may be the best ranking of any Kenyan team in any sport on a global level.