Youth programs are judged by how many of their players end up being good senior players. As such, the mark of a good youth team is when a good number of the playing unit can proceed to have succesful senior careers. In essence a good youth program is one that identifies players with potential and provides them guidance and tutelage that enables them to become successful senior players. This is contrary to the thinking of many football fans who judge a youth program by how many trophies they win. Take Ivory  Coast for example. Their youth program has produced nearly 70% of the Ivory Coast players now playing starring roles in European teams. The list includes players like Gervinho, Kolo Toure, Yaya Toure, Emmanuel Eboue, Salomon Kalou, Didier Zokora, Romaric, Aruna Dindane, Arthur Boka, Bakari Kone, Siaka Tiene and dozens of others. All have gone on to star for European teams because the youth program at Asec Mimosas prepared them adequately with a focus on producing good players and not on winning.
Such was the case in 1990 was the first time Kenya ever assembled a national Under 20 team. It was due to the efforts of Austrian coach Gerry Saurer. In fact whenever Kenya has a youth program , it is always due to the efforts of individuals, never due to the efforts of Federation officials. Saurer traversed the country searching for young players to build on. He selected players based purely on merit and potential.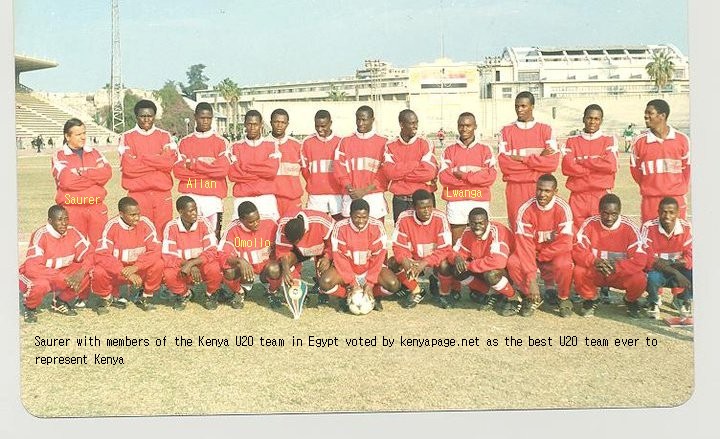 The team he assembled ended up being the best youth team Kenya has produced. Almost all of them went on to successful careers with the national team. Kenya fans first set their eyes on this team during a friendly match between the Kenya and Egyptian Under 20 teams at Nyayo stadium. Kenya beat Egypt 2-1. It was a rarity and is still a rarity for a Kenyan team to beat an Egyptian team at football.
Allan Odhiambo and Sammy Omollo went to become amongst the best Kenyan players ever at their respective positions. Omollo was a dependable central defender for Tusker and Gor Mahia throughout the 1990s. Allan Odhiambo played stopper and defensive midfielder for Gor Mahia and the national team. In 1991 he was amongst the leading scorers in the league scoring 12 goals from his defensive midfield position.
The supremely talented Peter Mwololo starred for the national team and was a star performer at the 1992 Africa Nations cup. The diminutive Mwololo was by age 19 already considered the best player in Kenya with a future that looked bright. His performance was impressive enough that he was offered tryouts by Belgian teams along with Mike Okoth. He had already signed a contract with a team in Oman where he went on to spend 5 years. While in Oman however, he never played for the national team again.
Another player who went on to star for the national team was midfielder Tony Lwanga who was a pivotal performer for AFC Leopards. Richard Madegwa also went on to star in the AFC Leopards engine room. The free scoring Tom Odhiambo also became one of the best strikers in Kenya especially in 1991 when his goal scoring spree helped Gor Mahia win the league. He later went on to play for Bandari and Tusker before pursuing a professional career in South Africa playing for Umtata Bucks and in Oman. After Oman he proceeded to the USA to play for Lindsey Wilson College where he set goal scoring records and earned interest from Major League Soccer teams.
No-nonsense Left full back Francis Oduor was another who became one of the best ever at his position. He played for the national team and for AFC Leopards where he became famous for scoring plenty of goals from his defensive position.
Other players who went on to star for the national team included Vincent Kwarula well known as an overlapping right full back for Kenya Breweries and , Iddi Abubakar the midfield maestro who starred for AFC Leopards.
Some of the players played starring roles for teams in The Kenya national league including Evans Nyariki the younger brother to Henry Nyandoro , Patrick Kisanya and Mike Obonyo
The Kenya team that qualified for the 1992 Africa Nations cup was built largely on the youth team that Saurer built. Allan Odhiambo, Peter Mwololo and Tony Lwanga were in the starting line-up. Prior to qualifying for the 1992 nations cup, Saurer had coached the national team to the finals of the CECAFA cup in 1991. On the way to the final, the Kenya team built largely from Saurer's youth team beat hosts Uganda 3-1 in the semi finals before losing to Zambia in the finals.
No Kenyan youth team has produced so many top tier players. Saurer cannot be solely credited for molding all these players. But he deserves credit for having the knack for identifying talent at the grassroots. The task of identifying talent that has the potential to succeed at senior level is a unique talent. He then encouraged them, motovated them and kept them focused. He is known to have made players work extra hard on their fitness by putting them through extremely strenous practise sessions. This is a ploy used by many European teams to build cohesiveness. The theory is that when players suffer together, it builds a sense of togetherness.
That so many of them became important players in the national team is a credit to the Austrian Gerry Saurer. Kenya rarely assembles Under youth teams. But when they do, hardly any of them proceed to success at senior level. In Saurer's case, virtually all of them did.