Robert  Wangila "Napunyi" has the distinction of being the only African ever to win an Olympic gold medal in boxing. He is also the only Kenyan to have won Olympic gold in a sport other than athletics.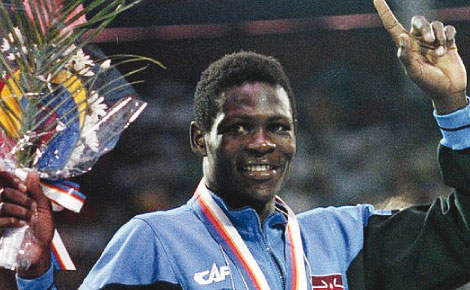 He was born in Nairobi on September 3 1967. Wangila was well known as "Roba" in the Jericho neighbourhood where he grew up. He started his boxing career with the Kenya Breweries boxing club after earning a job there as a truck driver. By 1986 he was already considered the best welterweight boxer in Kenya at age 21.His nickname "Napunyi" was inherited from another famous Kenyan boxer Modesty "Napunyi" Oduori who was Wangila's cousin.
Wangila's amateur career
Wangila was one of the youngest members of the Kenya boxing team in the mid 1980s. In the local league, he boxed for Kenya Breweries boxing club where he was employed as a driver. Kenya's boxing succss in the 1980s owes largely due to the fact that companies like Kenya Breweries eagerly employed and supported sportsmen like Wangila who then represented their teams in the league
In 1987, He won a gold medal at the 4th All Africa games with a scintillating display of power punching. At the Seoul Olympics of 1988 He became the first African ever to win an Olympic Gold medal in Boxing when He beat Frenchman Laurent Boudani in an exhilarating final. A right cross in the 3rd round sent Boudani crashing to the canvass resulting in a TKO. Had he not knocked out the Frenchman, he probably would gave "lost" on points considering how biased judges were in those days. Indeed Wangila possessed a powerful right jab and was known as one of the hardest hitters at the Olympics.As a an amateur, Wangila had an amazing record of 165 wins and only 5 losses.
Wangila's Professional career
After his Olympic success, he embarked on a professional career in the US. It was here that he was given the nickname "Kidd" by boxing promoters. His professional career, got off to a flying start with 12 consecutive wins. It is said that he had started to loose motivation , was disillusioned and at one point wanted to return to Kenya. "I wanted to quit and go back home to Kenya," Wangila said at the time. "I was looking bad and I wasn't making any progress at all." He was criticized for his lack of work ethic but truth be told Wangila was likely homesick.
It was after the loss in his 13th bout that his promising career started to spiral downwards. During this period he suffered for knockouts. As a professional, Wangila won 22 bouts and lost 5.
The death of Wangila
His life was tragically ended in the boxing ring in 1994 when he was stopped by David Gonzalez in a fight where Wangila was ironically leading. The referee had stopped the fight and awarded it to Gonzalez  much to Wangila's protests.
After the fight Wangila appeared normal and even walked to the changing room. "In the post-fight examination in the ring, he was very alert," Robert Voy, the ringside physician, said Friday. "He responded normally. There were no complaints of headaches." But 30 minutes later he started vomiting then collapsed into a coma in the dressing room.
At the hospital, doctors discovered a large blood clot on the right side of Wangila's head, according to Dr. Albert Capanna, who performed surgery Saturday morning. Napunyi was placed on a life-support system immediately after the operation. He was pronounced dead 36 hours after the match. He had been paid $2500 for the match.
Wangila's Burial Saga
When Wangila's body was returned to Kenya, a disagreement ensued between Wangila's mother who from the Gusii tribe and Wangila's luhya relatives from Busia over where Wangila should be buried. Wangila's mother claimed that Wangila was a Mogusii and that his father was a Mr. John Mabeche Ombongi and that Wangila should therefore be buried in Gusii-land under Gusii burial rights. His relatives claimed that Wangila was a luhya from Busia whose father had died in the 1970s when Wangila was young and that Wangila should therefore be buried under Luhya rights in Busia. In the end a judge ruled for neither and Wangila was buried in Nairobi under Muslim rites. It turns out Wangila had converted to Islam duringhis stay in the USA and his will stated that he wanted to be buried with full Muslim rites.
Highlights of Wangila's gold medal winning bout