Violet Awindi Baraza, is considered by many as the greatest female volleyballer Kenya has ever produced and no doubt one of the best volleyballers to come out of the continent of Africa. She was born in Sikhendu village, Bungoma district on June 21 1975. She attended Lugulu girls secondary school. Lugulu is a school that is famous for producing
volleyball players. It was here that her volleyball career took shape.
Nicknamed "Vivi" and known as "Vio" to team-mates, she started her club volleyball with KCB after high school before she moved abroad to Hitachi Sawa (Japan) in a program initiated by former national coach Sadatoshi Sugawara. She was a pillar of the Kenya volleyball team for several years, helping Kenya win the Africa volleyball championships six times. She also helped Kenya qualify for the Olympics twice (2000 and 2004) and
played in both Olympics, leading Kenya in scoring and earning recognition from foreign commentators.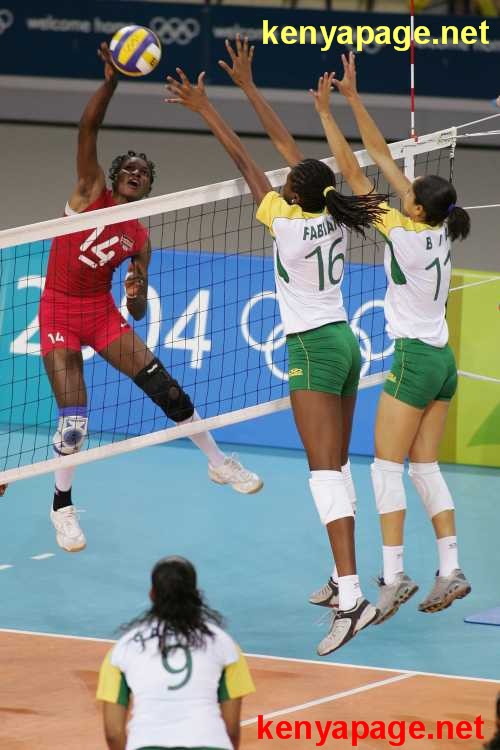 Her stint with Hitachi in Japan helped to improve her skills and she was immediately signed by Al-Ahly of Egypt with whom she won the Africa club championship title. She moved on to rivals Al-Ahly (Tunisia). After stellar play at the Olympics, she was
signed by Vileo of Romania, Unic-Romania and Panellinios (Greece) before going to her last club in Turkey. She finished her volleyball career at KCB, the club where she started.
On February 14 2007, "Vio" passed away after extended illness at a hospital in Webuye, her home area. It was only a few days after her teammates at KCB visited her at the hospital in Webuye. Speaking to the media, KVF chairman Waithaka Kioni said "Baraza was a very rare breed in terms of playing volleyball. Many are the occasions when she
could win a match for her club and the national team when all seemed lost and the technical bench along with fans had surrendered,".