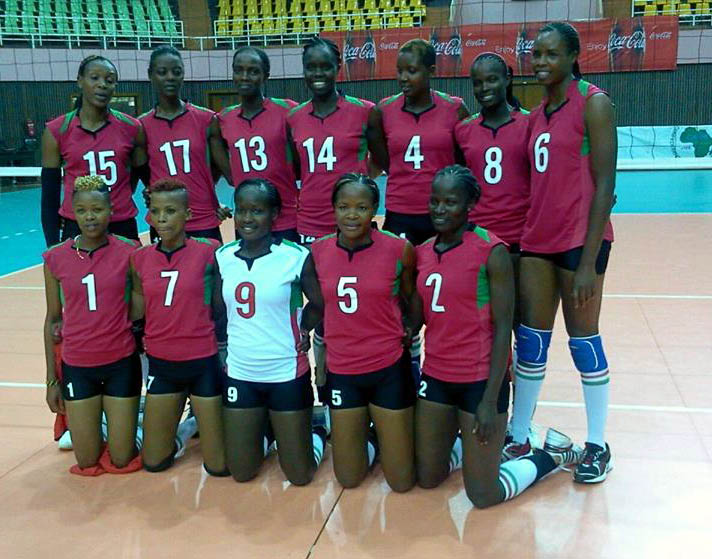 Federation of International Volleyball (FIVB) has entered Kenya's women's team in the lucrative 2014 World Grand Prix Championship. A communication from the international body yesterday indicated that Kenya and Algeria would represent Africa in the Championship next year. Algeria featured in the Championship by virtue of being top African country in FIVB ranking last season but finished the circuit winless. The Championship would feature 28 national teams split across 19 pools.
President Waithaka Kioni hailed the move by the FIVB to expand their scope and especially naming Kenya among the beneficiaries : "It is something good for this country because it will give our players a chance to play against top players in the world."
He however expressed apprehension about Kenya's ability to participate in the tourney: "We are now waiting for the FIVB to give us the full details of our inclusion and the financial implication since if they don't cater for the expenses, I think will have some problems," added Kioni.
Sponsorship
As Mr. Kioni stated above, it is a glorious opportunity that Kenya has been offered. It will be a crying shame if Kenya fails to take full advantage. The tournament does not start until July 25 of 2014, Therefore those in charge of volleyball have more than seven months to plan, raise funds and prepare team Kenya. With proper planning, KVF should be able to raise public awareness, market the team and use the prospect of playing in a global tournament to draw sponsors.
If Kenya Prisons volleyball team which barely has a fan base can draw sponsorship worth Ksh 1.35 million for a tournament in which they played only two games, then with proper planning, the Kenya Volleyball Federation should be able to draw sufficient sponsorship to enable them to participate fully. The key is to start working towards that target early so that by the time the tournament starts in July or August, the team has enough funds to enable its participation.
Emulate Rugby
The Kenya volleyball team is easily the most successful national team in Kenya. They have dominated the African scene for over 25 years.No other Kenyan team sport be it rugby or hockey can boast a similar record of dominance within Africa.
But despite this dominance, they still struggle to draw financial support from corporates. A key reason for this is their poor performance in global competitions such as the Olympics and the world championships where not only has Kenya never won a game in over 20 years but they rarely win a set.
The Kenya national rugby sevens team was in a similar situation. By 2001, Kenya rugby sevens routinely lost to other African nations. They could never beat the likes of Zimbabwe and Tunisia and on some occasions even lost to teams like Uganda. Aside from this, Kenya almost always lost all their games and were relegated to the Bowl and shield.
That all changed when International Rugby Board made them a core member of the IRB sevens series in 2004. Thanks to the experience gathered in this global series Kenya has improved to the point that they not only easily beat all the top African teams like Zimbabwe and Tunisia but they have now reached the semi finals of the rugby world cup twice in a row. It is their ability to beat top teams like Australia, England and New Zealand that has enabled the Kenya rugby sevens team to garner massive sponsorship deals. The latest sponsorship deal with Kenya airways stands at a staggering Ksh 400 million.
For the Kenya volleyball team to garner such interest from the public and from corporate sponsors, they will need to go beyond just dominating within Africa and start causing upsets against Asian, South American and even possibly European teams. Kenya fans will hope that the Kenya volleyball team can use the experience gained in the World Grand Prix Championship to raise the standards of the game such that Kenya will be able to challenge bigger teams.
Spread the game
A key reason for the dramatic improvement of the Kenya rugby sevens team is the fact that they have spread the gospel of rugby all over Kenya and are now able to draw on players from all over.
By the the end of the 1980s, rugby was only played in about 7 or 8 schools, all in Nairobi. By the late 1990s, it had spread upcountry but the game was still dominated by Nairobi based schools. This severely limited the amount of talent available. Today in 2013, the rugby culture has spread to all corners of the country. As a result, there is more talent to draw from. In fact almost all of the players on the team today are from upcountry schools.
Yet today, Kenya volleyball finds itself in a situation where the game is still limited to a few niches of western Kenya and Rift Valley. KVF must spread the gospel of volleyball further. In order for Kenya be competitive against teams outside Africa, there must be a wider pool of talent to choose from. In particular, Kenya must target tall athletic players. There are plenty of tall girls all over Kenya yet every time Kenya sends a team overseas, they are dwarfed by much taller opponents. It is the primary reason Kenya never stands a chance. By spreading the game to more corners of the country and targetting young players with athleticism, leaping ability and height, Kenya will have a wider talent pool to choose from and this in turn will generate improved results.
 Player Development
It goes without saying that Kenya will never match their European competition unless there is a dramatic improvement in player development at youth level. Height Kenya players have very poor ball control compared to even teams like the Dominican republic and Puerto Rico, much less European teams. Quite honestly, even Algeria players are often more fundamentally sound than their Kenyan counterparts.
If the KVF is able to use this glorious opportunity to draw sponsorship, some of that money must be spent on youth development and better scouting without which Kenya will be stuck in the same gear they have been stuck in since 1987. Kenya volleyball fans will be waiting with bated breath hoping to see Kenya pick up some wins in world volleyball grand prix.