The performance of Kenyan clubs in continental club events over the past 15 years has been rather poor. Whether it is Gor Mahia, AFC Leopards, Tusker or Ulinzi, all have faced first round exits. The one exception has been Sofapaka which in 2011 eliminated three teams including an Egyptian side and came to the brink of reaching the quarter finals.
The performance of Kenyan sides is a far cry from the 1970s and 1980s when Kenyan clubs did well: Gor Mahia won a continental event in 1987, reached the finals once and semi-finals a couple of times. AFC Leopards and Tusker also made it to the semis with Tusker even reaching the finals in 1994. And Kenyan sides dominated the regional CECAFA club cup. In the period between 1976 and 1989, Kenyan clubs won the CECAFA cup 11 out of 14 times. And this was a period when Zambia, Zimbabwe and Malawi were permanent CECAFA members.
There are a number of reasons that Kenyan club's struggle. One that stands out is player turnover. There is no stability in the playing unit of Kenyan sides. They routinely lose players who are always seeking better fortunes in places like Tanzania, Zambia, the Middle East, Vietnam, and North Africa.
As a result, Kenyan sides field essentially what is a completely new line-up each season. It takes a long time for the players to learn how to play with each other and as soon as they do, some have already left.
Take Gor Mahia for example. They have participated in continental events in 2009, 2012, 2013 and 2014. In 2009, coach James Sianga was rebuilding the team. He went about recruiting very young players some still in secondary school. Not only were they inexperienced but they had no cohesion as they had never played as a unit. The result is that they were bundled out of the preliminary round by Rwanda APR in dramatic fashion. Sianga told fans to be patient as he was building a team for the future. He was vindicated as this team came very close to winning the league in 2011 and won the Presidents cup in 2011.
In 2012, Gor Mahia entered the CAF confederations cup. Prior to the tournament Gor mahia went on a signing spree, signing a raft of new players such as Yusuf Juma, Rama Salim, Moses Otieno, Ivo Mapunda, David Owino, Hugo Nzangu, Demonde Selenga, Wycliff Ochomo, Hadji Mwachoki, George Midenyo, Ali Abondo, Peter Juma ,Wycliff Kasaya and the highly touted Ballotieno. Some of them turned out to be excellent players. But when Gor Mahia played Ferroviario of Mozambique, the lack of coordination and lack of cohesion showed. Gor Mahia lost 0-4 on aggregate. All the goals Gor Mahia conceded in Maputo were the result of mixups and confusion between defenders who were not used to playing with each other. The play upfront was disjointed with new  midfielder Moses Otieno struggling to find Rama Salim or Hugo Nzangu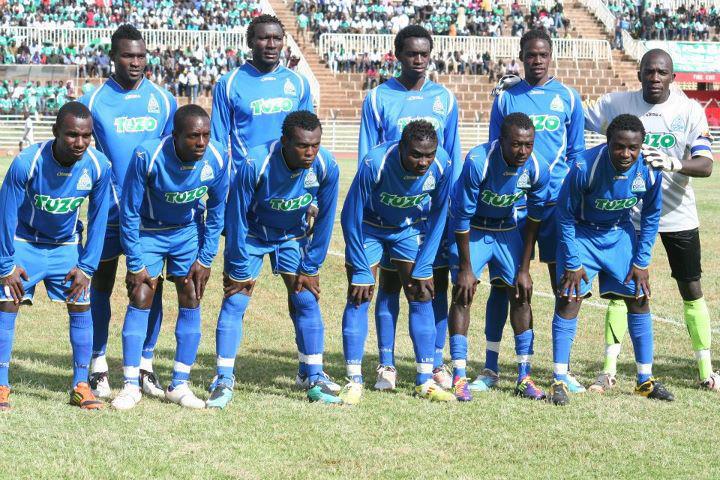 It has been a similar situation each time a Kenyan side has gone on the continental scene of late. 2014 and 2015 have not been different as Kenyan sides always lose a multitude of players and rebuild from scratch almost every January.
Kenyan clubs are losing players to top teams in Sudan as was the case with Allan Wanga and Dan Sserunkuma. But in some cases they even lose players to mid table sides in Tanzania and Sudan as was the case when Rama Salim joined Coastal Union of Tanzania and Anthony Akumu went to Sudan. it is one thing to lose players to European sides or even to top leagues like South Africa. However it is a sad day when mid table sides in Tanzania and Sudan are able to offer Kenyan players a better deal. In some cases, a player desperately wants to leave the country because they think playing in a foreign league, even one with lower standards will enhance their profile. Such is the case with Rama Salim. However the opposite is true. Playing in a league with a lower standard pretty much stops a players chances of ever playing for the national team again which in turn diminshes their profile.
 It was not always this way
AFC Leopards won the CECAFA cup four times between 1979 and 1984. A significant reason for this is that they were able to hold onto their best players. By keeping the core of the team together for a long time, the team had a measure of cohesion that only comes when players play together. By 1988, the core group of Wilberforce Mulamba, Michael Amwayi, Francis Kadenge and Joe Masiga had been together for 6 or 7 years. Thanks to the  excellent coordination, AFC had a formidable side in 1988. This team would have won a continental diadem in 1988 had a corrupt referee not eliminated them in the quarter-finals.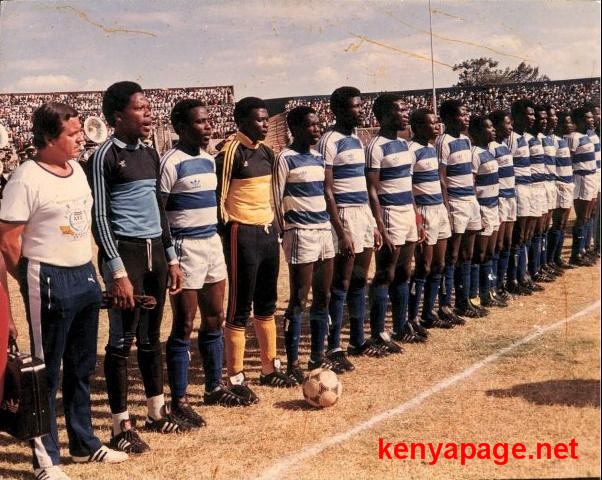 The Gor Mahia side that won a continental diadem in 1987 also had a core group of players who had been together since the early 1980s. In defence, Peter Otieno "Bassanga" George Otieno "Solo", Bobby Ogolla and Austin Oduor knew each other really well having played together for over 6 years. they knew each other's strengths and weaknesses and thus knew how to cover each other. The result was a solid defensive unit. The midfield with Magongo, Charles Otieno, George Onyango and George Nyangi also had a thorough familiarity with each other.
The brilliant coordination between these players also carried over into the national team. When Kenya won the CECAFA cup three times in a row, the starting line-up had Mulamba and Masiga in attack while Bobby Ogolla and Bassanga played together in defence.
And since players never left the country to play in lower leagues, the national team was much better. Aside from almost winning the All African games in 1987, Kenya qualfied for the Africa Nations cup three times in a row (1988, 1990 and 1992). And this was a time when the AFCON only had 8 teams. A starke contrast to the case that pertains today when a disjointed Harambee stars will easily lose to the likes of Lesotho.