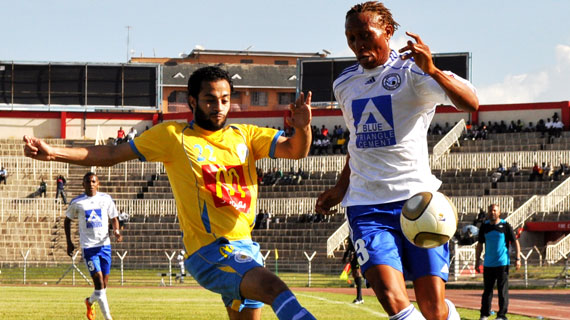 Sofapaka FC have been one of Kenya's top teams over the past decade or so. Formed in 2002, they first came to prominence when they won the Presidents Cup in 2007, while still in the second tier league. Two years they were promoted to the Kenya Premier League and, they won the Kenya Premier League in 2009. They went on to win the Presidents Cup again in 2010 and 2014. IN addition, they have finished among the top four teams in the league in every season since they were promoted in 2009. Perhaps their greatest achievement was in the 2011 Confederations cup when reached the round of 16 having eliminated Aviacao of Angola, Ismailia of Egypt and Lupopo of Congo DRC. To this day, they are the only Kenyan side ever to eliminate an Egyptian side from Continental competition.
The side has boasted some of the best players ever to grace Kenyan football fields over the past decade, players like Bob Mugalia, Patrick Kagogo, Razak Fiston, Humphrey Mieno, John Baraza, Osborn Monday, Titus Mulama, Enock Agwanda and Felly Mulumba among others. All of them have either hung their boots or moved on to other teams. And team owner Elly Kalekye has not seen it fit to replace them with equal calibre players. As a result, a Sofapaka in 2016 are a pale shadow of what they have been for the past seven years. In 2016 Sofapaka are rooted to the bottom of the Kenya Premier League log. They have struggled to attract sponsorship and player salaries have been coming late or not at all.
If this continues, they will likely be relegated from the premier league upon which Elly Kalekye will cease to fund the team and they will not be heard from again. Such is the fate that befell a number of self supporting teams that used to be regulars in the Kenya's top league. These are teams that were in the league for a decade or more and even qualified for continental competition. But once they were relegated due to financial hardship, they were never heard from again.
The list includes teams like Re-Union,FC, Coast Stars, Shabana, Black Mamba, Hakati Sportiff, Abeingo, Kisumu Hotstars, Imara (Maragoli) Lake Warriors (Ramogi), Nakuru All Stars, Feisal, Mombasa Wanderers and Volcano FC. I am not including corporate teams like Oserian and Utalii which cease to exist when the parent corporations ceases to sponsor the team.
First Professionally run team
When Sofapaka came into the league in 2009, club president Elly Kalekwa impressed pundits with the professional manner in which he ran the club. It was the first self-supporting club to have full time professionals. At the time, players received their salaries on time. Coaches sat on the bench dressed in sharp suits. And Kalekwa enforced a level of discipline, a business like atmosphere and professionalism that impressed many. Sponsors like Blue Triangle cement were compelled to come on board. More importantly, Sofapaka shamed other Kenyan clubs into professionalizing their structures. It is Sofapaka who revolutionized how clubs are run in Kenya.
Lack of a business model
Sofapaka's biggest problem is their inability to attract fans. Even at the height of their success, crowds for Sofapaka matches were sparse. In one top of the table match between Sofapaka and Tusker, the attendance was a paltry 72 fans. A self supporting team cannot proper and become viable if they cannot build a fan base. It is fans who pay for tickets, buy club merchandize and a club with a fan base has abetter chance of attracting sponsors.
For the sake of attracting and growing a loyal fan base, Sofapaka should have fashioned itself as a team representing a certain region or town. For example, the City of Mombasa is literally craving for a community that can compete with other big teams. Sofapaka shoould have considered moving their base to Mombasa and renaming themselves Mombasa United or something along those lines. This would have enabled them to start to cultivate a fan base.
Instead Sofapaka models itself as a team representing morality, good standing and religion. The name Sofapaka is short for Sote kama Familia kwa Pamoja Kuafikia Azimio – Kiswahili: We as a Family together to achieve a goal. While good in principle, it is not a good business model nor a model for