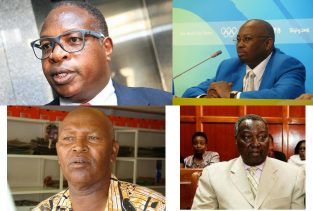 Nike, one of the world's premier sporting goods companies, has a running contract with various Kenyan sports organizations, most notably NOCK (National Olympic Committee of Kenya) and AK (Athletics Kenya). The contract stipulates that Nike will pay bonuses depending on how many medals Kenya wins at various meets most notably the Olympics and the Commonwealth games.
As a result, from the Nike and NOCK contract running between 2013 through to 2020, NOCK is supposed to have received $87,500 (about Sh8.84 million) for the 2014 Glasgow Commonwealth Games and $140,000 (Sh14.14 million) for Rio Olympic Games performance.
Logically one would think that the bonus money should go to the athletes. They are the ones who spend endless hours training hard, running up and down hills for hundreds of kilometres each week, rehabbing injuries, performing wind-sprints, endless press-ups and other physically demanding exercises. When it comes to preparing for a race, athletics is the most demanding sport. The runners literally run themselves into the ground when training. So logically you would think that it is they who would pocket the bonus money right? Instead that bonus money in its entirety goes to NOCK members.
NOCK chairman Stephen arap Soi explained the situation recently.
"I think we can only take blame for not having explained on our contract with Nike about the performance benefits," said Soi. "The bonuses are not for the athletes but NOCK ." said Soi.
The situation where athletes run themselves into the ground to prepare for the Olympics then see the officials pocket the money is rather comical yet unfortunate. Comical because Arap Soi and the rest do not do anything to help the athletes prepare for the games. In fact Arap Soi likely knows nothing about each athlete's training program.
Yet Nike sees it fit to continue giving NOCK the bonuses instead of giving it directly to the athletes. It amounts to a bribe from Nike to NOCK officials to enable Nike to continue being the kit sponsor for the Kenyan contingent.
Nike also gives NOCK uniforms, shoes and training equipment worth Ksh 126 million each year since 2013. Very little of that makes it to the runners it is meant for. Most of it is sold by NOCK officials on the black market. Some of it ends up with the relatives of NOCK officials as the case during the Olympics when Kipchoge Keino's daughter in law posed on twitter with said uniforms while the athletes in Rio were complaining of not having enough uniforms and shoes to train with.
The IOC (International Olympic Organization) is perhaps the worst culprit when it comes to encouraging corruption. They are fully aware of the corrupt activities that happen within their affiliates. But they will not prevent it. And worse still when a government tries to take action to remedy the situation, they will quickly come to the defence of their affiliates and threaten the country with a ban.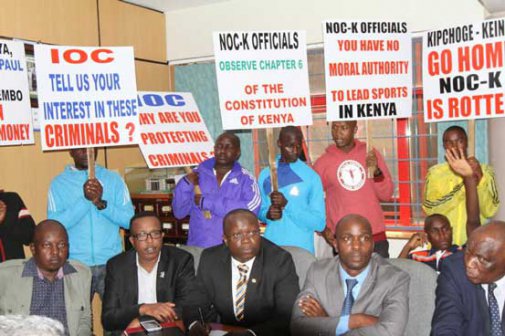 Kenyan running legend, Kipchoge Keino is always quick to remind the Kenyan government of the sanctions that would befall the country from the IOC should any action be taken against corrupt officials.
"(The) IOC are waiting for me to be put in (jail) and, when they put me in, Kenya will be banned. We will not take part in the next Olympics," threatened Keino.
Eliud Kipchoge's training program
Eliud Kipchoge, the gold medalist at the 2016 Olympic marathon, makes it look very easy when he runs over 42 km. In fact he makes it so easy which might explain why Arap Soi and others have no compunction about stealing bonuses that should be going to athletes.
Here is Kipchoge's weekly training program:
210 km runs every week at high altitude (8000 feet above sea level)
13 hard three-minute moderate sprints with one minute steady between each day
A 20-mile run at a shade more than five minutes per mile up and down hills
Note that Kipchoge's daily training starts as early as 5:30 am each morning while the pot bellied NOCK members are still fast asleep. And after all this hard work, Arap Soi et al would have you believe that is they and not the athletes who are literally training themselves into the ground each day.