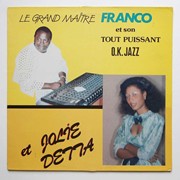 Introduction Massu and Jolie Detta
In 1986, Franco for the first time ever made a recording with a female artiste. Her name was Jolie Detta, a daughter of a Greek father and Zairean mother. The tall and breathtakingly gorgeous Detta was relatively unknown up to this point. She had previously sung with CHOC stars.
Detta performed two songs on this album namely Massu and Layile, both composed by Franco. The album catapulted Detta to instant fame. In 1986 she accompanied Franco on a tour of Kenya where she performed to the delight of Kenyan fans for whom Massu and Layile were huge hits. She would later leave to join Anti Choc where she sung duets with Bozi Boziana.
Song Video
Translation of Massu