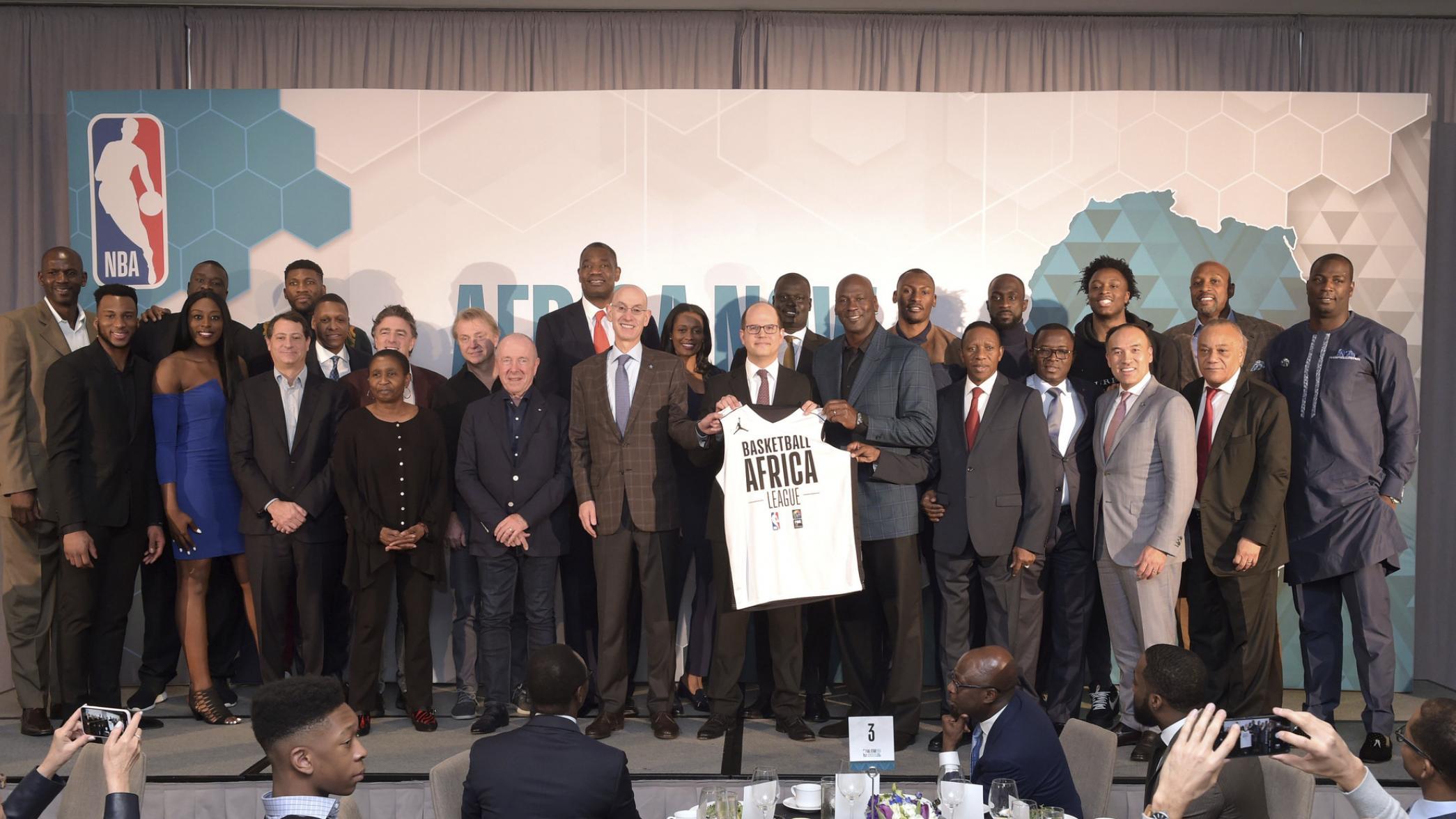 On 16th February 2019, the National Basketball Association (NBA), the top basketball league in the world, announced that it was going to partner with FIBA, the global basketball body, to create the first trans-continental professional basketball league in Africa.
Former US president, Barrack Obama is among those who mooted the idea and he has taken a keen interest. "Through sport, if you put in effort, you will be rewarded," Obama said.
Basketball legend, Michael Jordan was at the launch of the 12 team league. Though he did not speak, he is also said to have taken a keen interest in advancing the sport of basketball in Africa.
NBA and FIBA will provide financial support, training for players, coaches and referees and some infrastructure for the new league.
The announcement has been met excitement by many hoop fans and cautious optimism by some fans including yours truly.
Structure of the league
The NBA announced that club teams from Angola, Egypt, Kenya, Morocco, Nigeria, Rwanda, Senegal, South Africa and Tunisia were expected to be among those taking part. Indeed the Kenya Basketball league confirmed that Kenya would be represented by a club team.
"In Kenya,the top 4 Men's teams in the 2018 regular season,will then play a round Robin mini play-offs from 18th February to 3rd March 2020 at a neutral venue to determine who gets the coveted 1 slot to represent the country in the professional Basketball League.
Additionally,the winning team must be registered as per the sports act,must have the players signed on professional or semi-professional contracts and must demonstrate financial ability to honour salaried contracts and all other financial obligations of a Professionally run Basketball Club."
The above is according to the social media pages of the Kenya Basketball Federation (KBF)
This arrangement is fraught with numerous pitfalls that could prove disastrous for Kenya but could also lead to the premature demise of the league. Let us examine some of the minefields that lay in wait for NBA-Africa which if not cleared, could lead to multiple explosions that could doom the league or at least doom Kenya's chances of keeping its place in this tournament.
NBA is a business first
Unlike FIBA, the NBA is above all things a business. FIBA has been organizing club tournaments in Africa for decades and is primarily interested in long term growth of the sport. The NBA on the other hand is here to grow its brand. The league will primarily used a vehicle by the NBA to promote its core business. Indeed the NBA president Adam Silver sees Africa as a huge untapped market.
"Africa has a huge economic engine. here are more than 400 companies in Africa that generate more than $1 billion annually, but that sport there has not seen the same growth"
This means the NBA aims to do more business in Africa. Sell more of its jerseys. Sell more TV rights. Gain sponsorships and generally grow its brand. The NBA is not in Africa only to do favours. The NBA has investors. Each NBA owner has a vested interest in the growth of the NBA brand. So each of the selected countries including Kenya must deliver on this front. If Kenya does not deliver, their slot might be given to another country, perhaps even "gasp" Uganda !
And if the league as a whole does not deliver appropriate returns after a few years, the NBA will end the venture or in American parlance: "The NBA could pull the plug on the whole project".
Which brings us to why Kenya was chosen.
Why was Kenya chosen?
Kenya was not chosen because we are a basketball powerhouse. Far from it. Not only is Kenya not a continental powerhouse, but it is no longer even a regional powerhouse as Rwanda and Uganda have since surpassed Kenya in the last decade or so.
Kenya was not chosen because of Barrack Obama's roots are in Alego, Siaya county. Nor was Kenya chosen because of some untapped potential that other countries don't have.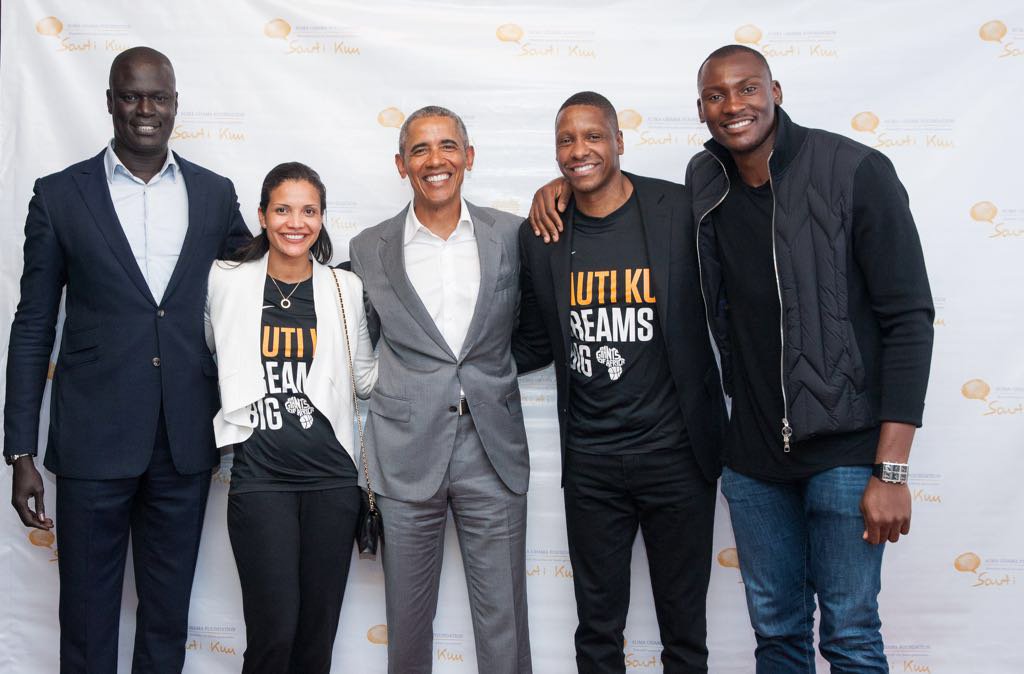 The only logical reason to explain why Kenya was chosen is because there is a huge market for the NBA in Kenya Basketball is very popular in Kenya. But many basketball fans don't follow the local scene. They religiously follow the American scene especially the NBA and sometimes even NCAA. And Kenya's purchasing power is significant when compared to its neighbours.
Kenya is not guaranteed a slot in the tournament
Unlike FIBA tournaments where Kenya is guaranteed a place in the qualifiers, Kenya will not be guaranteed a place in this tournament if it does not meet its end of the bargain in terms of professionalism, financial accountability, economic returns and competitiveness.
Even in the USA, cities have lost their NBA franchises. The Kansas Kings, New Orleans Jazz, Seattle Supersonics etc, are all examples of teams that left their respective cities when owners decided that they could make more money elsewhere. So if Kenya does not deliver its end of the bargain, this opportunity could be given to another country. Again NBA unlike FIBA are not focused on promoting the game. They are here to enhance their brand. And Kenya must deliver in that regard or lose their place in this tournament.
So what could go wrong?
The club system
As the KBF announced, Kenya will be represented by the winner of a round robin tournament. Which means one of Kenya's institutional teams is likely to be Kenya's representatives. This is likely to be Kenya Ports Authority (KPA) or Equity Bank or Ulinzi Warriors or Strathmore University or another institutional team.
Will fans pay for tickets to watch these teams?
Sadly none of these teams have much of a following. A large crowd is likely to show up for the first game due to the novelty of the event. But once the novelty fades, you will see paltry crowds. This is especially true at Kasarani which is still quite a distance to travel for many fans. And like typical Kenyans, they will expect entrance to be free.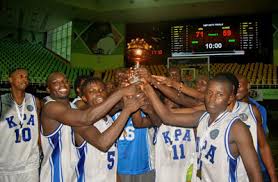 The NBA will not continue to pour money into the league indefinitely. The NBA expects the league to become self-sustaining at some point. This means the league must generate revenue through ticket sales, sale of TV rights, jersey sales, sponsorships and other revenue streams that can make the league self sustaining.
Lets say our military team Ulinzi becomes Kenya's representatives, it's a given that they will not draw large enough paying crowds over a long period, and will not generate enough fan fervor to garner TV deals or significant sponsorships. In fact fans of other teams might boycott Ulinzi games if they thought they won unfairly. And nobody will purchase Ulinzi Stars merchandize.
So what is a better solution?
The Franchise Model
Rather than select an existing club, NBA Africa should consider creating an NBA style franchise in each selected city. The team should have a name that is representative of the entire city. For the purposes of this article we can call this team "Nairobi City Stars".
This will be touted as a team that represents the City of Nairobi, not just the military or Equity Bank or some other institution. Fans are more likely to root for a team that represents them.
A match pitting Nairobi against say Lagos or Kigali will draw fan fervor that will pack Kasarani indoor gym with paying fans  to the rafters. There will be twitter battles between Nairobians and Lagosians. The fan fervor will compel Kwese TV, Multi-Choice or some other TV company to pay for television rights. Fans are more likely to buy merchandize if the merchandize says "Nairobi City Stars". It's a given that nobody will buy an Ulinzi or a Equity Bank jersey.
The business community will be eager to associate with the team and its fan base as will political bigwigs like  governor Sonko, senators and MPs. All this is only feasible if the franchise model is used. Even Kenyan basketball fans who typically ignore local basketball and only watch the NBA, will become intrigued by a franchise team that represents the city of Nairobi and not just an institution.
Competitiveness
In order for a team to maintain fan interest, attendance and TV viewership, it must be competitive. Nobody will go to watch a team that loses every game or worse still loses every game by 50 points.
Kenyan club teams are not competitive at the continental level. Gone are the days of the 1980s when local champions like Posta and KPA went toe to toe with Africa's best. This author followed with excitement as the KPA team led by Lawi Odera's 33 points beat the Egyptian champions Al Ahly at Nyayo gym in 1993. No such thing happens nowadays.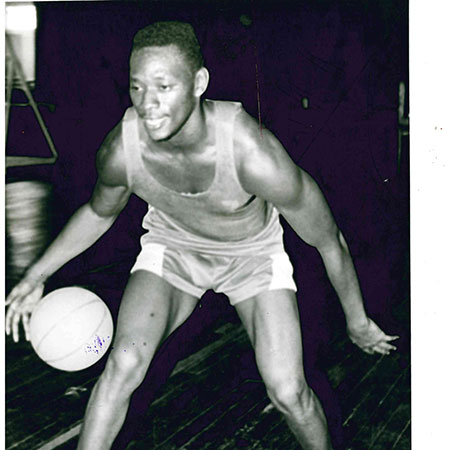 Kenyan men's teams don't even qualify for the FIBA Africa club tournament anymore. In the most recent qualifier in 2017, Kenya champions, KPA lost to City Oilers of Uganda, who went on to give a good account of themselves at the continental event, winning matches against Kano Pillars of Nigeria, ASB of DR Congo and GS Petroliers of Algeria.
To find the last time Kenya was at the premier African club event, you have to go back at least a decade to 2009, 2006 and 2002 when Kenya was represented by KCB Lions, KPA and Cooperative bank. In 2002 for example, the KPA team lost their opener to 1º de Agosto of Angola by a whopping 65 points (107-42). Dennis Opiyo led the Kenyans with 16 points. There were other lopsided losses including a 103-55 loss to Inter Club of Congo. Indeed KPA lost all their matches by 20 points or more.
KPA were the most undersized team. Dennis Opiyo at 6'6" was the tallest player. The losses were therefore not surprising.
The point being made here is twofold:
1. Kenya must put its best foot forward in order to be competitive. If they are not competitive, fans will lose interest and stop attending games. Even in Angola where the top clubs draw large crowds, fans might not show up to watch Petro de Luanda or 1º de Agosto beat KPA by 60 points. Fans want to see competitive, tension filled matches. Poor attendance will not bode well for the league. So NBA Africa might pull the franchise from Kenya and give to Uganda or some other country that might field a competitive team.
2. To put our best foot forward, the best players available must play regardless of which team they play for. So if Griffin Ligare for example is the league MVP, he must be in the NBA Africa squad even if he plays for the worst team in the league.
Those of us who were rugby fans in the 1980s remember that the Dubai sevens was not contested by national teams in those days. It was contested by a clubs. But rather than send a club, Kenya sent a touring team known as Watembezi RFC that comprised players from various clubs like JJ Masiga, Beth Omollo, Max Muniafu and Jimmy Owino among others. That team did really well winning the Silver Khanjar Cup in 1982 and 1983. Had Kenya sent one team like Mwamba RFC, they would not have done well.
The point being made here is that again Kenya is best served by a franchise team that represents all of Nairobi and that has the best players available, not just Ulinzi or KPA.
Kenyan sports officials are incompetent and corrupt
Another peril of allowing one of the local teams to play in this league is that these teams are usually not well run and neither is local basketball. Most Kenyan sports officials are either grossly incompetent or just plain corrupt. Of course there are a few exceptions. But Kenya basketball has suffered a lot with official incompetence which is why Kenya has been surpassed by the likes of Rwanda and Uganda.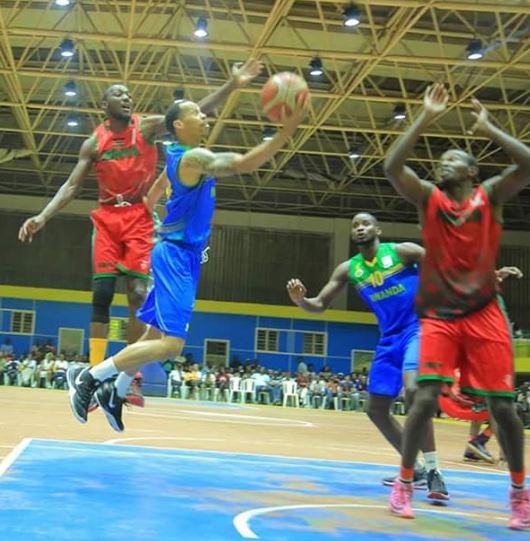 And corruption in Kenya is such that many officials will be eagerly waiting to dip their hands into whatever finances the NBA, FIBA and the sponsors will provide. Committees will be formed with a board of directors who will pay themselves salaries before any of the players are paid and without any clear responsibilities. This is what happened with the National Olympic Committee of Kenya. During the 2016 Olympics, NOCK members pocketed millions of Kenya shillings while Kenyan athletes went without uniforms in Rio and eventually ended up staying in a bad hotel in a dangerous neighbourhood.
Officials of clubs like Ulinzi and Equity Bank are not much better. Very few have the qualifications needed to run a professional team. Even a military team like Ulinzi Warriors is not immune to corruption. Years ago, a Kenyan boxer called James Demosh Omondi won an opportunity to be a sparring partner for a famous boxer who was contending for the world heavyweight title. Demosh was a member of the armed forces. The deal fell through because a senior army officer was demanding a cut of the earnings.
Note: Kenya's once high flying rugby team which has been on the IRB circuit for 15 years, was on the verge of relegation  in June of 2019. The reason Kenya rugby is in the doldrums is because of gross incompetence and greed among officials. Players were not being paid salaries even when the sponsors provided the money. As a result, the top players went on strike.
Ayumba Ayodi, a prominent Kenyan journalist noted that when Kenya rugby had sponsorship from companies like Sportpesa, the KRFU board of directors were demanding to be paid salaries that are higher than the players. This situation is comical and insane. But don't be surprised if basketball officials pull the same stunt when they see all the sponsorship money that the NBA will bring with it.
The saving grace for Kenya rugby fans is that if Kenya were to be relegated, they can still play their way back to the IRB circuit in two years. However in basketball, if Kenya loses their place in NBA Africa to another country due to incompetence or corruption from officials, they may never get the opportunity back. Just ask Seattle Supersonics fans. They lost their NBA franchise 10 years ago and there is no sign that they will get their team back because the number of NBA teams is limited.
So what is the solution?
Hire qualified people on performance contracts
To alleviate this issue of incompetence and corrupt officials, NBA Africa must appoint competent officials including a CEO to run the Nairobi franchise. This CEO must be on a performance contract. His or her pay must be based on measurable goals like accountability,  ticket sales, jersey sales and so forth.
Other officials could include a general manager who is responsible for scouting, selecting and recruiting players. His pay should be based on team performance. Coaches, trainers, physios and so forth, all on performance contracts. There are former basketball players in Kenya who can fit the bill. Roles within the franchise must be clearly defined so everyone knows why each person is being paid and what they must deliver.
To put it plainly, NBA Africa will need to directly recruit the people who run the Nairobi franchise. Left to Kenyan officials, you will surely see the same incompetence and corruption that has plagued Kenya basketball for the last three decades.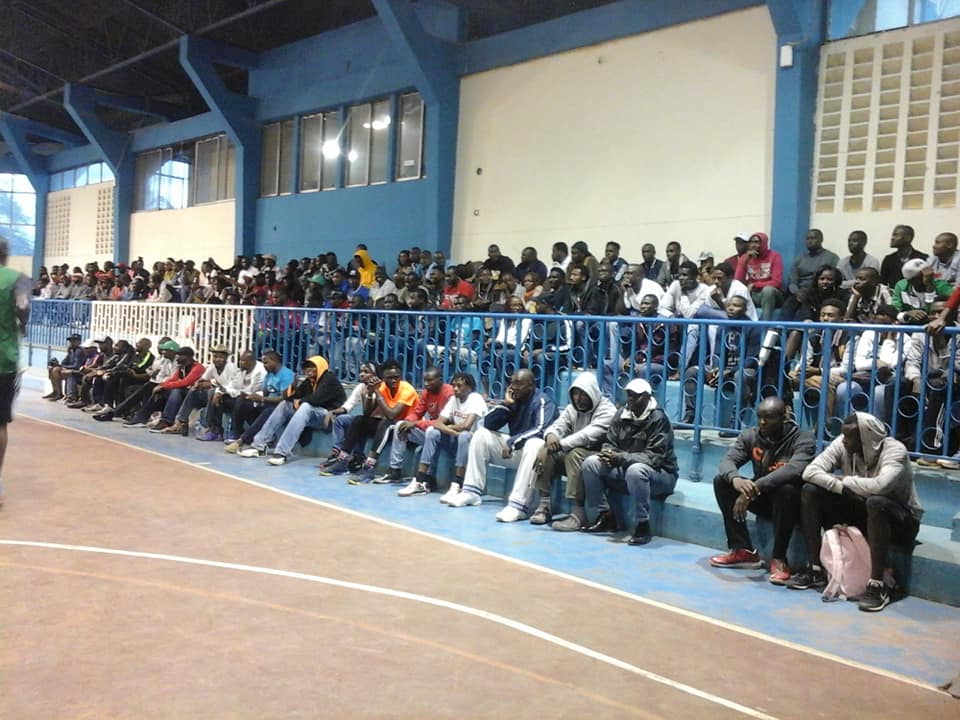 Playing Unit
As was pointed out earlier, the Kenyan clubs that played in the Africa club cup in the years between 2002 and 2009 lost many of their games by as much as 60 points. They lacked the size and firepower of other teams. This may necessitate recruiting players from other countries. The best case scenario would be to have 8 or 9 players from Kenya and 3 or 4 foreigners who bring something special to the team in terms of size or shooting or just experience that other players can learn from.
Given the evidence from the FIBA Africa league, one can assume that other teams will bolster their squads with players from other countries including the United States. So if a team like Ulinzi or Strathmore Blades goes to NBA Africa with local players only, they can count on losing every game heavily as Kenyan teams did in 2002, 2006 and 2009.
Summary
The NBA Africa league is a grand opportunity for Kenya and other teams. If Africa as a whole does not deliver a compelling tournament, the NBA could soon pull the plug. If Kenya performs poorly or displays gross incompetence, their opportunity will quickly go to another nation waiting in the wings. As currently constituted, there is a significant chance that both scenarios will happen.
On the other hand, if NBA Africa takes an active role in overseeing the Kenyan franchise, success is guaranteed. In fact Kenya's potential is so high that if NBA Africa is to expand, they may consider giving Kenya a second franchise. At that point, NBA Africa can make the case to governor Joho of Mombasa that it is worthwhile to build an indoor arena in Mombasa.
NBA Africa has announced that the final structure of the tournament has not been decided so there is still time to come up with a plan that will lead to success.