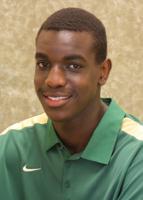 The 2015 Africa basketball championships kicks off in Tunisia on August 19. Kenya will not be represented having lost out to neighbours Uganda in the qualifiers. In fact Kenya has not been at this tournament since they hosted it in 1993. That is a whopping 22 years.
This year if the Kenya Basketball Federation had its act together and was able to incorporate foreign based players, Kenya could have fielded a powerful starting five that could have put them in the medal bracket of this tournament.
Below are some players with Kenyan eligibility who are playing in foreign leagues.
 

Point Guard : Kenneth Otieno

Kenneth Otieno is a 6'3″ guard who plays for the University of
Alberta. He has solid ball handling skills, has quick drives to the
basket, easily creates his own shot and is a superb 3-point shooter when
curling off screens or spotting up behind the arc. He can play either
point guard or shooting guard.

In the 2015 season, he averaged 14.7 points per  game, while
shooting a superb 47.9% from the field and 40.7% from behind the 3-point
line

Shooting Guard: Tylor Ongwae

Ongwae, a 6'7″ guard/forward, had a stellar 2014-2015 season, no
doubt the best ever by a Kenyan export to the USA collegiate system. He
led the University of Louisiana Monroe in scoring with 14.4 points per
game. He was selected to the Sunbelt Conference first team and All
Lousiana second team.

Ongwae is quick to the basket, has excellent ball handling skills. He
shoots well from the free throw line (83%) and is a string rebounder
from the guard forward position with 6.6 rebounds per game.

When the pressure is higher, Ongwae's performance rises to the
occassion. During the post season (CBI playoffs) , he averaged 20.4
points per game.

Small Forward : Robert Nyakundi

Robert Nyakundi, is a 6'8″  combo Forward. He played college
basketball at Southern Methodist and averaged 11.0 ppg, 4.0 rpg,
shooting 43% from 3-point range in his 4-year career there.During his
senior season, he averaged 14.8 points per game and earned a mention
from sports illustrated because at one point, his 3-point shooting
average was an incredible 46%.

After his successful college career Nyakundi signed with Romanian
team CSU Asesoft Ploiesti for the 2012-'13 season. With them he competed
in the EuroChallenge and averaged 10.8 ppg & 2.7 rpg in 6 games.In
201302-14, season Nyakundi remained in Romania and signed with Steaua Bucuresti. He finished the season with averages of 14.3 ppg & 5.3 rpg.

For the 2014-2015, he joined Liège  in the Belgian league.

He has excellent outside shooting from the 3 & 4 position. Due to his
size Nyakundi has also played inside on many occasions and has therefore
developed a decent post-up game as well.

Power Forward: Omondi Amoke

Omondi Amoke is a powerfully built 6'7″  225 lb (100kgs) power
forward. Coming out if high school in California, he was one of the most
highly touted high school players in the USA. He played most of his
college basketball for the University of California Bears before
finishing at Cal Poly.

What sets him aside is his amazing athleticism. Even with his big
frame, he is very agile which enables him to guard both small forwards
and power forwards.

In his senior season at Cal Poly, Amoke averaged 10.8 points per
game. He is a strong and effective rebounder using his agility and
strength . In his senior season he averaged 9.9 rebounds per game.

Following his college career, Amoke has played in the CBA for the
Grand Rapids drive as well as for several teams in Europe. He currently
plays for Caborca in the Mexican League.

Center: Tom Wamukota

Wamukota, a product of Maseno school, a 6'11 center. he has the
distinction of being the only Kenyan to play in the NCAA round of 16 ,
popularly known as the sweet 16. Last season he played for Wichita State where he played in 32 matches.

He is a good defender in the low post and also provides tremendous
shot blocking. With his 6'11 winsgpan, he could provide plenty of
defensive solidity which would enable perimeter players to be more
aggressive on defence.
The Bench
In addition to the aforementioned starting 5, there are other players
with Kenyan eligibility who are playing excellent basketball overseas.
Joel Awich is a 6'7″ swingman with incredible foot-speed, and
incredibility leaping ability. He is a joy to watch in transition
because he takes off like a jet and finishes with a thunderous dunk. He
would be a useful option coming off the bench because he would be too
much to handle for tiring defenders. In 2015 he avarged 8.7 points per
game while playing for California Polytechnic Institute (Cal Poly).
JP Nyadaro is another product of Maseno school. After a succesful
stint playing for Trevecca College, Nyadaro joined the professional
ranks in 2014. He currently plays in the Canadian Basketball Association
for the St John Mill Rats
Ronald Gombe Gundo a 6'8″ forward who is well known in Kenya
basketball circles was recently signed by Canisius College.
Add this to the top tier players from the Kenyan league and you would have a dynamite team that is capable of making a lot of noise at the Africa basketball championships and at least reaching the semi-finals. It is worth noting that when Kenya lost to Uganda in the Africa qualifiers, it was because the Ugandan Federation had the organizational skills and forethought to bring their foreign players. But their foreign crew would have been no match for this Kenyan foreign crew.