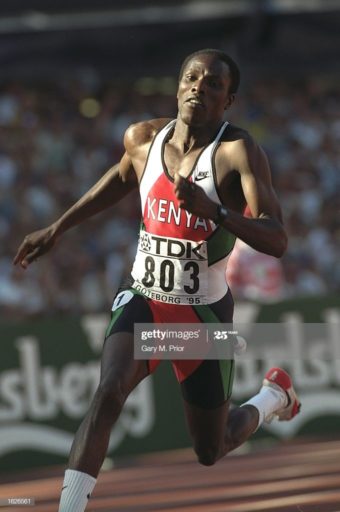 Background
Charles Gitonga ranks among the best sprinters Kenya has ever produced. His personal best of 44.20 in the 400m, recorded in Nairobi,  is the second fastest ever by a Kenyan. No European has ever run that fast. As we write this article, the European record stands at 44.33.
His moment of Glory came in the 400m at the 1994 Commonwealth games. Entering the final, Gitonga was not expected to win a medal, much less the gold. He had barely qualified for the final, finishing fourth in the semi-finals. He was in lane 8 which is arguably the worst lane to run a quarter-mile.
The heavy favourite was Du'aine Ladejo of England. In 1994, Ladejo won the European indoor and outdoor titles. Another favourite was Sunday Bada of Nigeria who had been a finalist at the 1993 World Championships and the silver medalist at the 1993 world indoor championships. But Gitonga had other ideas.
Race Video
Gitonga maintains his stagger through 300m. But in the final straight, the field catches up with him. Ladejo passes Gitonga at the 300m mark. For a moment it looks look like either Bada or ladejo will win the race. But Gitonga summons his last reserves of energy, finds an extra gear and pulls away from Ladejo in last 40 metres.
A glorious win for Gitonga. It had been 20 years since a Kenyan won this event. The last person to have won the event was Charles Asati in 1974.