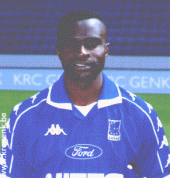 This is a Belgian league match between Mike Origi's KRC Genk and Sint Truiden during the 1999-2000 season. Mike Origi had a superb game scoring two goals, creating numerous chances one of which ended up in a goal.
In this match, Origi shows why for 10 years, he was a succesful professional plying his trade in a top tier European league. Something that is still rare today. Very few Kenyans have made it in Europe. It is especially difficult for attacking players. The only other Kenyan attacking player who succeeded in Europe was Dennis Oliech.
What makes it more amazing is that Mike Okoth started out as a goalkeeper. In fact when Iterio secondary won the national schools title in 1987, Okoth Origi was the goalkeeper. He transitioned to a striker after the 1988 season.