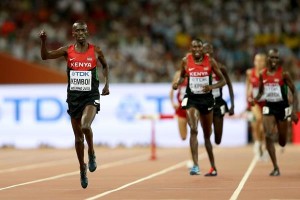 No country has dominated any event in any sport the way Kenya has dominated the 3000m steeplechase. Since Kenya burst onto the scene at the 1968 Olympics, Kenya has won this event every time with a few exceptions such as the 1983 world championships when a rust Kenyan failed to win a single medal and 1987 when strong favourite  Joshua Kipkemboi tripped over a hurdle and in 2003 and 2005 when Stephen Cherono defected from Kenya to run for Qatar.
At the Olympics, Kenya has won every Olympic gold since 1968 with the exception of 1976 and 1980 when Kenya boycotted the games. That is 10 out of 12 gold medals on offer.
At the world championships, Kenya has won 27 of the 36 medals on offer. Including winning 11 out of the last 13 world championships, with the only break coming when Shaheen defected to Qatar.
It is an amazing record. That record came to the fore again on Monday when Kenya captured the to four positions. Evan Jager, the man whom Americans had pinned a lot of hopes on finished 5th. Much was expected from Jager because he had the second fastest time of the year.
But the Kenyans controlled the pace, setting a slow pace, knowing fully well that they had a stronger finishing kick than anyone else.
It is worth noting that the pace did not suite Jairus Birech either. He typically wins by setting a blazing pace and has dominated this event for the past two years using such tactics. One might say he put team performance ahead of his own performance. However it must be said that Birech missed a medal due to his poor negotiation of the last hurdle which enabled Brimin Kipruto to catch him. It is something he must improve on
5th straight major win for Ezekiel Kemboi
The wily veteran Ezekiel Kemboi showed that you should never underrate the heart of a champion. Kemboi has been missing in action at most major races in 2014 and 2015 and seemed to be past his best. But he once again timed his kick perfectly taking off like a maniac with 250m to go to gain an unassailable lead before finishing in lane 3 as he usually does. By the time he was finishing the race, he was so far ahead of the field that he could have skipped or danced across the finish line. After the race he pointed to his brain as if saying he is too clever for the rest of the field.
Kemboi is a true legend. It is the 5th successive major win having won the world championship gold in 2009, 2011, 2013, 2015 and the Olympic gold in 2012.
Race Video

Results
POS
BIB
ATHLETE
COUNTRY
MARK
1
683
Ezekiel

Kemboi

KEN
8:11.28
2
690
Conseslus

Kipruto

KEN
8:12.38
3
689
Brimin Kiprop

Kipruto

KEN
8:12.54
4
680
Jairus Kipchoge

Birech

KEN
8:12.62
5
1027
Daniel

Huling

USA
8:14.39
6
1030
Evan

Jager

USA
8:15.47
7
742
Brahim

Taleb

MAR
8:17.73
8
312
Matthew

Hughes

CAN
8:18.63
SB
9
815
Krystian

Zalewski

POL
8:21.22
SB
10
1000
Donald

Cabral

USA
8:24.94
11
737
Hamid

Ezzine

MAR
8:25.72
12
459
Hailemariyam

Amare

ETH
8:26.19
13
161
Bilal

Tabti

ALG
8:29.04
14
153
Hicham

Bouchicha

ALG
8:33.79
15
471
Tolosa

Nurgi

ETH
8:44.81