Beijing 2008 was Kenya's best ever performance: 6 gold, 4 silver and 4 bronze medals. The best performance by an African nation. In 2012, the prospects look just as bright as Kenya has medal contenders in every distance event. This column is predicting 12 medals for Kenya including 5 gold medals.
Sprints
Joy Sakari will run in the 400m in London. 28 years ago at the Los Angeles Olympics, Kenyan legend Ruth Waithera became the first and still the only Kenyan woman sprinter ever to reach an Olympic sprint final when she made it to the final of the 400m. In the process she set a Kenya record which still stands 28 years later. Joy Sakari will be hard pressed to emulate this performance by Waithera. Sakari is currently second in Kenya's all time 400m list. She will have done well if she sets a new personal best.
The mens 4 X 400m team will compete at the games. This quartet has recorded some good performances of late; winning silver at the 2010 Commonwealth games and gold at the 2011 African championships and gold again at the 2011 All Africa games. They also reached the final of the 2011 World championships, finishing ahead of Great Britain. This time they will be without US based Anderson Mutegi who has been dropped because his current form is unknown.  He will be replaced by the promising Alphas Kishoyian and Boniface Mweresa. David Rudisha is in the relay pool and will attempt to emulate his father who won a silver medal at this event in 1968. With a personal best of 45.50, Rudisha is one of the best 400m runners Kenya has. The others are Vincent Mumo, Boniface Mucheru, and Vincent Kosgei.
Womens 800m
Pamela Jelimo will be back to defend the title she won 4 years ago. And she is back in form after 3 injury ravaged years. With a time of 1:56.76, she has the fastest time in the world this year. Unlike in 2008 when she was dominant, she will face a stiff challenge from Fantu Magiso of Ethiopia , Caster Semenya of South Africa and the Russians led by Mariya Savinova.  Janeth Jepkosgei should make the final and has an excellent shot at any of the 3 medals. Up and coming Cherono Koech will do well if she makes the final.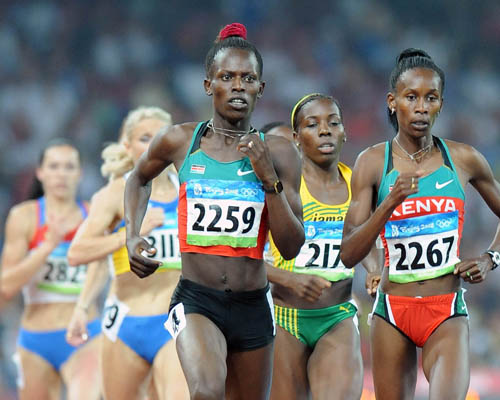 Men's 800m
If there is any athlete who is a red hot favourite at these Olympics, it is David Rudisha. He is already a legend at 23. He has the 6 of the 10 fastest times ever run in the 800m. All he needs now is an Olympic gold. In Beijing 4 years ago, the then 19 year old faltered in the semis when he mis-timed his finishing kick. He appears to have learned his lessons. The Olympic games are 95% about individual and team tactics unlike Diamond League racers that often have a rabbit. Upcoming runners Job Kinyor and Timothy Kitum will round up Kenya's assault in the two lap event.
Womens 1500m
Both Viola kibiwott and Hellen Obiri have run under 4 minutes this year and are amongst the 6 fastest runners this year. They have an outside chance at a medal. The youthful Eunice Sum, the third Kenyan will do well if she makes the final. Ethiopians Genzebe Dibaba and Abeba Aregawi have been in fine form this year and wull likely end up on the podium if not win. The world leading times this year are held by Mariem Selsouli of Morocco and Asli Alpetkin of Turkey. Selsouli has been banned for doping. This one will be a tall order for the Kenyan ladies. They will struggle to reach the podium.
Men's 1500m
If there is any event where Kenya is welll represented and has incredible strength in depth, it is the metric mile. Asbel Kiprop, Silas Kiplagat and Nixon Chepseba are the 3 best miles in the world this year and all three have qualified for the games. And all three have run personal bests this year which means they are in their best shape ever. Kiprop is the defending Olympic champ, having been awarded the gold after Rachid Ramzi was disqualfied for doping. This event looks like a good candidate for a podium sweep. Then again much depends on how they run through the rounds.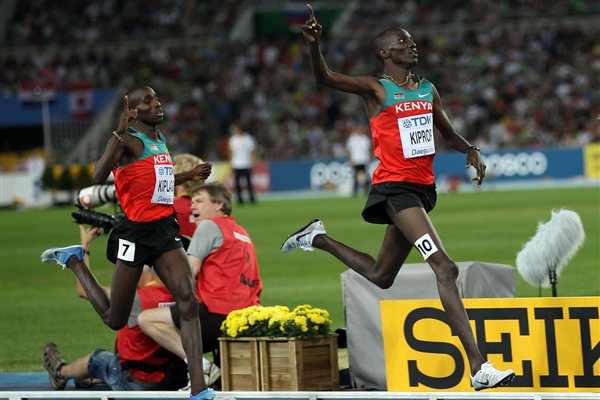 Women's 3000m Steeplechase
Miriam Chemos has been the world leader for the past 3 years and is the favourite. However at last years 2011 world championships, she settled for bronze when a Russian emerged out of nowehere to upstage her. Mercy Njoroge and Lydia Rotich are Kenya's other representatives. Kenya has never won Olympic gold in this relatively new event. In 2008, Eunice Jepkorir did well to win silver behind Russia's Gulnara Galkina. Jepkorir however has not regained her form since taking a year off for maternity. On paper Chemos should win gold.
Men's 3000m steeplechase
Paul Kipsiele Koech and Richard Mateelong are the fastest runners at this event this year. However they will both be missing in London as they did not qualify. Instead , tournament veterans Ezekiel Kemboi and Brimin Kipruto will carry the Kenyan flag along with the fast rising Abel Mutai.
Whereas Koech is very good at paced races and has the most sub 8 minute marks, Kemboi and Kipruto are better suited to the Olympics because they are good at tactical races.  Kenya fans hope that Kemboi has put aside his legal problems and is focused. Kenya has won every Olympic gold medal at this event since 1968 with the exception of 1976 and 1980 when Kenya did not participate. The world will be shocked if Kenya does not win. On paper, this could end up being another 1-2-3 for Kenya.
Womens 5000m
Vivian Cheruiyot has dominated this event for the past 3 years and will be the favourite. She will however face strong competition from Ethiopian legend Tirunesh Dibaba who is rounding back to form after several injury plagued years. Meseret Defar , the other Ethiopian has also provided a stiff challenge to Vivian this year. Viola Kibiwott and Sally Kipyego have also shown the ability to win a medal. It will be a fierce battle between Kenya and Ethiopia.
Mens 5000m
Isaiah Koech, Thomas Longosiwa and Edwin Soi will carry Kenya's hopes. The hot favourites will be Ethiopias Dejen Gebremeskel and his team-mate Hagos Gebrhiwet. Soi has a devastating finishing kick and if the final is a slow pace with Soi in contention, he has an excellent chance to win because his finishing kick is unmatched. Koech excelled at youth level and has been Kenya's best 5K runner this year; He is 3rd in the world behind the two Ethiopians.  He carries Kenya's best hopes for a medal.
Women's 10,000m
Vivian Cheruiyot and Sally Kipyego will also compete in the 10,000m. Once again, the Ethiopians led by Tirunesh Dibaba will represent their main competition. There are no clear favourites. Whomever gets their tactics and teamwork right will win. Joyce Chepkirui will be the 3rd Kenyan.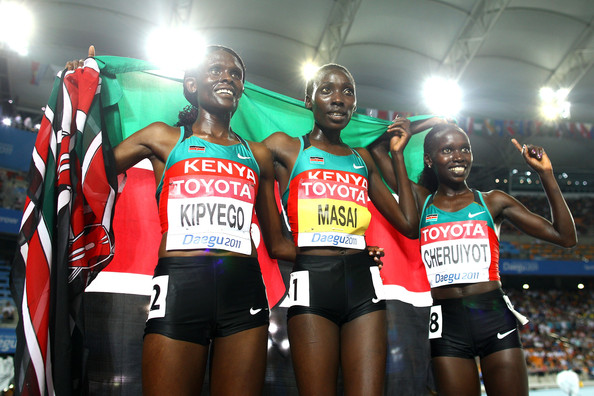 Men's 10,000m
This will be yet another Kenya Ethiopia battle. Legend Kenenisa Bekele has been rounding back to form after being slowed down by injuries. He will be the favourite but is vulnerable because he is not in the form he was 4 years ago. Moses Masai was 4th in 2008 and along with Wilson Kiprop will carry Kenya's best hopes at medalling. Kiprop has the fastest time in the 10,000m this year at 27:01.98. Masai is second at 27:02.25 while Bekele is 3rd at 27:02.59.  Bedan Kaloki is Kenya's 3rd runner in this event.  Kenya has not won this event since 1968 when Naftali Temu became the first Kenyan ever to win an Olympic gold medal. They have a good chance this time given the form Masai and Kiprop have shown.
Women's Marathon
In Mary Keitany, Edna Kiplagat and Prisca Jeptoo, Kenya the three excellent marathoners each of whom is capable of winning gold. Edna is the world champion and Mary has recorded the fastest times over the past two years. Once again the primary challenge will come from Ethiopia who have shown excellent form this year. There is also world record holder Paula Radcliffe who will gain strength from her home ground support. The marathon is the most unpredictable event. There is so much that can go wrong during the 26 miles: leg cramps, stomach cramps etc. Also the weather conditions play a huge factor. Some runners thrive in the heat while others thrive in cooler conditions. London's weather on any given day is unpredictable.
Men's Marathon
Kenya was thoroughly and utterly dominant at this event in 2011. This year however the Ethiopians have come back stronger and have the world leading time. Abel Kirui won the world championships in 2009 and 2011. With his championship pedigree, the Administration Policeman will be a strong contender for the podium. Wilson Kipsang has the world's second fastest time at 2:04:44. Emmanuel Mutai who has won several city marathons will be Kenya's 3rd runner. The trio have vowed to win this event in memory of Samuel Wanjiru, the Olympic champion who died mysteriously. World record holder, Makau was not included because he has not shown top form this year.
Other Athletics Events
It is refreshing to see a Kenyan compete in a field event. Julius Yego will carry Kenya's hopes in the Javelin. He became known as Mr. Youtube because he learned how to improve his technique by watching youtube videos because no qualified field event coaches are available in Kenya. With the techniques he learned by studying youtube videos, he won gold at the 2011 All Africa games and 2012 African championships. This year he received an opportunity to spend 3 months in Finland where he learned from some of the world's best coaches. He imrpoved dramatically and at the Kenya trials he tossed the Javelin to a new Kenya record of 79.95. In London his prospects for a medal are remote. His best bet is to better his Kenyan record.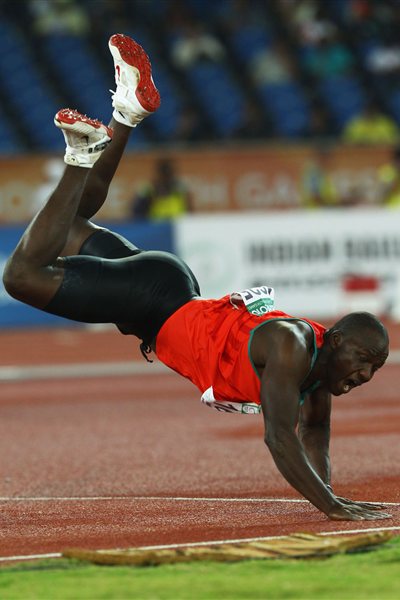 Boxing
Whereas Kenya used to send a full team of 12 to the Olympics, this year there will be one contender. Flyweight Benson Gicharu will carry Kenya's boxing hopes. He had been left on his own by the Kenyan boxing officials, paying his own gym fees and struggling to find equipment. He received a reprieve when he was sent to Wales for training.
In women's boxing, middlewight Elizabeth Andiego will be Kenya's only participant. This is the first time women's boxing will be an Olympic event. Andiego started boxing 5 years ago. Whe she first showed up at the gym in Eastlands, the coach never took her seriously. "He thought I would just be there two days and then I would be gone. But I kept on training." said Andiego.
In May, Andiego returned dejected from the London qualifiers held in Beijing after failing to win a win a place. "I thought my dreams were over when I came back from China and I had lost. From there onwards my morale was down. I didn't think I had an upcoming tournament," she said. The judges in Beijing, however, had seen enough. Andiego got a reprieve and received a wild card entry to the Olympics.
The last time Kenya won Olympic medals in boxing was 1988 when Robert Wangila and Christopher Sander won gold and bronze respectively. Gicharu is determined to end this jinx. "For a long time no Kenyan boxer has been as stylish as Wangila in the Olympics. Wangila's achievement is what inspired me to strive to qualify for the Olympics," he said.
Kenya is yet to come to grips with the advent of computer scoring which as been around for almost 20 years now. Nicodemus Odore in 1992 was the last time a Kenyan advanced beyond the 1st round at the Olympics. The duo of Gicharu and Andiego will be hard pressed to win one bout.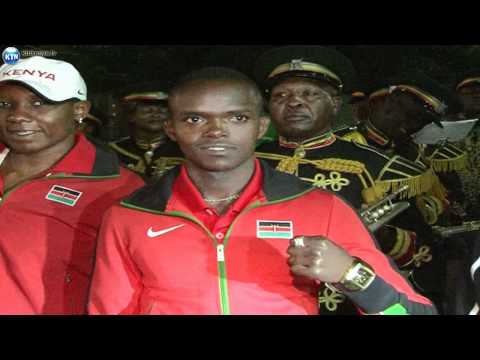 Swimming
The Dunford brothers, Jason and David will carry Kenya's hopes. In 2008, Jason briefly held a world record and came within a whisker of medalling. Jason placed 4th in the 100m butterfly and 7th in the 50m butterfly at the Shanghai World Championships. Then at the All Africa Games in Maputo he won gold medals in the 50 and 100m butterfly, silvers in the 50m backstroke, 100m freestyle and 200m butterfly and a bronze in the 50m freestyle.
This year, Jason Dunford won the gold medal of the Men's 100m butterfly at the 2012 Paris Open Swimming Championships on Saturday, July 7.
The Dunford brothers have been training intensively in Bristol for the past few weeks.
 Weightlifting
Mercy Obiero  received a wild card  by the International Weightlifting Federation( IWF) to represent Kenya at the Olympics after they were satisfied with her performance at the Africa Weightlifting Championship, which were also Olympics trials held in Nairobi in February.
Obiero said it was a dream come true for her and the family who have been very supportive throughout her ups and downs. She will change her weight from 63kgs to 69kg. 
As a wildcard entry, not much is expected from Obiero. But she should better her personal best and gain from the international experience which will give her a leg up at the next All African games and the next Commonwealth games. She finished 4th at the 2010 Commonwealth games.