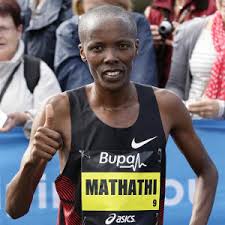 In his marathon debut, Martin Irungu Mathathi outpaced defending champion Joseph Gitau to win the Fukuoka international marathon Sunday. It was a one-two finish by the Japan-based Kenyan runners.
You will remember that Mathathi, who is now 27, won the 10,000-metres bronze medal at the 2007 world championships in Osaka
He also won the bronze medal he won in the 12 km event at the World Cross Country Championships in Fukuoka, Japan on April 2, 2006
He and compatriot Gitau broke away from a six-man front pack at 35 kilometres. Mathathi surged at 40 kilometres and Gitau had no answer.
He went on to win the race in 2hrs 7mins 16 secs with Gitau second in 2:09:00 and Japanese Yuki Kawauchi third in 2:09:05.
"The time is not bad for me as it is the first time that I finished a (full) marathon," the Kenyan said. "I will try to clock around 2 hours and six minutes in my next race and then aim for still better times."
A third Kenyan, veteran Mekubo Moogusu, who is also based in Japan, was 7th in 2:12:03, a minute slower than his personal best
Results
1. Martin Mathathi (KEN) 2hr 07min 16sec,
2. Joseph Gitau (KEN) 2:09:00
3. Yuki Kawauchi (JPN) 2:09:05
4. Henryk Szost (POL) 2:09:37
5. Chiharu Takada (JPN) 2:10:39
6. Reid Coolsaet ( CAN) 2:11:24
7. Mekubo Mogusu (KEN) 2:12:03
8. Ayad Lamdassem (ESP) 2:12:31
9. Satoru Sasaki (JPN) 2:13.12
10. Robert Curtis (USA) 2:13:24