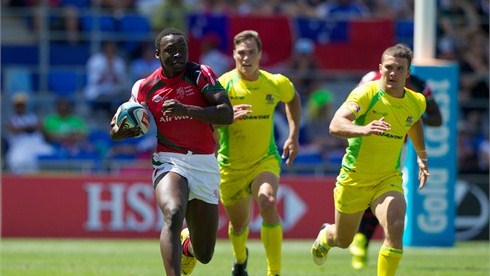 Kenya picked up 12 points at the 2013 Gold Coast sevens thanks to impressive wins over Tonga, USA and Wales.
However there is much room for improvement as Kenya looked listless against the top teams specifically New Zealand and Fiji. In fact Kenya had absolutely no answers for the juggernaut that was New Zealand. The match against New Zealand typified the kind of issues Kenya will face going forward.
Physical Size
As soon as Kenya stepped on the field against New Zealand, the difference in body size was readily apparent. The New Zealanders were literally built like tanks. Even Kenya's muscleman Andrew Amonde looked fairly average when standing against the New Zealanders who to a man are chiseled and heavily built.
And New Zealanders took full advantage by attacking Kenya physically at breakdowns and constantly pushing them back.
Kenya also often made the mistake of going into contact with the ball which against a physical team like New Zealand is a mistake. This occurred largely because support play was missing and thus isolated players who had nowhere to pass the ball often went into contact.
Passing
New Zealand passed the ball at speed. Their switches and scissors moves were all executed at speed and it effectively shredded Kenya's defence on several occasions.
Kenya on the other hand did not display the passing ability. Against New Zealand, Kenyan players often slowed down when they are about to pass. This made their moves rather predictable. And because there was not much variation in their moves, team Kenya became very predicable.
This was the exact opposite of how Kenya played when they played against USA. On that occasion, Kenya's passing and movement, though not at the level of New Zealand, was decent. Perhaps it was the intimidation factor of playing against a very physical team.
Tackling
Whereas New Zealand had the highest tackle completion rate at close to 90%, Kenya was amongst the trailers with close to 50%. It is perhaps the one aspect Kenya will have to address the most. In addition, other teams have perfected the art of using the tackle to create turnovers.
Bad defence was also in display when Kenya played against Australia and Fiji on day two where the two teams capitalized on Kenya's missed tackles to score.
Summary
Kenya showed ruthlessness and superb execution against USA and Tonga but that confidence was missing against the big teams.
All in all a decent performance by Kenya, Most impressive was their win over Wales. Oscar Ouma was named in the All tournament team. Collins Injera is rounding back into the form that saw him come close to becoming the IRB sevens player of the year in 2009. His try against Tonga was superb, not just for his typical speed, but for the way he bulldozed the Tongans. It is the Tongans who are known for their heavy hits but this time they were on the receiving end of Injera's hits. Billy Odhiambo put on a good display and lived up to the expectations placed on his shoulder. With him in the line-up, Kenya will miss Ambaka less.
Going Forward
Some of the issues Kenya faced can be addressed immediately, especially their lack of confidence against physical teams, the defensive errors, the predictability of their moves,and  tackling.
Others require a long term strategy. The sevens game requires quickness of thought and very good hands. Players have to be able to handle passes and offload the ball at speed. These skills will require years of player development. KRFU must put these near the top of their agenda. For Kenya to start competing consistently with the likes of Fiji and New Zealand, these skills must be developed.