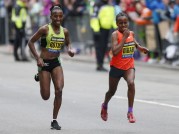 The Boston marathon women's was a close one and was only decided in the final strides. It came down to a battle between . This time the duel was Caroline  Rotich of Kenya and Mare Dibaba of Ethiopia.
Dibaba seemed to have the upper hand and appeared headed for victory, but Rotich found another gear and was able to pull away in the last strides, putting four seconds on Dibaba in what seemed like the last inches. Rotich won in 2:24:55 . Dibaba was four seconds back in 2:24:59, and her compatriot Deba third in 2:25:09.
"I swung wide," Rotich said of her move on the final corner, "and I thought, 'we're so far away, I can't see the finish line'. So I fell back, but then I saw the finish line, and I came back and had to give all the strength I had to reach the finish line." said Rotich after the race.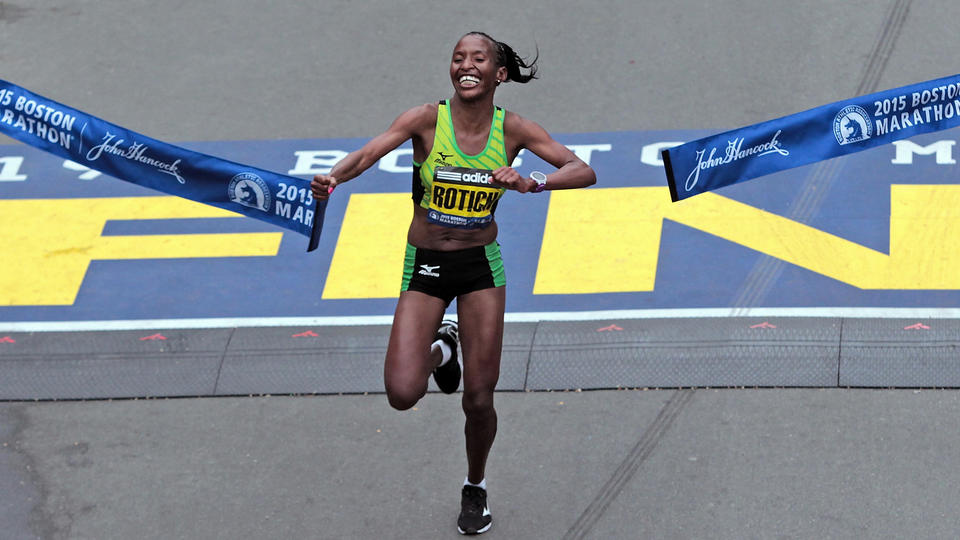 Rotich said she had been training in Sante Fe, New Mexico under cold and rainy conditions to prepare for the conditions on Boston.
The 30 year old Rotich first ran the Boston Marathon in 2011, finishing fourth, She is relatively unkown. Her previous win was at the Prague marathon in 2013.
Rotich grew up in Nyahururu, town, the same town that has produced such great runners as Sammy Wanjiru and John Ngugi. She spent her formative running years in Japan, attending Sendai Ikuei Gakuen. Wanjiru attended the same school.