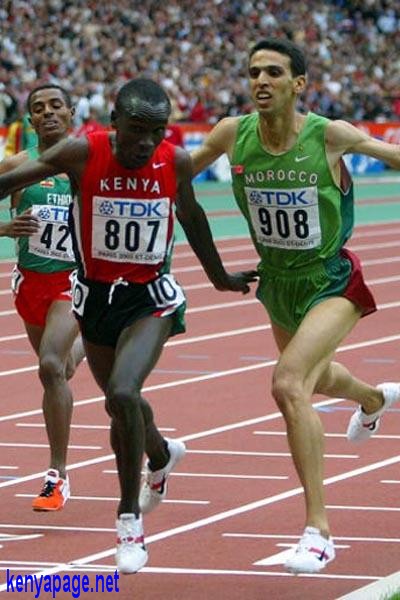 The 2003 World Athletics Championships were held from 23 August to 31 August 2003 in the Stade de France in Saint-Denis, Seine-Saint-Denis, France. Kenya won 2 gold, 1 silver and 1 bronze for a total of 4 medals, the lowest total by the country since 1987. Kenya finished 7th overall behind Ethiopia, Belarus and Sweden.
The two gold medals came from 18 year old Eliud Kipchoge in the 5000m and Catherine Ndereba in the women's marathon.
5000m: Shock win for Eliud Kipchoge
The heavy favourite for this race was Kenenisa Bekele of Ethiopia who had won the 10,000m a few days earlier. His primary challenger was expected to be Moroccan Hicham El Guerrouj. Other contenders including defending champion Richard Limo and John Kibowen of Kenya, Gebre Gebremariam of Ethiopia and Zerseneya Tadesse of Ethiopia. No one expected anything from the 18 year old Kipchoge.
Bekele started off on a torrid pace, passing the halftway mark only a second off world record pace. The idea was to set a strong pace in order to ward off El Guerrouj who being a miler, had a stronger finishing kicker. The lead changed multiple times in the second half of the race.
At the bell, El Guerrouj made his move  and it looked like he was striding to victory. But he started to tire with 140m left. That was when Kipchoge and Bekele caught him. With 80m to go, the trio were all running in tandem. Any of them could win. Kipchoge went neck and neck with El Guerrouj and managed to outlean him at the bell. A famous win for the 18 year old. A win that portended greater things for Kipchoge. Nearly 15 years later, he would set the world record in the marathon. John Kibowen finished right behind Bekele for a creditable 4th place in a famous race.
Race Video

Women's Marathon : Catherine Ndereba becomes first Kenyan female gold medalist
Catherine Ndereba became the first Kenyan woman to win marathon gold in the women's marathon. She won with an impressive time of 2:23:55. A major achievement since Kenyan women failed to win any medals in 2001
Other Medals
In the men's 3000m steepelchase, Ezekiel Kemboi took the silver medal. The race was won by former Kenyan Saif Said Shaheen, who was formerly known as Stephen Cherono. It marked the only time Kenya did not win this event since 1987.  In the women's 5000m, Edith Masai took the bronze medal with an impressive time of 14:52.30.
No coach has accomplished more than Brother Colm O'Connell , the head coach at St Patricks Iten. Since her arrived in Kenya in 1976 since 1976, O'Connell has coached 25 world champions and four Olympic gold medallists, including Peter Rono, Wilson Kipketer and David Rudisha.