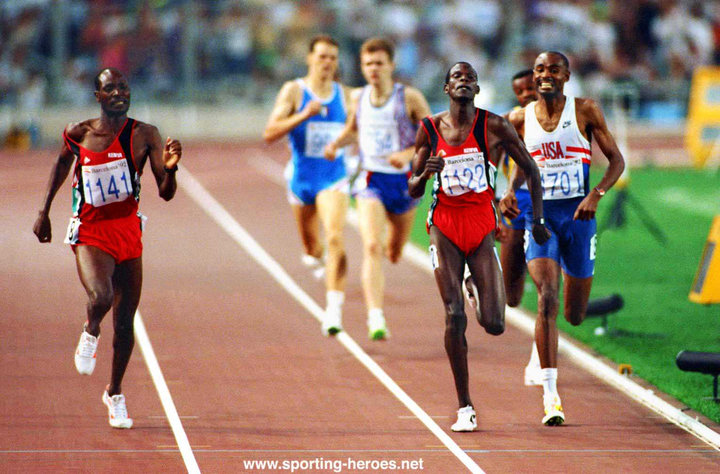 Background
The 1992 Summer Olympics were held in Barcelona, Spain from 25 July to 9 August. Kenya finished with 2 gold 4 silver and 2 bronze medals, all from athletics. These games marked the first time since 1968 that Kenya had not won a medal in boxing. It marked the beginning of Kenya's sudden decline in Olympic boxing.
800m: Gold and silver for Tanui and Kiprotich
It was a tough 800m final. Aside from the two Kenyans, Nixon Kiprotich and William Tanui, there was experienced Brazilian Jose Luis Barbosa and American record holder Johnny Gray and his compatriot Mark Everett.
Gray set the pace running the first lap in 49.99 seconds. He and Barbosa were famous for setting fast paces. Grey led until there was 100 metres to go.. At this time Nixon Kiprotich came around the bend and challenged Gray. Tanui followed close. Gray tried desperately to hold onto the lead, grimacing. But the Kenyan duo had a different gear. In the end it was a photo finish with Tanui outleaning Kiprotich who finished second.
3000m Steeplechase: Kenya sweeps the podium
Kenya did not just take gold, silver and bronze in this race. The Kenyan trio thoroughly dominated, finishing well ahead of the rest of the field. By the bell, the three Kenyans, Mathew Birir, Patrick Sang and William Mutwol already had a decisive lead. The highly experienced Patrick Sang was looking for redemption after finishing 7th and the 1988 Olympics. After the bell, the Kenyans further extended their lead. It was Birir who surged ahead. Sang gave chase but could not catch Birir who won in 8:08.84, Sang was second in 8:09.55 and Mutwol came third in 8:10.74. Mutwol was a good 30 metres ahead of fourth placed Alessandro Lambruschini of Italy.
Interestingly, the fastest steeplechaser of 1992 was defending world champion Moses Kiptanui who did not qualify. Yet record-wise, 1992 was his best year. That year he set the world record in both the 3000m flat (7:28.96) and 3000m steeplechase (8.02.08).
Other Medalists
The 10,000m was a controversial one. Richard Chelimo had originally been given the gold medal after a Moroccan runner was judged to have impeded him, thus giving an advantage to Khalid Skah. But upon appeal, the gold was restored to Skah. Paul Bitok took silver in the 5000m. In the 4 X 400m relay, Kenya was a strong contender, having run a solid time of 2:59.63 in the heats. And they had a powerful anchor leg in Samson Kitur who had taken the bronze medal in the individual 400m.  In the finals, they were in 3rd place when disaster struck. The second leg runner pulled a muscle and dropped out.