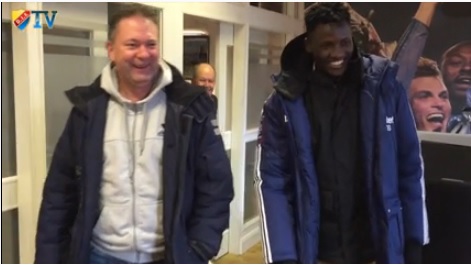 Most of the Kenya players who made a successful career in Europe have been defensive midfielders including Victor Wanyama, Mcdonald Mariga, Robert Mambo who played in the UEFA cup, Patrick Osiako who has been in Europe for an amazing eight years. McDonald Mariga, also a defensive midfielder has played for several top tier sides he Wanyama and Oliech, are the only Kenyans who have played in the European champions league.
Offense oriented players have not had similar luck. The Kenya football scene is replete with players who shone brilliantly in Kenya , went to Europe but were unable to make a mark and promptly came back. The list includes former KPL players of the year like George Odhiambo "Blackberry", Kevin Kimani, Dan Sserunkuma as well as others like Jamal Mohamed, Patrick Oboya and Francis Kahata among others.
Michael Olunga was voted  the Kenya player of the year in 2015. He has recently left for Sweden where he will attend trials with Djurgarden IF, a Swedish top tier side. And many will doubt whether he can succeed where his predecessors did not succeed.
There are a number of aspects about Olunga that make him a different proposition.These are characteristics that are highly required by European teams.  First off Olunga is a very cerebral player. He is not as quick as others. But he makes up for it with very clever positioning.  He has a knack for placing himself in the right place at the right time.
Secondly, his finishing is accurate. He needs far fewer chances to score. Unlike many Kenyan strikers who require five chances to score one goal, Olunga will score on half of his attempts. It comes down to his poise and accuracy in front of goal. His shot placement is impeccable whether he is tapping the ball in from close range or shooting. And he can finish with either foot. His aerial ability is also well above average and has enabled him to score several goals with his head. His accuracy in front of goal so him score in virtually every Harambee stars game he played in 2015 including a hat-trick for the U23 team against Botswana.
Another aspect of Olunga that will impress European coaches is the fact that he is very difficult for defenders when  chasing long balls. His large frame offers a huge target and when the ball is played ahead, Olunga effectively uses his length to win long balls as Zambian defenders found out when he scored against them.
In essence, Olunga is a fundamentally sound, highly technical player who knows how to read and react to defences. These are characteristics that are demanded by European coaches.
Unlike many Kenyan players who have gone to Europe, Olunga's stated age of 21 (born in 1994) is likely accurate considering that he finished form four in 2012. Some Kenyan players have had difficulty when they arrived in Europe with fake ages only for their true age to come to light.
Some of the Kenyan players who went to Europe were very talented on the ball but had glaring weaknesses in their game. Patrick Oboya in his prime was a heck of a dribbler and very quick. But he was too left footed, could not use his right foot at all and thus very one dimensional and predictable. And whereas dribbling is highly valued in Kenya, technical and tactical awareness skills are more valued in Europe. Oboya had very little technical instruction during his formative years.
George Odhiambo "Blackberry" lit up the Kenyan scene in 2010. When he went to Denmark, he was eager to showcase his dribbling skills. When asked by the Danish media what his biggest strength is, he replied that it was his dribbling ability. But in Denmark and other Scandinavian countries, technical skills and tactical knowledge are more highly valued as he was to find out. A similar fate befell players like Dan Sserunkuma.
One exception is Dennis Oliech. When he arrived in France over a decade ago, Oliech was very raw. The French media noted that though he was quick, his shooting was wild. Oliech almost never made it in France for this reason. He spent a lot of time on the bench during his first few months with Nantes and almost went back to Qatar. What saved Oliech's Euro career was the fact that his raw talent was so immense that it made up for his lack of technical skills. For one thing Oliech in his prime was so fast that he was rated the fastest player in the FIFA video game. And he was excellent at dribbling and running at defenders. With time Oliech worked hard on the technical aspects of his game. His shooting and crossing became more accurate. And he even developed his weaker foot into a decent weapon.
For players who do not have Oliech's raw talents, it is much harder to make it in Europe as an offensive player. Olunga is on the right path. In his first interview, he was asked to describe his strengths. He replied thus:
"My biggest strengths are my aerial ability, my physical strength and my ability to link up play by holding off defenders."
This is a good answer. However there are many naysayers. Ulinzi coach Robert Matano thinks Olunga has gone to the wrong place.
"However, I have a problem with him going to Sweden because I don't think it is right place for him to develop. He should get the right club that will give him the necessary challenge to grow as a player." said Matano.
But Sweden is a good launch pad. McDonald Mariga and Victor Wanyama started their European careers in Sweden.