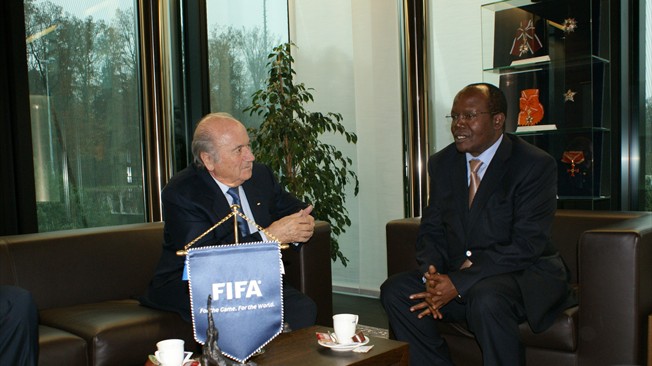 You have not seen corruption in sports until you understand how FIFA works. Sepp Blatter's corrupt ways are known throughout the world and will not be subject of this article. In this article we focus on how Sepp Blatter's corruption has destroyed Kenya football and resulted in misery for Kenya fans over a period of almost fourteen years going back to the year 2000 with Maina Kariuki as KFF chairman.
The most recent issue is the standoff between the Kenya Premier League (KPL) which is the bidy that runs Kenya's top league and the FKF which is the body charged with running football in Kenya.
Why KPL runs the top league
The decision to give KPL authority to run the league was arrived at around 2003. FIFA endorsed the idea at the time because the KFF was rife with corruption, backroom deals and had a habit of disregarding promotion and relegation rules. The net result was lack of interest among the general public in local football, an absence of sponsors and and empty stadia even for Gor Mahia and AFC Leopards.
Ever since KPL took over running the league, matters have improved dramatically. The league now has a sponsor, a broadcast partner. Fans are slowly returning. And the top players now earn a decent living. In 2003, Tusker FC was likely the only club paying livable wages. The top Tusker players earned approximately Ksh 20,000 a month. Now the top players in the Kenya league earn almost 10 times that much at about Ksh 180,000.
All this good fortune will be reversed if Nyamweya and FKF are allowed to take over running the league.
Incompetence and Corruption
Everything Nyamweya touches ends up in ash. Harambee stars have been in a sorry state since he took over, routinely losing to the likes of Lesotho. The CECAFA cup which Kenya hosted in 2013 was shambolic with teams getting locked in their hotels due to non-payment of allowances. French coach Henri Michel who was invited by Nyamweya to coach Harambee stars ended up leaving after a few months once he realized that Nyamweya was never going to pay him. His successor, Adel Amrouche suffered the ignominy of being evicted from his apartment because he could not pay rent. Nyamweya was not paying him.
Nyamweya is primarily driven by a greed for money. Nobody knows what he does with the annual FIFA grant which amounts to US$ 250,000 per year (Almost Ksh 23 million).
One of the first actions he took when he became FKF chairman was to demand that all football sponsors must deposit 15% of their sponsorship money in FKF accounts. Safaricom who used to sponsor the popular Sakata ball tournament balked at the idea. Nyamweya stood his ground and a result the Sakata ball tournament ended, leaving grassroots youngstars with no avenue to showcase their skills. Copa Coca Cola, another grassroots tournament which was once thriving has basically been moribund since Nyamweya took over in 2011.
And because many future stars were discovered in such grassroots tournaments, it is fair to say that Nyamweya is quite literally killing Kenya's prospects of unearthing grassroots talent.
The source of sponsorship that Nyamweya has not been able to get his paws is the KPL sponsorship which comes from broadcast partners Supersport. This is likely the reason for Nyamwey'a push to assert authority over the KPL.
But under Nyamweya, football is rife with corruption which means it is likely that sponsorship deals
FIFA Independent consultant report
A report commisioned by a a FIFA auditor found that mong other things:
1.  FIFA funds to FKF for referees was never transferred to the leagues or clubs who actually pay the referees.
2. FKF said it would pay for the higher costs of an 18-team league but could not but show any new sponsors for doing so.
3. That an 18 team leagues will mean reduced grants and players salaries for all KPL clubs
The auditor recommended that the league continue to be run by KPL and not FKF.
Nyamweya then flew to Zurich to meet Blatter. Soon after that meeting Blatter declared wholehearted support for Nyamweya and FKF and even declared that the technical report prepared by the FIFA auditor should be ignored. This is classic corrupt behaviour by Blatter. Why would FIFA order a technical audit whose results should be ignored?
President Uhuru Kenyatta is even reported to have personally telephoned Blatter but the FIFA chairman was adamant that Football activities in Kenya must be run by FKF no matter how incompetent and corrupt they are.
The reason for Blatter's insistence is that he needs Nyamweya's vote at the next FIFA congress. Nyamweya for his part wants nothing more than to continue to line his pockets at the expense of players.
So Kenya football fans who have suffered humiliation after humiliation over the past 15 years must continue to suffer. And fans are starting to tune out. If you look at attendance of Harambee stars matches you will notice that the attendance has been slowly falling as fans have come to expect mediocre results from Kenyan sides.