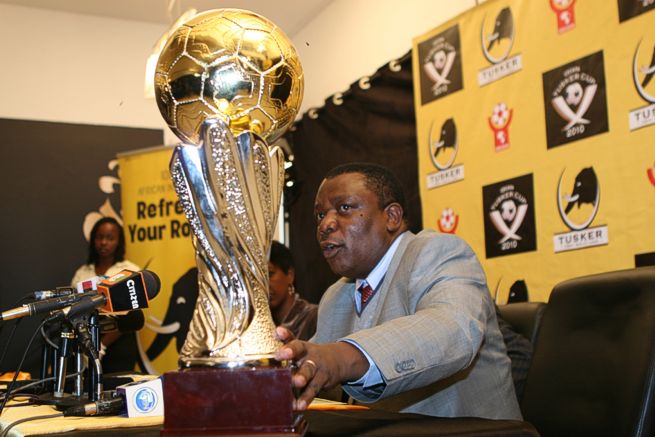 CECAFA chairman, Nicholas Musonye has been on record several times blaming fans for the low attendance that has plagued recent CECAFA tournaments. Most famous was his tirade against Kenya fans where he said :
"Cecafa tournaments had not taken place in this country for 14 years. Against advice of other members, we pushed for having the tournament in Kenya because we felt we needed to encourage them to host tournaments. But clearly this was a move that entangled us with a lot of difficulties" said Musonye during a press conference at the Media Centre at Nyayo Stadium yesterday.
"But I think this was a big mistake. It's a waste of time bringing a competition to people who won't watch. I will never fight for any competition to come to this country again" continued Musonye.
"Kenyans don't want to come to the stadium and those who come want free entry," said an angered Musonye
"Kenyans pretend to be football fans, after failing to turn out to watch matches at the Cecafa Senior Challenge, it's a big failure in terms of attendance. It's a waste of time bringing a competition to people who won't watch, I will never fight for any competition to come to this country again" concluded Musonye.
The opening match between Kenya and Zambia was attended by a paltry 5000 fans. When Kenya was bundled out in the last 8, things went from bad to worse with matches being played mostly to empty, ghostly stadia. Musonye went on to accuse Kenyans of being more interested in gossiping than watching football.
A furious Musonye vowed never to bring the tournament to Kenya. In 2011, Kenya was awarded the hosting rights to the 2012 CECAFA cup. But before Kenyans knew it , the tournament had been shifted to Uganda with Musonye insisting that the sponsors had made the decision.
But Musonye was soon complaining that Ugandans like their Kenyan counterparts left CECAFA holding the bag by not attending matches. Musonye also complained about the playing surface : "Namboole Stadium has really been so bad and it's not our own making. We think playing in Lugogo and Wankulukuku which we have inspected will help us complete the group matches by Sunday," reasoned Musonye.
However a closer look at this debacle betrays the fact that Musonye has not taken any responsibility for the poor attendance in CECAFA .
When a business creates a product but customers are not buying the product, the management of the business should not go on a tirade and accuse the public of bad manners. Rather the owners of the business should examine why the public is not interested in their product then proceed to create products that the public is interested in.
Promote the players
There was a time when the CECAFA cup was a must watch. Every Kenyan fan was riveted to the tournament regardless of where it was held. This was in the 1970s and 80s. Players from the various national teams became legends. The likes Mahmoud Abbas, Ambrose Ayoyi, JJ Masiga, Bobby Ogolla, Wilberforce Mulamba, Murila "Controller" and Allan Thigo became legends all over East and Central Africa. Kenyans for their part were thoroughly familiar with players from other nations.
Tanzanian household names inluded the the likes of Abdalla Kibaden, Ahmed Amasha and Zamoyoni Mogella. Uganda had Godfrey Kataregga, Paul Hasule and Issa Ssekatawa among others. Ethipia had, Neguisse Gabriel, Sudan had Mustapha Nagar and Kamal Abdulghani.
From Central Africa, Malawi had Clifton Msiya, Jack Chamangwana, Kinnah Phiri and Stock Dandize. Zimbabwe had Ephart Lungu, Charles Chirwa, Stanley Nduduma and Shacky Tauro. And who can forget Kalusha Bwalya, Godfrey Chitalu and Philemon Mulala of Zambia.
These players became household names because the newspapers did lengthy features on them and profiled them. Radio and TV announcers told the listening public every detail about them. Because they were household names, the public was highly interested in the CECAFA cup.
At the end of each tournament, the media would vote for the best 11 players and create an East and central XI. The number of players selected to this All star team was a source of pride for each country.
Today CECAFA players are invisible. Some of the players are not even known by their own fans much less foreign fans. These fans are less likely to follow the tournament or attend matches if they don't know the players.
Musonye and CECAFA should work with media outlets to bring attention to the various players.
Work with local Federations.
Rather than antagonize Federation chairmen as Musonye did with Nyamweya of FKF, he should work hand in hand with each federation chairmen. Musonye should work with each federation to send the strongest team possible. A trend towards sending second tier players is taking hold. This cannot be good for CECAFA. Fans are put off when teams send second string teams. Fans want to see the best players.
Musonye must also work with the FA chairmen to ensure the teams are adequately prepared so that they can play high quality football. Fans do not want to want to see poor football. And when a team is poorly prepared as Kenya usually is, fans will not expect much. This means each league should finish at least 2 weeks before the CECAFA challenge cup to give the players time to train together. Only by cooperating with each FA chairman will Musonye achieve this. Unfortunately he has adopted a confrontational attitude especially with regards to Kenya.
We all know that Nyamweya is a charlatan and a piece of work. But Musonye has no choice on this matter and neither do Kenyans who have to put up with Nyamweya. For the sake of CECAFA, there must be cooperation amongst the various FAs and CECAFA.
Keep fans posted online
CECAFA has a website. However the website is not often updated. As this article is written, it has been a week since the 2012 Challenge cup ended however CECAFA's website has not been updated to reflect the results. Many of the links on the site do not work. The upcoming events link takes you to the news section instead.
By now, this site should have been updated with match statistics, top scorers, statistic leaders, photo galleries, videos, interviews and other materials that can draw the attention of the public to the tournament. This will also serve to make fans more familiar with the players.
Use the website to promote the tournament
As noted above, fans are keen to watch a tournament when they know the players. Therefore CECAFA's website should have information promoting the various teams and players. There should be detailed profiles of players including as much information as possible. Each team should also be profiled with information about their strengths and weaknesses.
Document CECAFA's history
The website should be used to write detailed stories from CECAFA's past glorious history complete with pictures and interviews with players who made a name for themselves in CECAFA. Dennis Oliech was the star of the 2002 CECAFA cup at the tender age of 17. Why not post an interview with him to discuss that tournament. There are also other legends who have played in CECAFA, most notably Kalusha Bwalya of Zambia. There have been some spectacular goals scored in the history of this tournament. The website should post videos of these spectacular goals.
Bring back Zimbabwe, Zambia and Malawi as permanent members.
These three countries left CECAFA when COSAFA was created. Now that COSAFA is moribund, Musonye and co should engage with the various FA chairmen to rejoin CECAFA as soon as possible. They should also send their strongest teams. Matches against these teams are part of what made the tournament a must watch during its heyday.
For the club competition each country must send their national champions unlike in the past when Zambia would send their 3rd place finisher.
Promote CECAFA on social media.
CECAFA should get whomever updates the CECAFA website to promote the tournament on social media such as facebook and twitter. This is how you can reach the youth of today and inform them about the glorious history of the tournament.
Host the CECAFA club cup in Kenya
Now that Gor Mahia and AFC Leopards who are the two crowd pullers of Kenya football are back in form, it is time to bring the cup back to Kenya. The history of the tournament is replete with some very epic encounters between the two. Such encounters are still often discussed between fans of that era. There is no better way to get Kenyan fans interested in CECAFA again than getting these two teams involved again. Indeed the interest of Kenyans in CECAFA started to wane when these two teams were no longer actively involved. The fans of today have no interest in CECAFA.. Its time to re-introduce the fan base of these two great teams to CECAFA club cup.
Musonye has done well
This is not to say that Musonye has done poorly with CECAFA. Indeed when he took over, this tournament was on its last legs having been ruined by his predecessors. However Musonye brought it back to its feet and at one point even introduced a  youth tournament and a womens tournament. Musonye therefore deserves kudos. There is still a long way to go before the tournament returns to its glory days.