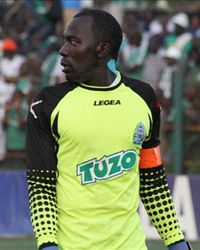 In the pantheon of great goalkeepers that Kenya has produced, there is usually one match or one tournament for which said goalkeeper will be remembered for a memorable performance.
Mahmoud Abbas miracles against Uganda
The legendary Mahmoud Abbas produced his career defining performance at the 1982 CECAFA senior challenge cup. In the semi-finals against Zimbabwe, the Zimbabweans were awarded what looked like a dubious penalty. After some protestation from Harambee stars players, Joel Shambo of Zimbabwe stepped up to take the spot kick. Abbas picked up the ball, walked straight to Shambo and stared at him in the face then walked back to the goal Shambo was so intimidated that he shot the kick directly at Abbas. In the finals, Kenya played a strong Uganda team that had reached the final of the Africa cup of nations 4 years earlier. The hosts pelted Kenya with everything in their arsenal, forcing 15 corners to Kenya's 1. But Abbas was solid between posts. In the ensuing penalty shootout, Abbas saved two penalties as Kenya shocked the hosts to win the cup. So epic was his performance that the stand at the Nakivubo stadium where Abbas made those saves was actually named Abbas Stand.
Tirus Omondi,  David Ochieng and Washington Muhanji
Three years later it was the turn of Gor Mahia goalkeeper Tirus Omondi. His moment came at the 1985 CECAFA cup senior challenge cup. He had just been called to the national team. But the rookie Omondi, popularly known as "Tairero" saved three penalties and once again the victim of the heroics was Uganda as Kenya beat the Cranes 3-1 on penalties to advance to the final.
In 1987, at the 4th All Africa games, it was David Ochieng's time to shine. In an epic semi-final against Malawi, Kamoga pulled off miracles by saving three penalties as Kenya advanced to the finals by beating Malawi 3-2 on penalties.
At the 1990 Africa cup of nations, one of the best players was goalkeeper Washington Muhanji. He performed incredible save after save in all three games. Most memorable was in the match against Senegal where he was caught out of position several feet away from his goal-line as the ball floated towards the goal. It seemed like a certain goal. But Muhanji back-pedalled at a high speed towards the goal and punched the ball over the goal line. So impressive was Muhanji that he was offered a professional contract by a Belgian side but his standing contract with thge army prevented him from leaving for the professional ranks.
Arnold Origi dashes Uganda's hopes
More recently it was Norway based goalkeeper who once again foiled the aspirations of the Ugandans. During the 2012 Africa cup of Nations, Kenya faced Uganda on the last day of qualification. Uganda needed to beat Kenya to assure qualification for a tournament that they had not qualified for since 1978 (34 years !)
And Uganda were confident as they had forced a draw away to Kenya and had beaten Kenya at home several times in reent memory. In fact as Kenya arrived , one Ugandan customs agent told Origi "Oh so you Kenyans have come to be beaten again ?". It was this act of insolence that motivated Origi. During the game, the Ugandans once again pelted the Kenya goal with shot after shot but each time Origi frustrated , foiled and stopped the Ugandans. The game ended 0-0 thus dashing Uganda's hopes yet again.
Jerim Onyango's heroics against US Bitam
And finally in 2014 it was Jerim Onyango's chance to shine. Gor Mahia were playing US Bitam of Gabon. But they may as well have been playing against the referee as well. Jerry Yekeh, the Liberian referee red carded a Gor Mahia defender (David Owino) as well as team manager Frank Ouna. He also awarded the Gabonese side two penalties during the run of play. But Jerim Onyango pulled off heroics by saving the spot kick. The game ended 0-1 in favor of the Gabonese thus levelling the aggregate score as Gor Mahia had won the 1st leg 1-0. In the ensuing penalty, shootout, Onyango once again emerged as a hero saving two penalties as Gor Mahia won 4-2 on spot kicks.
"All my time in football, I have never seen four penalties saved in a single game by the same goalkeeper," Gor midfielder Innocent Mutiso, who converted the winning penalty said later.
The interesting thing is that spot kicks were previously considered Onyango's weakness. In fact during the previous years when Gor Mahia were faced with imminent spot kicks, it was backup goalkeeper Ivo Mapunda who was inserted into the line-up as penalty saving was his forte.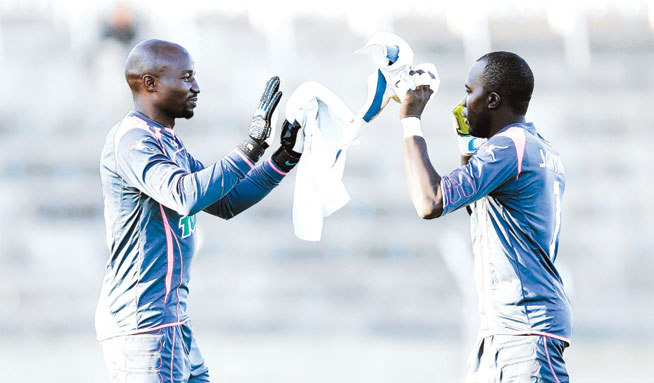 Twice Mapunda had steered Gor Mahia to win the FKF cup in 2011 and 2012. Jerim on the other hand had no such ability. His performance against US Bitam therefore came as a surprise to many. It is as if he had been saving his heroics for this particular game. This could very well be Jerim Onyango's career defining moment.