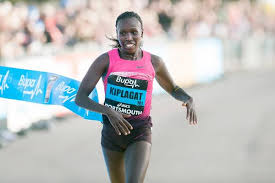 Kenya's Florence Kiplagat set a world record for the women's half marathon with a blistering performance at a race in Barcelona on Sunday.
The 26-year-old recorded a time of one hour 5 minutes and 12 seconds, beating the previous official best of 1:05:50 set by compatriot Mary Keitany in Ras Al Khaimah in February 2011. The unofficial record of one 1:05:40 was set by Britains Paula Radcliffe. That record was set on a course that did not meet the IAAF's point to point standards.
Kiplagat's fastest time over the distance before Sunday was 1:06:38, in Ostia in February 2012, and she finished more than seven minutes ahead of second-placed Nicola Duncan of Britain.
"This is a not a day I will forget, I'm so happy," Kiplagat said on the IAAF website (www.iaaf.org).
"The circuit was very fast and I really want to thank my pace makers, Marc Roig and Stanley Siroro, they did a great job," she added.
"I felt so well from the beginning and the weather was perfect, so I had the feeling that this could be a special day."
New 20km record for Florence Kiplagat
In fact she set two world records because in the process, she broke the world 20km road record previously held by compatriot Mary Keitany. The new record now stands at 1:01:56
Amazing Splits by Florence Kiplagat
Her 5km splits were as follows:
15:49
15:19 ( 31:18)
15:28 ( 46:36)
After 15km, she was only 8 seconds off Tirunesh Dibaba's 15km road record. Florence Kiplagat is now second in the all time list of 15km road running.
15:20 ( 1:01:56) WR record by 40 sec
3:16 (2:59/km) for 1:05:12 record by 38 sec
Here fastest 15k was worth a world record ( 46:07)