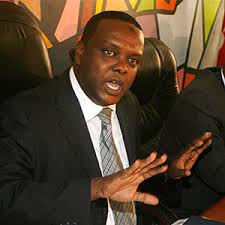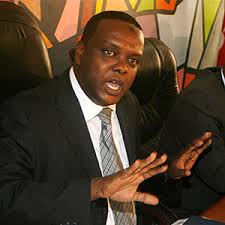 Let me first preface this by saying that FIFA frowns on government interference from governments on Federations. This stance by FIFA makes Federations untouchable regardless of how incompetent they are or how much they mismanage football. To say that FKF under Sam Nyamweya has mismanaged football is an understatement. However Nyamweya is virtually bulletproof because he knows that any intereference from the government will bring about harsh sanctions from FIFA.
Hassan Wario should engage FIFA
A few years back, the then Minister Hellen Sambili requested an audience with FIFA president Sepp Blatter to address the gross incompetence of the KFF under Mohamed Hatimy which was probably 10 times worse than what pertains under Nyamweya. She presented a plan to Mr. Blatter for how to reform the Federation by appointing interim officials followed by elections in short order. the East African Standard reported that Ms Sambili was foiled by Mathare United Chairman Bob Munro who flew to Zurich to defend Mr. Hatimy. In those days Munro had amazing clout at FIFA and he was the only person Blatter ever listened to. As a result Hatimy kept his position at Football Kenya Limited for several years despite doing absolutely nothing to lift the standards of the game. Sambili might have succeeded had Munro not foiled her.
We urge Minister Wario to apply the same tact and request an appointment with FIFA. The purpose of the meeting should be to outline the issues facing Kenya Football and propose solutions. Wario must have a solid plan and emphasize that the government is not interested in interfering but rather in resolving the issues that have been holding football back.
Football in Kenya needs a fresh start
Mr. Sam Nyamweya must be given credit for certain things. Under Mohamed Hatimy, football was as good as dead in Kenya. Under Nyamweya we have seen Kenya participate in women's tournaments, youth tournaments and Kenya recently won the CECAFA cup.
However Nyamweya's presence at FKF is a hindrance. The FKF is perpertually broke because corporations simply do not trust Mr. Nyamweya and are unwilling to part with their money. This despite football being the most popular sport in the country. It has resulted in some embarrassing situations as seen at the recent CECAFA cup when teams were locked in their hotels due to non-payment of hotel dues. Some like Zanzibar vowed never to play in Kenya again.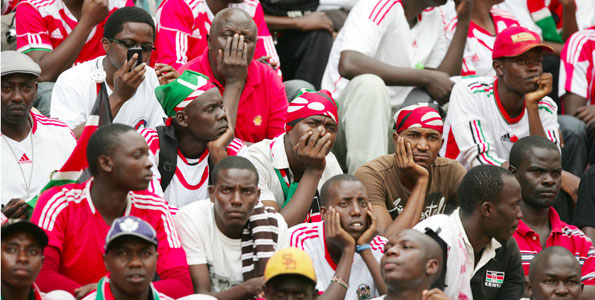 Thus a key part of Mr Wario's presentation to FIFA should be how the constitution of the Federation will be modified to ensure accountability and staffed with competent individuals with the ability to inspire the confidence of private sector corporation. Sammy Shollei, a former national team player comes to mind. Not only is he a successful businessman who can inspire the confidence of corporate types. With the right kind of people at helm, football in Kenya would have all kinds of sponsorships available.
Much more needs to be done.
Mr. Nyamweya deserves some credit for the positive things that have happened in local football lately. However Kenya is still wanting in many aspects largely due to incompetence at FKF and their ability to draw sponsors: Womens football is as good as dead, youth development is non-existent and Kenya is a permanent absentee in youth tournaments. All these issues can be addressed with the proper people at the top.
And Mr, Nyamweya's incompetence is glaring. We have already mentioned that embarrassment he caused by causing several teams to be locked in their hotels. He also hired French coach Henri Michel at an incredibly high salary $47,000 (Sh4 million). Only he knows where that kind of money was going to come from. Michel later walked out citing non payment of his dues. Current coach Adel Amrouche is also said to have gone four months and without pay and was tossed out of his apartment by his landlord before the government stepped in. FKFs handling of the national team has also left a lot to be desired as evidenced by what happened when Stars visited Calabar Nigeria and were unable to secure accomodations or a proper training field.
Another key issue that needs to be mentioned to FIFA is that due to gross mismanagement the public tends to loose interest in the sport and many gravitate to other sports. Football in Kenya would be drawing much larger crowds as it did in the 1970s and 1980s if it was well run.
Should Mr. Wario present a plan to Blatter, with a viable plan that emphasizes the governments cooperation with FIFA rather than interference, there is a chance that the yoke of incompetence that is bedeviling the sport might be lifted. It is certainly worth a try.
Football is a matter of national importance
Football is not just fun and games. It is quickly becoming a source of employment for players, coaches, trainers, physiotherapists, journalists etc. Kenya has a 60% youth unemployement rate. Yet the sports industry is being constantly held back by self-seeking, corrupt or incompetent officials. Mr. Wario as the government representative cannot continue to let this happen.