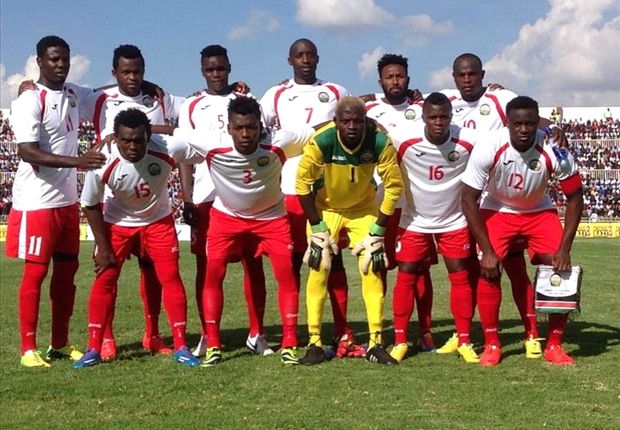 For the 2017 Africa Nations cup, Kenya has been handed a difficult qualifying path. They must navigate a difficult group E that includes Congo-Brazzaville, Zambia and Guinea Bissau. The top two teams will automatically qualify for the 16 team tournament that will be held in Gabon.
For the 2015 AFCON, Kenya was given a relatively easy qualification path. They simply needed to beat Comoros and Lesotho after which they would be grouped with Gabon, Burkina Faso and Angola, all of which are beatable teams.
But poor preparations doomed Kenya and they lost to lowly Lesotho which is ranked several places behind Kenya. Lesotho outplayed Kenya and even when they played in Nairobi, they appeared more composed and purposeful than Kenya.
Prior to the qualifications, top Kenyan players like Dennis Oliech and Victor Wanyama called for adequate preparations including top quality friendlies. No  such thing happened. Instead the Kenyan team was sent holidaying in Brazil to watch the world cup.
This time once again, the players are asking for adequate preparations and friendlies. David Owino who plays for Zambian champions Zesco United has underscored the need for adequate preparations.
"I play alongside six Zambia internationals. They are a good team. We need to prepare early enough and feature in formidable friendly games to stand a chance," he said to the Nation.
Allan Wanga who plays for Sudanese champions El Merreikh echoes Owino's sentiments.
"On paper, it looks like a difficult group but if we prepare well, we should be able to qualify," said Wanga to the Standard.
Victor Wanyama whose calls for friendlies last time went unheeded has given a more comprehensive statement.
"The draw in which Kenya is grouped is not easy at all because teams like Zambia and Congo are regulars at Afcon meaning first the federation should ensure all the issues surrounding football in Kenya are sorted amicably then preparations must be intense and we'll coordinated."
"Kenyan fans have been yearning to see the team qualify but all this needs proper planning and top friendly matches to ensure we are well prepared since we cannot underrate or think any team will be a walk in the park "Wanyama told supersport.com.
"As the captain and a footballer my dream is to play in the Afcon and so are My team mates I believe this time round we have to work hard and qualify to give our fans something to smile about but the federation has to provide the conducive atmosphere," he added.
Wanyama is not kidding. Zambia are vastly experienced and even won the tournament in 2012. Congo-Brazzaville reached the quarter-finals of the 2015 AFCON. They have previously reached the semi-finals. By contrast, Kenya has never gone beyond the group stage.
Guinea Bissau may be 131st in the FIFA rankings, but they are among the low ranked teams that have beaten Kenya in competitive games over the past 5 years.
Last time, FKF chairman complaied about a lack of resources to fund the national team. This time he has no excuse given that FKF recently signed a sponsorship deal that far exceeds the one they had with EABL. The new sponsorship deal with MP Silva is worth Ksh 270 million over 5 years.