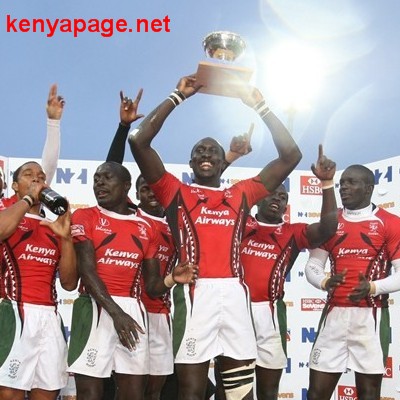 The year 2009 was the year when the Kenya rugby sevens team was at the very peak of its powers. That year, Kenya was one of the most feared teams in the IRB sevens series. They reached the semi finals 7 out of 9 tournaments and even reached the finals in Adelaide. Along the way they shocked world beaters New Zealand, England and South Africa. Collins Injera was top scorer in the IRB series. Humphrey Kayange was noted as one of the best players.In fact legendary New Zealand coach, Gordon Tietjens voted Kayange as one of the best sevens players in the world when he was asked to name his ideal 7.
At the 2009 World cup Kenya shocked everyone by beating sevens giants, Fiji in the quarterfinals to reach the semis. The powerfully built Victor Oduor routinely bulldozed his way past hapless defenders. It was two of his rampaging runs against Fiji that set up the tries that won the world cup quarterfinal. Veteran Ian Simiyu at centre sliced and diced defenses with his line breaking runs and his ability to find open spaces and release the wingers.  Lavin Asego was the playmaker, who dispatched the charges with aplomb. He gain a reputation for being one of the best at kickoffs. Sydney Ashioya was a super sub aka impact player throughout. His breathtaking speed allowed t score many kick and chase tries. But his ability to chase down defenders often saved the game for Kenya. There was also Biko Adema, Benedict Nyambu.
Coach Benjamin Ayimba was only in his second season as coach and many doubted his abilities as coach. He silenced his critics in spectacular fashion.