AFC Leopards were a force to reckon with during the early 1980s. They thoroughly dominated the regional East and Central African club championships 1979, 1982, 1983, 1984. In 1979, they beat host Horseed of Somalia in the semis before beating KCC of Uganda in the final. In 1982, the CECAFA club cup was held in Nairobi. AFC beat arch rivals Gor Mahia 1-0 in the semis before beating Rio Tinto of Zimbabwe in the final. In 1983 in Zanzibar, they beat Admarc Tigers of Malawi in a hard fought final. In 1984 the tourney was held in Kenya again. In an epic all Kenyan final, they beat arch rivals Gor Mahia 2-1 in the final.
AFC had a galaxy of star players. Most notable amongst these was goalkeeper Mahmoud Abbas. To this day Abbas is still considered the best goalkeeper Kenya has ever produced. He was an incredible shot stopper. With his height, he commanded the penalty area like a field general. But it was in penalty shootouts that Abbas was most effective. He had a way of intimidating opposing penalty takers. He seemed to fill the entire goal like a colossus. It was his penalty saving skills that brought many wins to AFC during those CECAFA tournaments.
AFC also had Wilberforce Mulamba, an extremely talented attacking midfielder who excelled at  dribbling, scoring and playmaking. He was often the top scorer in the CECAFA cup. Centre forward Joe Masiga was nicknamed bulldozer for his ability to use his physical strength. Masiga also played for the Kenya national rugby team during that period. A key aspect of the way AFC played in those days was their sheer footspeed. AFC had speedy wingers in Michael Amwayi, Francis Kadenge and Ben Musuku who terrorized opposing defenders. And in defence, Josephat Murila "Controller" was a sure footed sweeper who patrolled the backline with the authority of a field general.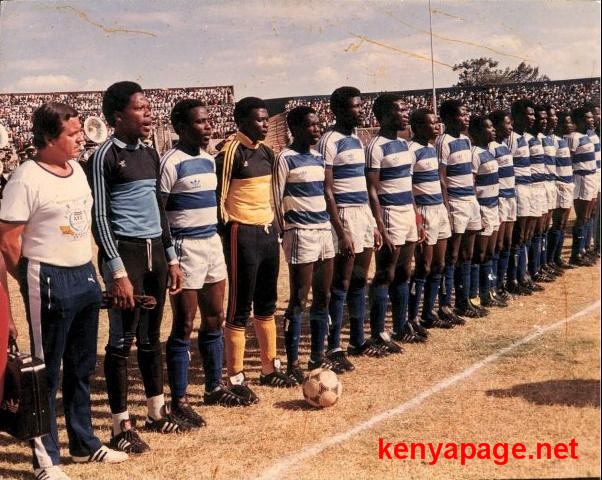 Coach Gerry Saurer with Abbas, Mulamba, Omar Shabaan and others