To say that Kenyan stadiums are in bad shape would be an understatement. A better description would be "Old, decrepit, dilapidated and poorly maintained.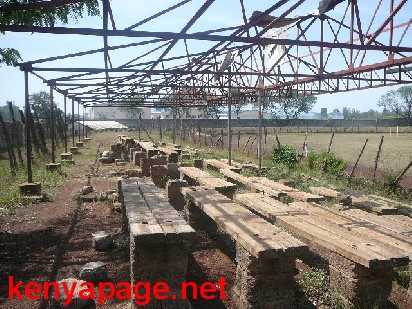 Built before Independence
Virtually all stadiums in Kenya were built before Independence. The succesive governments that took over from the colonialists did not see fit to build new stadia. Only Kasarani and Nyayo stadiums were built by the Moi regime. Neither the Kenyatta regime nor the Kibaki regime has seen it fit to build any stadia. In other words, the colonialists had a better realization of how important sports can be to the public than our own governments have been. The Moi government for its part had committed to building a new stadium in Mombasa to host the 1996 Africa nations cup. They however changed their mind, thus forcing Kenya to withdraw as hosts leading to a 2 year ban for Kenya.
And it is not just the football stadia that were built during the colonial days. Virtually all the rugby grounds in Kenya were built by the Colonialists as well: This includes the Harlequins grounds, Impala sports club, Railway sports club and Mombasa sports club and the rugby ground at the University of Nairobi. There have been no rugby stadia constrcuted in Kenya since independence 50 years ago.
Successive governments have paid only lip service to the building of stadia and playing grounds while making grandiose statements about hosting the Olympics. What the governments does not seem to realize is that there is a very good economic and social case for the building of better stadia and playing grounds all over the country.
Sports Tourism.
If a modern stadium were to be constructed in Mombasa, Kenya could bid to host a leg of the annual IRB sevens circuit. This means that rugby fans from all over the world (England, Australia, New Zealand, France etc) would visit Mombasa every year for this annual event bringing much needed tourist dollars and creating employment for the locals.
A modern stadium in Mombasa also means Kenya could bid to host other tournaments such as the Africa nations cup or various global youth tournaments which also attract large number of tourists.
An opportunity to promote Kenya as a destination
As discussed above, Kenya can attract a large number of tourists who come to watch games. However hosting tournaments offers an opportunity for a country to promote its tourist sites because the eyes of the whole world will be watching the tournament. The City of Barcelona hosted the Olympics in 1992 and since then it became one of the worlds biggest tourist destinations.
Opportunities for local merchants.
Whenever the two main football teams in Kenya(Gor Mahia and AFC Leopards) travel to other towns, it is always a business boom for local businessmen. Street vendors in Thika for example are always eager for the one weekend of the year when Gor Mahia comes to Thika because thousands of Gor Mahia fans descend onto the town and buy everything in site.
As it is right now, only hardcore fans attend matches at places like Thika Municipal stadium because the stadiuim is old, decrepit, uncomfortable and wgen full , there is literally nowhere to sit. Building a better stadium would attract even more fans including fair weather fans who are only interested in experiencing the ambience of a new modern stadium.
A new stadium in Thika means that the town of Thika could host more tournaments for example a leg a of the local sevens circuit which will bring many travelling rugby fans. If Kenya hosts a major international tournament such as the Africa cup of nations, Thika could host some games. Note that this applies to towns all over the country: Kisumu, Nakuru, Eldoret etc.
Thus building a new stadium in town would create job opportunities and business opportunities for the locals.
Increasing employment opportunities
As noted above, better stadia means more people will attend matches. When more people attend matches, local teams will raise more money which means they can hire more people for both permanent and temporary jobs. Aside from playing staff and officials, the clubs will employ more food vendors, janitorial staff, grounds-keepers and so forth. And with unemployment in Kenya running at 40%, the governments should see this as an opportunity to create more jobs and take it seriously.
Playing grounds are disappearing all over the country
During the colonial days and even up to the late 1960s and early 70s, whenever a new housing estate was built, it was required to also create a playground where estate youth could play football and other sports. As such Nairobians who grew up in that era always had access to playing fields wherever they lived.
This is no longer the case. Most of these grounds have been grabbed by well connected individuals and built up. New housing estates are no longer being built with playing grounds.As such the youth growing up in urban areas today often no longer have a place to nurture their nascent skills
Keeping the youth busy and away from crime
Access to playing grounds for football, basketball, volleyball and rugby is critical in order to provide youth with gainful activity. Today Kenya has about 6 to 10 million unemployed youth all over the country who sit around idle all day. This idleness causes them to drift into crime, drugs and other unsavoury activities. No wonder many are joining criminal gangs and are easily enticed to joing groups like Mungiki and MRC. Building playing grounds all over the urban areas is thus a good way to keep this youth busy and away from crime.
Get companies to bid for naming rights for major stadia
Well constructed stadiums that are well maintained will attract companies interested in bidding for naming rights. A few years back, Coca Cola Kenya limited put an offer on the table for naming rights of Nyayo stadium and were willing to pay ksh 400 million. This is the kind of money which if well accounted for could be used to construct other stadia all over the country. However the deal fell through because then minister for sports Hellen Sambiili wanted to keep the name "Nyayo" due to what was seen as her loyalty to the former president.
Sell naming rights for local grounds.
Aside from major stadia, even sports grounds can benefit from selling naming rights especially if they host popular tournaments. Take Jericho football grounds for example. This is the one of the most fampous mtaa grounds in Kenya. It has hosted several popular annual tournaments like Sakata Ball, Copa Coca Cola etc. A company that gets naming rights for such sports grounds will get very good and cheap pubilicty. It is also an opportunity for the Nairob city council to put some money in its coffers and possibly construct more playing grounds all over the city.