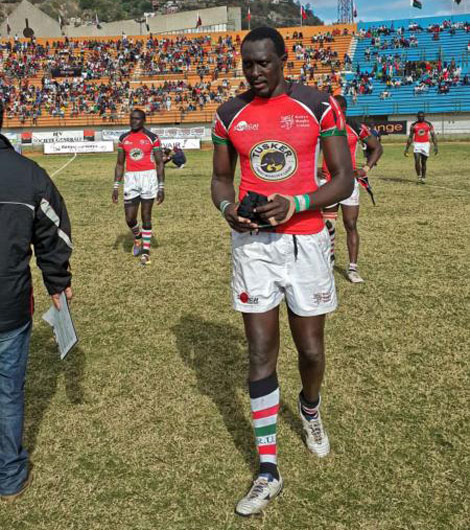 The dust finally settled on Kenya's dramatic failure to qualify for the 2015 rugby world cup. This was the first time Kenya came close to getting to the global tournament and after the first two matches, Kenya seemed on track, only to falter against Zimbabwe on the last day.
Much has been said about Kenya's failings in their last match against Zimbabwe. But not much justice has been done to understanding the underlying reasons why Kenya seems to falter against Zimbabwe and Namibia at crucial times.
Too much focus on the senior level
KRFU chairman Mwangi Muthee once declared that paying the Kenya rugby sevens team professional salaries would automatically enable them to challenge the top teams on the globe such as New Zealand. However evidence from the 2014 season suggests that this simply is not the case. In fact the 2009 team that was paid peanuts in comparison had a better record: They reached the semi-finals in two legs and made it to the finals of the New Zealand leg. Not to mention that they reached the semis at the 2009 world cup.
In the fifteeens game, the senior team has benefited from enormous sponsorship that enabled them to play in the 2014 Vodacom cup. This is a good thing. However too much focus on the senior level at the expense of youth development has been detrimental to Kenya rugby.
Namibia and Zimbabwe have much better youth structures.
It is a fact that Kenya is not much of a factor at the youth levels. Namibia and Zimbabwean junior rugby teams have dominated at the continental level. They have much better structures at junior and youth levels. The rugby infrastructure at schools in Zimbabwe and Namibia is much better than anything that can be found in Kenya even at senior level. With better coaching, better facilities and simply better youth structures, it comes as no surprise that both Zimbabwe and Namibia produce higher calibre players at senior level.
In Zimbabwe for example, they have schools with traditionally strong rugby programs such as Prince Edward school, Falcon College , St Johns college and Peterhouse all of which recruit the best rugby players from across the country and expose them to the best coaching for a period of six years. Peterhouse alumni include players like Tendai Mtawarira and Brian Mujati both of whom have played for the Springboks, Scott Gray who played for Scotland as well as the legendary Tsimba brothers one of whom was once considered the best flyhalf in the Currie cup.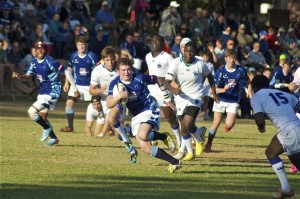 The fact that just one school can produce so many high calibre players who are capable of playing at the highest levels is a testament to the level of coaching that exists in Zimbabwe schools and is completely missing from the Kenyan setup. Take Daniel Adongo for example. He had immense physical gifts that any Zimbabwean can only dream of. Yet according to New Zealand legend Tana Umaga who coached Adongo in New Zealand, Adongo was supremely talented but lacked rugby sense and had a learning curve that was too steep. You can bet any amount of money that if Adongo had attended Peterhouse or Prince Edward in Zimbabwe, he would be a Springbok by now.
Zimbabwe takes youth development seriously enough that they send a U-18 team to the Craven week every year. Craven week is South Africa's top schools rugby tournament and features the best South African rugby schools including schools like Grey College and Paarl gym which have produced more Springboks than any other.
Kenya has far more players than Zim and Namibia but…………
According to the IRB website, Kenya has twice the number of registered players as Zimbabwe and three times as many as Namibia. However it is not the quantity that matters but the quality. Though more people play rugby in Kenya, the calibre of players is lower due to poor or in-existent or insufficient coaching at youth levels.
The KRFU receives huge sponsorship moneys from various companies such as Bamburi Cement, Tusker, Kenya Airways and so forth. Unfortunately all this money is concentrated at senior level. For Kenya to develop a level of consistency at senior level, the KRFU will need to invest significantly in youth development.
The country needs to select a few schools in the country and invest in proper rugby facilities such as scrum machines to be housed at these schools. They should then recruits school age boys and girls who have potential to succeed and send them to these rugby development centres. Doing this is the only way Kenya rugby can move to the next level. At present, Kenya junior teams are no match for Zimbabwe or Namibia. This is the root of our problems.  When Kenya rugby teams are able to compete favourably with the like of Namibia then we will know that the country is on its way to a higher level of success.
The sevens landscape is no different. The fact that the Kenya Under 18 team recently lost to their South African counterparts by fifty points ought to tell the powers that be that much more needs to be done to develop players at youth level. Unless these actions are undertaken, the Kenya sevens team will be doomed to lose heavily each time they play South Africa, Fiji or Australia.