January 8 2007
Kenyan rugby players often show plenty of flair, panache and athleticism whenever they play in International rugby tournaments. When Kenya featured at the 2001 rugby sevens world cup, the assessment of the official tournament website was that if sheer pace, agility and athleticism were the only factors needed to win sevens rugby matches then Kenya would be world champions !
Yet Kenya always falters whenever they play at the rugby world cup or on the IRB sevens circuit. Lack of talent has never been an issue. Rather it is the fact that Kenyan players do not have a grasp of basic rugby fundamentals such as ball handling, positioning, tackling, offloading on the tackle, scrummaging etc. Such skills are supposed to be instilled in players at an early age so that by the time they are playing club rugby, they have already mastered such skills.
Nevertheless a full scale youth development scheme run by clubs in Kenya is highly unlikely for various reasons mainly lack of funds among clubs, and lack of logistics. With this in mind, the best way forward would be to use schools as a platform for developing players. One idea is for the KRFU to seek a partnership with a local boarding school that has a tradition for specializing in training student-athletes for a particular sport such as St Austin's Academy. During the 1990s at St Austin's, talented basketball players were recruited and trained by qualified coaches. The result was that for many years, St Austin's dominated secondary school basketball. More recently Maseno boys under the tutelage of Paul Otula have taken over as the true basketball powerhouse. Not only did they win the nationals but they also won a continental tourney in South Africa. Not only were the products of these two schools talented players but they were also fundamentally sound. The result is that products of Maseno school have recently earned basketball scholarships in the USA.
The idea here is that players who excel at rugby and show an interest in pursuing rugby as a career school should be recruited and offered full scholarships to attend the school. A QUALIFIED youth development coach should be hired to oversee the program. Emphasis on the word qualified because youth development is not just about winning games. In fact winning games is unimportant. It is more important to instill the fundamentals of the game, let the players have fun and develop a true passion for playing the game. In essence a successful senior level coach does not automatically make a good youth coach. Coaching at youth level often requires far more patience and attention to detail.
Ideally, there should be at least 4 such youth development centres spread across the country. The very best players from across the country should then be recruited to attend these schools. They can then occasionally play against each other to measure their strength and level of development. Both boys and girls, machali na madem who excel in rugby should be offered opportunities to attend such centers. Once players are recruited, it will be easier for a coach to instill the much needed skills and monitor their development at close quarters. The coach will be able to monitor their progress over a period of 2-4 years and work consistently on sharpening critical skills. By recruiting several players each year, training them and sharpening their skills at an early age, the country will have a better chance of producing refined players who are ready to take on the rest of the world. Its highly likely that most of the players produced will not be of international calibre. But if the youth schemes can produce 2, 3 or 4 refined rugby players each year, Kenya will be in good shape.
Emphasis should be placed on academics because ultimately most of these players will never be able to earn a living playing the sport so it is important for them to be prepared to face the real world.
Recruitment should be done primarily among form 1 , 2 and 3 students from other schools who show rugby promise. Primary school leavers who have also shown promise should also be recruited as well. Tryouts can be used to identify those players who show the traits, skills and intangibles that could propel them into a succesful rugby career. Free scholarships and other enticements should be offered to lure the students.
Prince Edwards school in Harare is a school whose rugby program is run along such lines. It has produced dozens of successful rugby players including Springbok wing Tonderai Chavanga and Kennedy Tsimba who has excelled in the South African Currie cup and captained his team. The fact that these players have such strong fundamentals in addition to their natural skills speaks volumes about the success of that rugby program in producing refined players. There are at least two other schools in Zimbabwe that specialize in recruiting and developing rugby talent. It explains why Zimbabwe excels at youth rugby tournaments. Each year a Zimbabwe schools team plays at the Craven cup in South Africa where they are pitted against South Africa's top schools and they often distinguish themselves well. More recently the Zimbabwe U-19 team walloped their Kenyan counterparts on their way to qualifying for the U-19 world cup where they acquited themselves well.

Rugby players at Prince Edwards School action
Back home, St Patrick's Iten has produced several world beating athletes since the seventies. They include Olympic gold medalists Peter Rono and Mathew Birir and recent world beaters such as Japheth Kimutai among many others. They did this by recruiting the best runners at primary school level from all over Rift Valley province, and putting them under the tutelage of Brother Brolm O'Connell, an astute athletics coach who taught them the finer points about running and pushed them to work hard on their development everyday. Many of these runners ended up pursuing degrees at American Universities besides excelling at athletics. So clearly Academics was taken seriously by Father O'Connell.
In the 1980s, Kakamega high school excelled at football and produced several international class players among them Mickey Weche, Ben and Dan Musuku and Patrick Shilasi among others. At the time they were coached by national team coach Chris Makhoha who happened to be a Science teacher at the school. Musingu secondary was another school that specifically recruited talented footballers from across western province. The intense competition between Kakamega high and Musingu high caused both schools to recruit heavily among primary school leavers in Western province and also among secondary schoolers. The result was that both schools produced several classy players and the standards of football in western province rose sharply as both schools dominated the national scene.
Kenya women's volleyball has excelled for decades in large part due to the volleyball programs and Lugulu and Mukumu girls. It is such intense competition that forces each school to work that much harder in recruiting players and developing them. And by exposing these young ladies to proper coaching earlier in their careers, Kenya womens volleyball has stayed atop the African scene for nearly two decades now. Some alumni of these two schools such as Dorcas Ndasaba and Violet Baraza have proceeded to play professional volleyball in Europe.
Most of the examples above have occurred due to the initiative taken by school officials. However if a sports federation works closely with a school, the level of success is likely to be even higher. Coaches can be sent for refresher courses to keep their knowledge up to date.
Funding
The International rugby board have recently shown interest in providing funding for countries with potential. Already they have invested millions of dollars in the Pacific islands and in Madagascar. It is highly likely that if the Kenya Rugby Union come up with a workable plan, they can convince the IRB to fund the program. In addition, once the program becomes a success, it will be possible to convince sponsors to support the programs under the marketing slogan "Investing in Kenya's youth".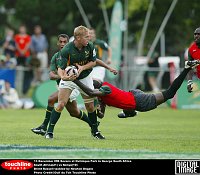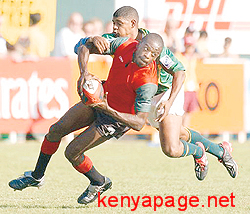 Oscar Osir & Newton Ongalo display some of the skills that are much needed when playing rugby at this level: Offloading on the tackle and fundamentally sound tackling. Such skills are often lacking among most Kenyan players and in some cases they develop them late in their careers
Credit is Due
To Eric Situma. This Nazarene University, Impala and Kenya national team fly half has taken it upon himself to spread the gospel of rugby among primary school children all over Nairobi. Over the past few years he has been traversing various schools among them Shadrack Kimalel, Jamhuri, Kilimani and Milimani where I first met him during our primary school days. His efforts will not only expose youngsters to the game at an early age, it will also create many new future fans. Situma is clearly driven by his passion for the game and his desire to see Kenya succeed at rugby. If all Kenyan rugby officials showed this kind of initiative and effort there is no telling how good Kenya would be.
Finally
Even if Kenya one day gets its act in order and develops a coherent, sound youth development scheme, it is important to remember that the bulk of rugby players will still come from traditional schools and not those with a rugby program. Which is why it is critical that the KRFU works in close concert with those who teach rugby at secondary school level to ensure that proper fundamentals are being drilled into upcoming players at every school. Part of a youth development program should be organizing training workshops for rugby teachers across the country.
Commentary by Willie Chopa
Milimani Strathmore