July 3 2011
In 2010, Kenya rugby fans were fairly ecstatic as their team won the Victoria cup by beating arch rivals, Zimbabwe and Uganda both home and away. However that was a false dawn and Kenya rugby fans were recently brought back down to earth in the opening encounter of the 2011 Victoria when Kenya lost decisively to Zimbabwe , 42-24 in Harare.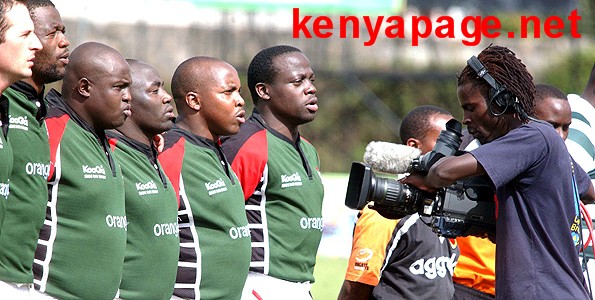 Kenya rugby 15s team skipper Innocent Simiyu, Joel Ng'ang'a, Vincent Ongera, Daniel Kiptoo, Wilson K'Opondo and Mike Aung before their Victoria Cup match kick-off against Zimbabwe at RFUEA ground on July 23, 2010.
Captain Victor Sudi said That Kenya lost because it was the first international match for many of the players. He said the lack of experience resulted in many mistakes. A closer look however reveals deeper reasons. Zimbabwe is indeed miles ahead of Kenya when it comes to player development. In Zimbabwe, the best rugby players from all over the country are recruited into schools with excellent rugby pedigree where they are offered bursaries or scholarships to play rugby. Throughout their time in secondary school, they are drilled and taught the fundamentals by qualified coaches.
The schools have excellent rugby facilities. Kenya coach Michael "Tank" Otieno whose side trained at Prince Edward School also commended the Harare school's facilities. "In Kenya you would not have a high school with such good facilities, that was a good venue to train at. That statement in itself explains in large part why Kenya rugby is still in the stone age. So while all the Kenya rugby players come through schools with poorly qualified coaches and train with the bare facilities, their Zimbabwean counterparts are going through their secondary school days learning how to become test calibre players. It is no wonder therefore that Zimbabwe regularly qualifies for the Under 21 rugby world cup. In fact, nearly half of the players Zimbabwe fielded against Kenya, played for Zimbabwe at the 2007 and 2009 Under 21 rugby world cups.
Due to their excellent player development system, many Zimbabwean players have ended up becoming test calibre players. Some have even become good enough to be poached by South Africa and ended up playing for the Springboks. The list includes players like Kennedy Tsimba, Tonderai Chavanga, Brian Mujati and "Beast" Mtawarira. There is also Takudzwa Ngwenya who scored a sensational try for the US national team and ended up playing the French Top 14 league.
Many Kenyan players today learned their rugby at upcountry schools like Chavakali high school, St Mary's Yala, even Kisii high school. It is commendable that the KRFU has taken rugby to upcountry schools. But the standard of coaching, scouting and player development is pathetic. In fact most schools focus only on fitness. Even schools which are traditional rugby powers like Lenana and Nairobi school are doing a poor job of developing players. Sadly, standards were much higher in the 60s and 70s when rugby was run by European games masters. Today, rugby games are by and large won by individual talent. This is why Kenya can never produce any test calibre players. The skill levels and fundamentals of Kenyan players are poor. How this can be remedied was covered in a previous article more than 5 years ago
Commentary by
Willie Chopa
Milimani 89-Strathmore 93