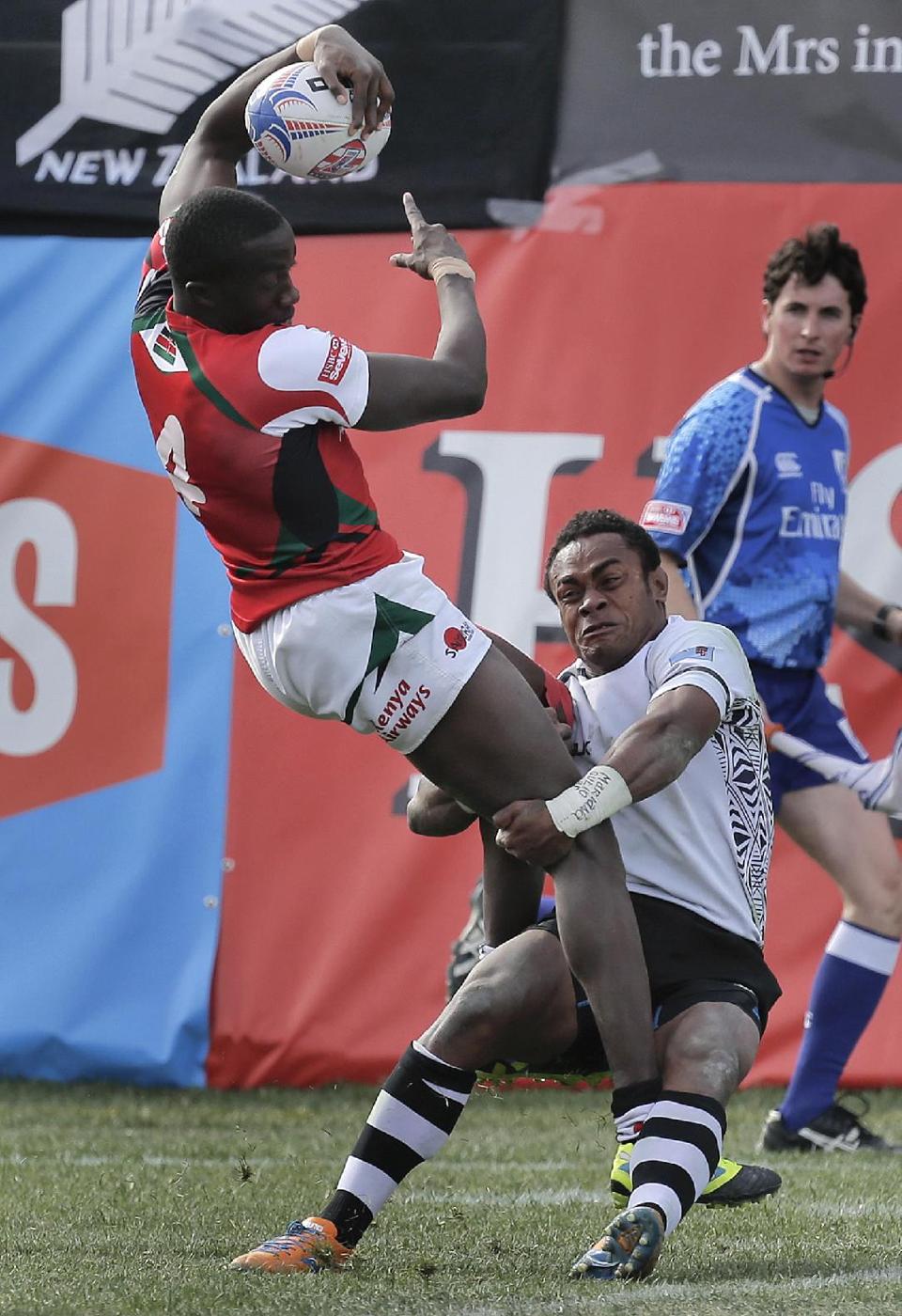 Exactly 10 years ago, team Kenya participated in the first ever USA sevens. That tournament was held in Carson California. On that occasion, Kenya overcame first day jitters and put up a good performance on day 2 to reach the Bowl finals which they lost narrowly to Australia. Kenya had been invited to the USA sevens largely due to a massive e-mail campaign targeting the IRB and orchestrated by among others this author. The massive turnout by Kenyans on that day is what encouraged the IRB to make Kenya a core IRB sevens side.
Now in 2014, Kenya was once again at the USA sevens and this time much more was expected. However Kenyans came up short this time losing decisively in the Bowl finals to Fiji after having lost a pivotal match to Canada on day 1.
Why Fiji is a thorn in Kenya's side
It seems that Kenya can do well in the IRB series unless they play New Zealand or Fiji. The last time Kenya played Fiji they lost 0-50 sparking jokes about #Kenya at 50 in reference to Kenya's 50th anniversary celebration that had been held only a few weeks earlier.
Having watched the match, it becomes clear that Kenya has difficulty with Fiji and New Zealand because these are the two teams whose game is most fluid. The style of play is such that they are always on the move. The players run at angles with decoy constantly runners making diagonal runs.
When a Fiji or a New Zealand player has the ball, he always has his eyes peeled for team-mates making a cut. The passes are swift, the decoy runs are deceptive and unpredictable and this always leaves Kenya's defence shredded leading to easy tries.
Indeed Kenya has acute difficulty defending against teams where the players are constantly on the move.
Kenya on the other hand tend to be very predictable. There are no decoy runs. The passes are almost always in one direction. When Kenya play, they look to swing the ball to one side which makes it easy for Fiji or New Zealand to defend by drifting sideways.
The move almost always ends with a Kenyan attempting to run through a wall of defenders with his head down. Support play among Kenyans is not that good so when a player is tackled, he is often isolated and looses the ball. And even if support was available, heads down running makes it impossible to see team-mates.
Indeed turnovers were Kenya's biggest enemy at the USA sevens. And teams like Fiji have perfected the art of turning the ball over on the tackle. And since Kenya players kept running into contact, they coughed up the ball to Fiji too many times.
The good news is that Kenya's tackling improved somewhat from the fast two legs. There were fewer missed tackles.
But errors doomed Kenya. There were all kinds of turnovers, forced and unforced especially knock ons. Also the lack of a playmaker is a massive hindrance to Kenya. Collins Injera at scrum-half does not appear to be working since he does not have the mind of a playmaker.
Canada 21 Kenya 17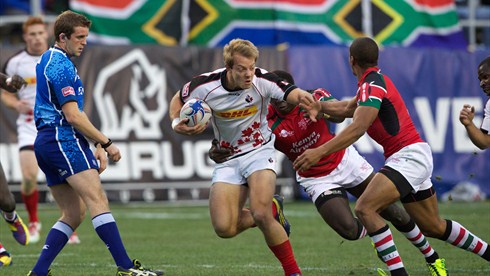 A bad start doomed Kenya in this contest. Kenya scarcely had any possession during the first four minutes of the game and by the time they finally got good poession, Canada had scored two tries: The first one happened when 3 Kenyan defenders challenged the Canadian winger Dala. This left a number of Canadians open to score from Dala's grubber kick. A missed tackle by the Kenyan forward saw Canada score the second try which went unconverted.
Kenya came back into the game towards the end of the half. Their first try came when they started a move after the half time hooter had gone and they were in their own 25 yard line. They marched the ball up the field through 10 phases and it ended with Dan Sikuta scoring near the corner. Biko Adema's attempted conversion went wide.
On resumption, Kenya coughed up the ball in a turnover. And once again a defensive lapse saw a Canadian wide open on the left wing for an easy score. Kenya recovered immediately and stole the ball on the ensuing kickoff. The ball was recycled to Humphrey Kayange who showed all his experienc and guile to slip past two defenders and calmly fend off a tackle to score Kenya's second try. Kenya then leveled the score.; After forcing a turnover, the ball was swung wide to Billy Odhiambo who fended off a determined Canadian tackler and had the presence of mind to score near the goal for an easy conversion. However the conversion was missed and Canada won 17-15
Kenya's inability to convert tries failed them. However Canada takes credit for forcing Kenya's tries as wide as possible thus making the conversions difficult. This is what won them the game.
Kenya will need to work on getting tries closer to the goal when opportunities arise and of course kicking conversions.
South Africa 21 Kenya 7
Kenya gave as good as they received in the first half and actually matched the physicality of the South Africans. Over-all, Kenya's tackling was improved. However a missed tackle once again gifted South Africa with a first half try.
Kenya fought back gamely. A crunching tackle by Billy Odhiambo foiled a South Africa attack and turned the ball over to enable Collins Injera to run through the South Africa defence for Kenya's equalizing try.
But disaster struck early in the 2nd half when Billy Odhiambo was sin binned when the referee judged that he had a deliberate knock on. It looked like a harsh decision. Kenya defended gamely but it was a tall order being one man down and they conceded a try.
Kenya then raced up the field swinging the ball wide but a knock on and the resulting turnover doomed Kenya as South Africa scored with a kick and chase try.
In this game, turnovers caused by handling errors and ball reception on kick offs were the main culprit in Kenya's loss.