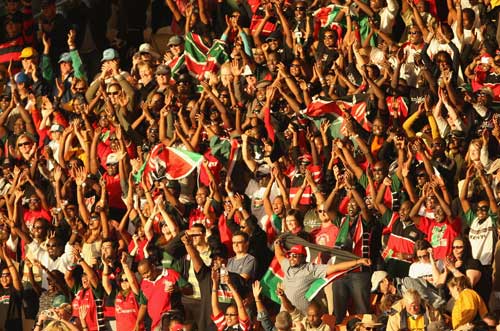 Sports have been neglected by the political establishment in Kenya for the past 50 years. Jomo Kenyatta, the first Kenyan president never had an interest. Throughout his presidency, he only attended one match. In fact it was half a match. It was during a friendly match betweeen Kenya and Ghana. BY halftime, Ghana were leading 8-1. President, Kenyatta, close to despair, asked in agony: "Where is Kipchoge to run around with these people?"
On another occasion in the mid 1970s, Kenneth Matiba who was then the KFF chairman told Kenyatta that he wanted to organize a friendly between Gor Mahia and AFC. Kenyatta asked Kenneth Matiba why it was so important to stage this match. Matiba told him that it was because a match between the two arch rivals always generated a lot of money for KFF coffers. Kenyatta responded to Matiba; If this match generates so much money then why not make them play each other every weekend ?"
Such was the ignorance of the elder Kenyatta when it came to sports. His succesor President Moi was a true sports lover who often attended football matches and athletics meets. To his credit, Moi built two stadia, Nyayo stadium and Kasarani. These are the only two stadia that have been constructed in Kenya since independence 50 years ago. All the other stadia you see in Kenya today were built by the colonialists.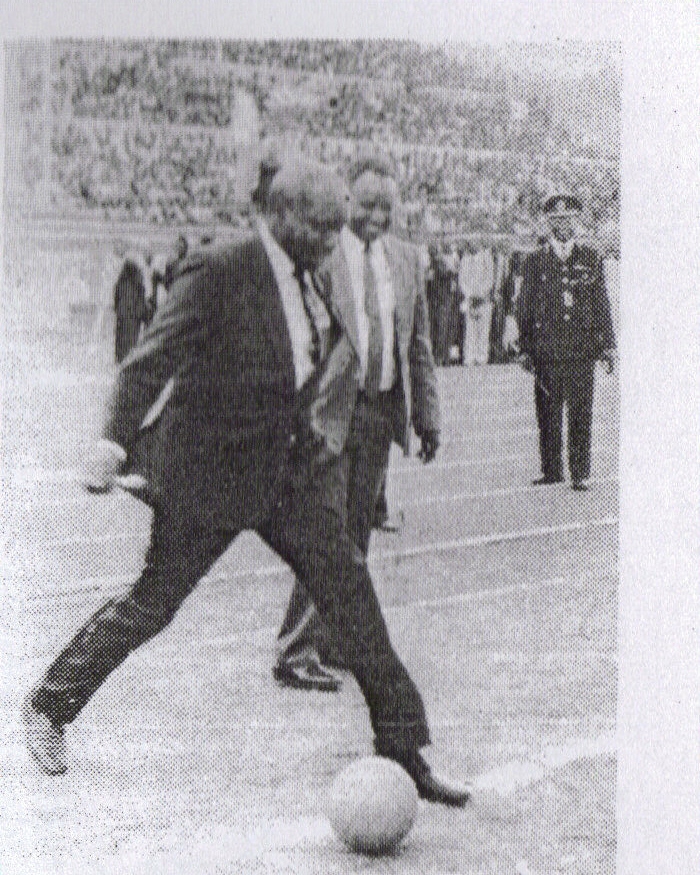 The third President, Mwai Kibaki was like Jomo Kenyatta. Though he attended football matches occasionally, Kibaki was as apathetic about sports as he was about the country in general.
None of the first three presidents recognized the capacity of sports to generate jobs, build national cohesion, reduce crime, give youth self esteem  and enhance health.
Uhuru seems to get it
The President noted that there was need to replicate athletics' success in other disciplines. He further noted that Kenyans should start embracing "football made in Kenya rather than just watching the English Premier League".
He noted that a sport has the potential to create many jobs hence the need to build a vibrant sports industry in which young people can eke a decent living.
Part of President Uhuru's Speech:
"I wish to call upon sports managers in the country to put measures in place with aview to ensuring that our reputation in athletics is replicated in other sporting disciplines. In particular, there is urgent need for us to streamline the management of football which is the most popular sport in the country. We must improve the standards of soccer in the country so that our football teams can excel in the region, in the continent and beyond.
"We need also to get our people to enjoy football made in Kenya rather than just watching the English league. Similarly, we should raise the standards of other sports including reclaiming our lost glory in boxing. We should also provide additional support to our national rugby team that is making good gains internationally. As we do this, we must not lose sight of the need to encourage and motivate our athletes in order to sustain our reputation as the home of the world's best athletes.
"As we seek to promote sports in the country, we must bear in mind that golf, and indeed other sports disciplines, are no longer mere social events for recreation and entertainment.
"Today, sports are a major source of income and are employing thousands of people worldwide. We are, therefore, seeking to build a vibrant sports industry in which our young people can earn a decent living.
"You will all recall that in the run-up to the last General Election, my team made some pledges to Kenyans. In the area of sports, we made key pledges, among them being the development of five modern medium-size stadia in selected regional headquarters in the country. I wish to reiterate here that my Government is fully committed to fulfilling this and other pledges we made to Kenyans."
But will he do anything ?
It is refreshing to see that Uhuru unlike his predecessors, understands that sports are not just fun and games and ought to be taken more seriously by the government. But Rhetoric aside will, President Uhuru Kenyatta use the power bestowed on him to bring much needed changes ?
Enter Hassan Wario
The first thing Uhuru had to do with regards to sports was appoint a cabinet secretary for sports and culture. His choice of Hassan Wario was rather dissapointing for most sports fans given Mr. Wario has no sporting background nor does he seem passionate about Kenya sports.  In fact a visit to his facebook page on the days of his appointment revealed that his favourite athlete is Mo Farah, the Briton of Somali origin who won two medals at the last Olympics. It says something about Mr. Wario's priorities. Kenyan sports fans hoped Uhuru would appoint someone like Dr. Paul Ereng, a former Olympic gold medalist with a brilliant record of sports development at the grassroots and in management.
Lead in reforming sports associations
Sports officials in Kenya routinely engage in corruption and destroy the livelihoods of hundreds of youth who depend on sports. These officials act with impunity because th sports ministry is often powerless to do anything. It is unlikely however that these sports officials will be able to disobey a direct decree from the president. Uhuru should therefore use his bully pulpit to reform sports associations.
Stadia
As has been noted above, only two new stadia have been built in Kenya since independence 50 years ago. As a result, most Kenyan stadia are crumbling and decrepit. Uhuru pledged to built 5 new stadia during his tenure. Building new stadia can enable Kenya to host major international tournaments such as the IRB sevens circuit which can in turn bring tourists.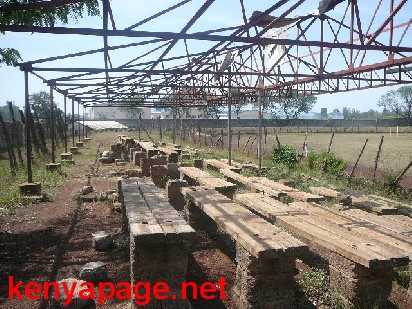 Playing fields and Social halls.
Whereas cities like Nairobi were full of playing fields for the youth to play football and social halls for sports like boxing, these have been grabbed by well connected individuals. As a result, the youth of today have nowhere to sharpen their nascent skills. As a result, Kenya which used to be a global boxing power, winning medals at every global event, can no longer even produce boxers good enough to win qualify for the Olympics. The footballers of today are not as skilled as those from the 1970s and 1980s because they are growing up in a city with very few playing fields. Aside from football fields, Uhuru also ought to spearhead the creation of basketball, rugby and volleyball fields all over Kenyan urban areas. A country can only be good at sport if that sport is widely played. Also, such fields will keep the youth busy in positive activities and away from crime.
Uhuru Kenyatta can remedy this by stopping the grabbing of playing fields and by building fields and social halls where the youth can develop their skills.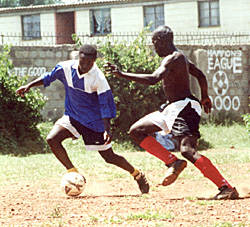 Youth development
For Kenya to excel at team sports, the government must fund youth development schemes in counties all over the country especially those that have a high potential to produce sports stars.
Offer incentives to investors
Businesses and individuals who sponsor community teams should be given tax breaks as well land on which to build sports facilities that create jobs.