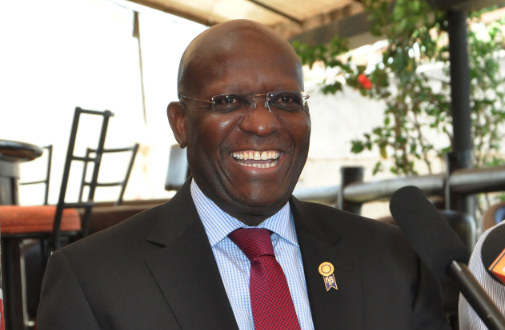 Richard Omwela recently made a grand comeback to the helm of Kenya rugby. He did this by beating the acting chairman Gabriel Ouko by 25 votes to 18.
Omwela had been KRFU chairman from 2003 to 2011 when he lost to Mwangi Muthee.But Muthee abruptly resigned earlier this year leaving the gate open for Omwela to return
On his return, Omwela vowed to return rugby to its former glory.
"This is a new dawn for the union. I pledge to bring the federation back to its former glory," said Omwela, a lawyer by profession.
Positives from the Mwangi Muthee era
The Mwangi Muthee era had its sour points. But the man brought a general excitement to the Kenya rugby scene. It was during his era that Kenya played in the Vodacom cup and almost qualified for the Rugby XV world cup. He brought in coach Mike Friday who took Kenya rugby sevens to unprecedented heights before he was derailed by board members.
Muthee took steps to strengthen upcountry clubs when he correctly recognized that most of Kenya's rugby talent now comes from upcountry towns. Indeed under Muthee, there was a proliferation of upcountry teams, and some like Western Bulls became very competitive. And it is Muthee who prevailed upon the late Fidel Odinga to become a patron of Kisumu RFC.
Even more importantly, under Mwangi Muthee, Kenya rugby towered over next door neighbours Uganda, even to the point of soundly beating the Cranes in Kampala with a second string side. And most importantly, the Muthee era brought in record sponsorship to Kenya rugby, most notably the sponsorship for the Kenya sevens team by Kenya Airways which was to the tune of Ksh 400 million.
During the first Omwela era, Uganda womens rugby routinely beat their Kenyan counterparts. Its fair to say that under Muthee, Kenya womens rugby surpassed their Ugandan counterparts winning almost every edition of the Elgon cup
The most positive aspect of Mwangi Muthee was that unlike his predecessor, he was at the forefront of promoting the sport. He was ubiquitous, always on television or on the newspapers promoting the sport to potential fans and sponsors alike. A stark contrast to Omwela who was never seen.
Muthee also came through on his promises. When elected he promised to bring in more sponsorship. He did that. He promised to promote rugby in upcountry towns. He did that. He also promised to raise the level Kenya XV rugby and take them to the world cup. He did indeed raise the level of Kenya XV rugby and came within a whisker of qualifying for the world cup.
General Malaise during the first Omwela era
If you followed Kenya Rugby during the Omwela era you will remember that rugby was not exactly in excellent shape. In fact there was a general malaise about rugby and a prevailing sense that Kenya rugby was stuck in first gear. The fact that Uganda routinely beat Kenya during Omwela's first era is proof positive of this. The performance of the Kenya sevens team was almost always below par.
Kenya rugby was simply not moving forward. Consider the fact that rugby was as good as dead in Uganda before 1995. But as soon as they started playing again, they already caught up with Kenya.
So when Omwela says he wants to restore the game to its former glory, we are not sure what he means.
We need tangible promises and goals from Omwela
We haven's seen Omwela make any tangible promises other than a vague promise to "restructure the board" and "restore glory". He is already setting low expectations.
Kenya Rugby fans will be hoping that Omwela does not take Kenya rugby back to the doldrums.The first thing Kenya rugby fans will want to see is what his grand vision for Kenya rugby is. We need to see him make promises like how he will promote rugby at youth level, how he will promote rugby in upcountry towns, and he needs to outline the steps he will take to enable Kenya to qualify for the 2019 rugby XV world cup.
The unfortunate aspect about KRFU elections is that rugby fans cannot vote. Only clubs can vote. This means a person can get elected by catering only to the needs of club leaders and not doing anything to promote rugby. This may be why the only promise Omwela made was that he would "restructure the board" to cater to the whims of clubs. However the general public and the media and the fans can still hold Omwela accountable for taking concrete steps to take Kenya rugby to higher levels.