On the way to the semi-finals of the 2009 Rugby sevens world cup , Kenya eliminated Fiji in the quarter finals. That win seems very distant now as the last few meetings between Kenya and Fiji has resulted in comprehensive wins for the Fijians.
Missed Tackles
Perhaps the most glaring hole in Kenya's armour is their penchant for missing tackles. Most of the tries scored by Fiji , Australia and New Zealand against Kenya have been a result of one missed tackles. All it takes is one missed tackle which allows the runner to break the gainline and open up spaces for runners who are arriving to support the ball carrier.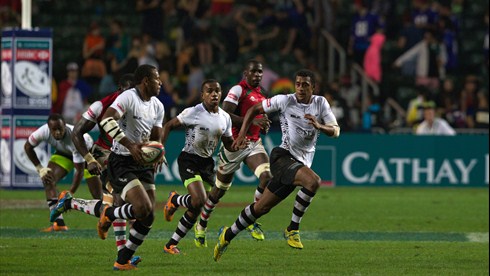 Kenya players fall for basic very basic fakes. It appears Kenyans have forgotten a cardinal rule in playing defense which is to follow the player and not the ball.
It is amazing that back in 2009, then coach Benjamin Ayimba was able to get a stronger commitment to tackling from his players than Paul Treu has done with this current group of players.
Tactical Errors
Kenya's inability to handle kickoffs has been exploited by several teams, most notably Fiji who have stolen balls. Even in cases where Kenyans received the ball and tapped it back, the ball was often stolen by opponents resulting in easy tries.
Lack of Creativity
Kenya's straight line running with lack of creativity is easily solved, There are no diagonal runs, no decoy runs. Instead a primary staple of Kenya's offense is to run straight into a defender which is often like running into a brick wall. And certain teams have perfected the art of turning the ball over on the tackle; This often results in Kenya losing the ball in contact situations. To put it plainly, Kenya's offense is highly predictable and easy to solve by most decent teams. Truth be told, there was a lot more variety and unpredictability in Kenya's play when they were coached by Mike Friday.
Lack of a Playmaker
Even former coach Mike Friday remarked on Kenya's lack of a playmaker. Collins Injera has been tried at this position but he still has the mentality of a winger who can take on several defenders alone.Playmakers usually require people who can think rapidly on their feet and take the right option. Sydney Ashioya did this well when in 2009 he stepped seamlessly into that position after having played on the wing.  Also it is not clear why coach Paul Treu would use real games to experiment with players playing unfamiliar positions.