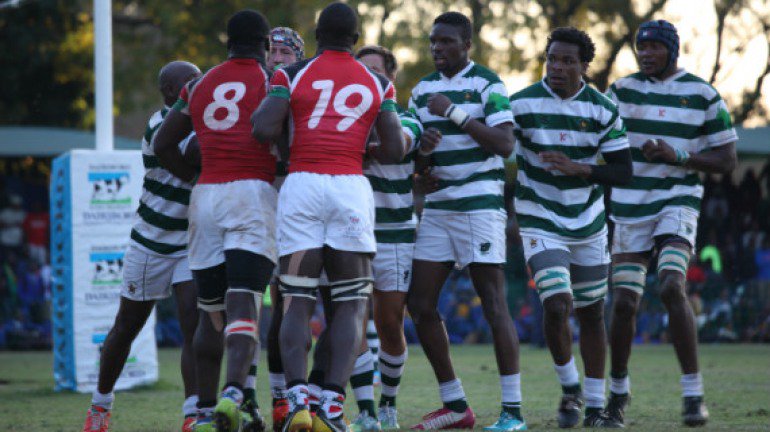 Kenya's comprehensive 41-22 win over Zimbabwe showed Kenya's ability to switch tactics on demand. The Simba's as Kenya's national rugby team are now called, overpowered the Zimbabwe Sables at breakdowns yielding three tries.
Under coach Jerome Paarwater, the Kenya national rugby team's system of play involves utilizing their speed to run at defenders, commit them and offload to supporting runners. Indeed the coach expected the two teams to matc each other in terms of speed.
"Our game is played on speed, Zimbabwe play on speed as well, Namibia is a little bit slower but not negative. Hopefully they will be good games," said Paarwater
Against Zim, Kenya scored tries both via speed and via sheer power. They took advantage of Zimbabwe's inability to defend rolling mauls which is impressive because this is an area where Zim typically dominates Kenya.
It is Kenya's most impressive win over Zimbabwe. Last year Kenya trounced Zimbabwe 61-15. But at the time, Zimbabwe rugby was in turmoil. This time the Sables were ready for Kenya and were coming off an impressive performance where they almost beat Namibia in Windhoek
Indeed days before the match, the Zimbabwe captain Denford Mutamangira was confident and upbeat.
"This is one of the games that we have been looking forward to. We have so much plans for Bulawayo. The boys are excited and we have a point to prove. We want to play like it is our last game of the season. We are just excited and prepared for this game. We want to be able to dictate the game and show people that we are still good and we can play better rugby than Kenya and bring back the glory days to Hartsfield and to Zimbabwe rugby as well. The vibe has been good in camp. We have got a home advantage and we are the favourites regarding this fixture," he said to Zimbabwe Tuesday.
Despite the level of preparedness of the Sables and despite the partisan crowd, Kenya Simbas went on to win comprehensively against a team that has proven a tough nut to crack for Kenya.
Match Report
It was Kenya who got on the scoresheet first via a Darwin Mukidza penalty. Zim replied when nippy scrum half Hilton Mudariki faked a pass and slipped through the open-side for a try.
Kenya scored their first try from a breakdown. Scrum Half Onsomu offloaded to hooker Peter Karia who made a brilliant run before offloading back to Onsomu who scored a converted try. The score was now 10-5. Winger Takudzwa Kumadiro scored a try for Zimbabwe taking advantage of an overlap.
Kenyas second try came via a 40 metre rolling maul. Davis Chenge with ball in hand, scored to Kenya a 17-12 lead at halftime. Soon after the second half begun, prop Moses Amusala powered past several Zim defenders to score a converted try and Kenya led 24-12.
A determined Zimbabwe took control of the match thereafter reducing the deficit after a penalty by Makwanya made in 24-15. Then and Connor Pritchard's scored off a strong run from substitute Biselele Tshamala who is a Congolese migrant. The score was now 24-22 and the crowd came alive urging the Sables on.
But Kenya stayed composed. Another rolling maul ended with a Kenya try. This time it was substitute Martin Owila with ball in hand who scored. Kenya then put the issue beyond doubt. From a Zim Kickoff, Owila received the ball before offloading to skipper Wilson Kopondo who made a 50 metre run, shrugging off tackles and touching down near the posts.
Winger Mukidza would then seal the score for a 41-22 scoreline. Mukidza, who chipped in with 16 points from five conversions and two penalties was sure footed all day.
Highlights