Athletics fans all over the world and not just Kenya are waiting with bated breath for David Rudisha's return to the track after a long layoff. The world beating Rudisha who is easily the greatest 800m runner and one of the best all time athletes, has not run competitively in a year due to a knee injury. He missed the 2013 world athletics championships. At present time, it is said that his knee has healed but he has not regained his leg strength. He will need several months of physical therapy in order to regain the appropriate muscle mass. It is impossible to predict how good Rudisha will be when he comes back.
At the age of 25, Rudisha is still relatively young and should have several more years at the top. But much will depend on how he manages his running. One distinctive featurs of Rudisha is how hard he ran each race.
No matter how far ahead he was, he never slowed down. He probably felt that he owed it to his fans and to the large crowds that appeared at Diamond league meets a record breaking performance. His greatest performance came at the 2012 Olympics when he became the first person ever to run under 1:41:00 in winning the gold medal.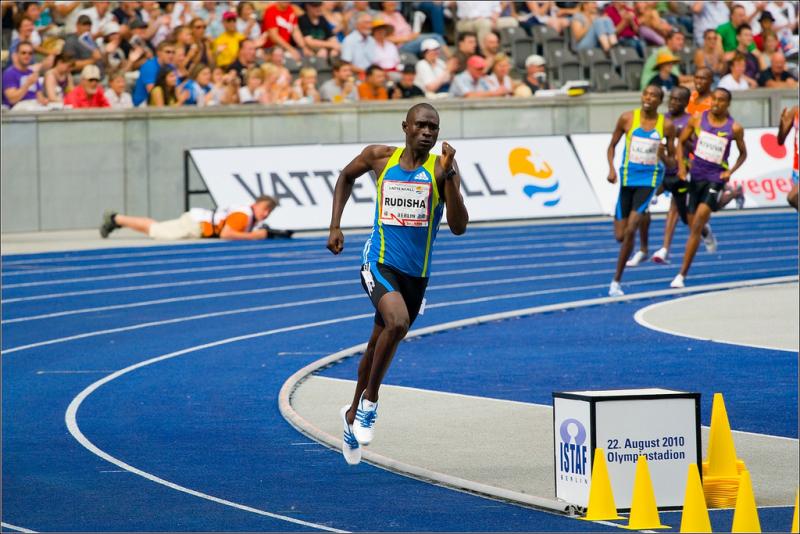 His penchant for pushing himself hard in every race, while it served to entertain fans is likely a contributing factor to his serious injuries. Running very hard in every race accelerates wear and tear on the muscles and skeletal system. This is especially true in events such as the 400m and the 800m where the demands placed on the musculo-skeletal system are enormous.
Dominating the top lists
In addition to holding the world record, Rudisha also owns the three fastest times in the history of the 800m. He owns 6 of the 10 fastest times ever run in the 800m. He has run under 1:42:00 an incredible 7 times. By comparison, Sebastian Coe, who held the world record for 16 years, has only run under 1:42:00 once.
It therefore goes without saying that Rudisha has nothing left to prove when it comes to setting records. When he comes back, Rudisha should now focus on winning and forget the records. He should do the bare minimum it takes to win a race. It is perfectly okay to win a race in 1:45:00. The legendary 800m runner Billy Konchellah did exactly that. He often slowed down when he had the race sewn up.
For the sake of extending his running career, Rudisha should now pace himself and not go all out when he has already won the race. Kenya fans will be eager to see him run at the 2015 World athletics championships and the 2016 Olympics especially since all of a sudden there is a dearth of decent 800m runners in Kenya. Yet this is an event Kenya is used to dominating.