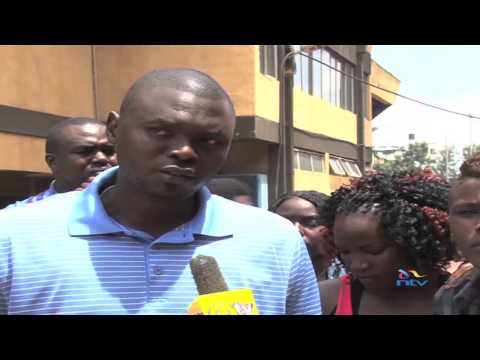 The actions taken by Dennis Achiego Opiyo and other basketball players recently are highly commendable. Along with other Players like Silalei-Owuor, Opiyo has decided to tackle the bull of corruption, abuse of office and mismanagement by the horns.
First off it is worth noting that we do not know whether the KBF officials are gulity of anything. That is not the point here. The point is that we have a group of players who are taking unprecedented actions geared towards bringing about transparancy and accountability in the way sports are run in Kenya. Their actions could have significant positive ramifications for all sports in Kenya.
The players, led by Denis Opiyo from Team Lions, have been accorded audience with the Parliamentary Accounts Committee, PAC led by Ababu Namwamba-led committee where they will present their case.
The players are unhappy with several issues. Firstly they are challenging the credibility of KBFs audited accounts that were presented at the annual general meeting held on March 22.
Opiyo indicated that they contacted the Ethics and Anti-Corrupruion Commision as well as officially written to sports cabinet secretary Hassan Wario on the same. "We are pushing from every corner because there is massive corruption at the federation. We have supplied the committee with all evidence ready for the meeting." said Opiyo to sportsnewsarena.com.
The players have suggested that the accounts presented at the AGM were highly suspect. "Nobody was given a chance to peruse over the report yet we were expected to approve foolishly. Some people have threatened me but i will not back down since its for the sake of players," "It is a shame that the auditor even attempted to leave the meeting when there were questions to be asked. This was not the first time that happened." Ochieng Onyango Associates is the current auditor for the federation continued Opiyo.
Commendable Actions
The actions taken by Opiyo who in basketball circles is popularly known as "Dikembe" are highly commendable. Kenya sports fans are plain tired of watching helplessly as various federations are run down by incompetence, abuse of office and corruption.
Also commendable is the decision by Ababu Namwamba and the PAC committeee to give the players an audience. Sports fans will remember that Namwamba accomplished a lot in his short tenure as sports minister including finally passing the sports policy which had never been passed in the previous 10 years.
Players and Fans now have an outlet
For too long, Kenya sports officials have conducted their federation affairs with little regard to accountability and transparency. Too many officials treat the federations as their personal fiefdoms and many are primarily concerned with lining their pockets.
Kenyan sports officials have a penchant for making promises to players before tournaments then develop a "Dont Care attitude". According to Kenya womens basketball team captain Silelei Owuor, the players have not received their playing allaowances almost a year after they participated in the Africa basketball championships.
Other officials have gotten away with embezzling colossal amounts of money. Football fans will recall how during the Maina Kariuki era, gate collections from Harambee stars matches would simply dissappear and never be traced. There would be no investigation and no further action taken.
The players are the backbone of the sport. It is refreshing to finally see a group of players fighting to get their just dues. But even more important, they are fighting to bring accountability into the system. The reforms they bring about will ensure that officials no longer focus on lining their pockets at the expense of the game.
Politicians have long given sports a short shrift. It is therefore refreshing to see a group of parliamentarians led by the honorable Namwamba give the players an audience.
Fans from all sports should support these players
This pioneering action by Kenyan basketball players could have huge ramifications for the way sports is run in this country. If Parliament listens to their case and takes appropriate actions to bring about accountability and transparency in the way basketball is run, things will surely change at KBF. Besides that, federation officials at other sports will be put on notice.
Opiyo and his team will have paved the way for sportsmen and women in other poorly run sports to take action. Eventually Kenya sports could rid itself of officials who are either incompetent or are just simply corrupt. These actions could therefore bode well for all Kenyan sports. With this in mind, fans of all sports should throw their support behind this group of basketball players.
Federation secrecy
First off its worth noting that we do not know whether the KBF is guilty or not. What is important is that the players are finally getting an audience from people who can finally bring about much needed changes in Kenya sports.
When contacted Peter Orero, the KBF treasurer said ""Players have no business being involved in the AGM. Their business is to play basketball and they should not become politicians. If they want to be in politics they should quit playing."
This attitude is indeed one of the problems with sports in Kenya. As has been mentioned above, officials tend to treat Federations like their personal fiefdoms. Even though the players are the backbone of the sport, Orero actually has the cheek to casually dismiss the players and say the federation accounts are none of their business. This is one of the things that must change in Kenya sports. Even in the USA, NBA teams have real owners yet they publicly share their team's financial information. According to the collective bargaining agreement agreed to by players and owners, the players are entitled to 50% of league revenues. This means that both the league and individual owners have to be transparent. Yet in Kenya, officials like Orero feel entitled to dismiss the players by saying the finances are none of their business. This lack of transparency is precisely what enables
Stagnation
Orero also went on to say "There is no problem in Kenya basketball. We have run the league throughout the year". The fact that Orero thinks running the league is a huge achievement is one of the problems facing sports in Kenya. Basketball like many other sports in Kenya has stagnated for decades mostly because are content with simply running a league. Yet it does not take much to run a league. You will find that even primary school children are capable of running a league. Where are the development initiatives that could help move Kenya basketball to the next level ? Are there any youth schemes being run by KBF ? Are there any basketball courts that the KBF hasbuilt in the estates to popularize the sport ? Have they introduced basketball to primary schools ? The answer to these questions is likely No. Yet these are some of the initiatives that a competent federation would be engaging in if they wanted Kenya basketball to progress to the next level.
It comes as no surprise therefore that the Kenya mens basketball team has not qualified for a major tournament since the mid 1990s. The women have done better but much of it is largely due to a group of players who have sacrificed alot to play as well as corporates like KPA and colleges like USIU that offer scholarships. Eagle Wings basketball club is a perfect example of a group of women who have taken the initiative to form a team that plays a significant role in raising the standards of basketball in the country.
Sports are not just fun and games
Sports can be a source of income for Kenyan youth and a source of employment for players, managers, physiotherapists and journalists. A country like Kenya that has a youth unemployment rate of 60% should support sports and not allow selfish officials to derail sports and thus kill the dreams of players. In addition sports can be used as a way to keep young people busy with positive activities and away from crime, drugs and terror related activities. It is for this reason that the Parliamentary committee and the sports minister must take Dennis Opiyo and his cohorts seriously.