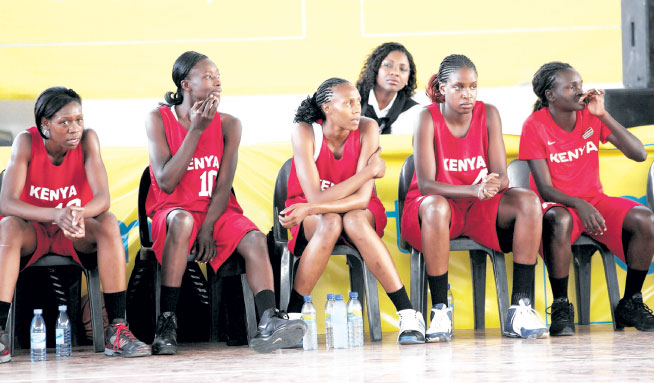 Kenya's womens basketball team finished their FIBA Africa Basketball championships with a record of 2 wins 4 losses.
All things considered, the Kenya ladies deserve three cheers for their valiant performance. To begin with , qualifying itself is a significant achievement given that Kenya had not qualified since 2007.
Secondly, Kenya's preparations were poor at best. They played no friendly matches which is crucial for such tournaments.  This is in starke contrast to their opponents. Angola for example trained in Spain prior to the tournament. While there they gained invaluable experience playing against top European teams such as Rivas Ecopolis who were second in the European cup in 2012. Algeria for their part trained in Serbia before the tournament. This is what happens in countries where sports like basketball are well run and receive adequate funding. In Angola, the basketball Federation receives 5 million dollars a year.
Thirdly, Kenya was unable to secure the services of key overseas based players. The only foreign based players who arrived were Uganda based Purity Auma and Dubai based Rose Ouma. There are at least half a dozen Kenyan USA based players who could have added strength to the team.
The fact that team Kenya pushed a well funded Angola team and lost by only 6 points despite that huge gap in funding and preparation between the two countries is testament to the resilience of the team.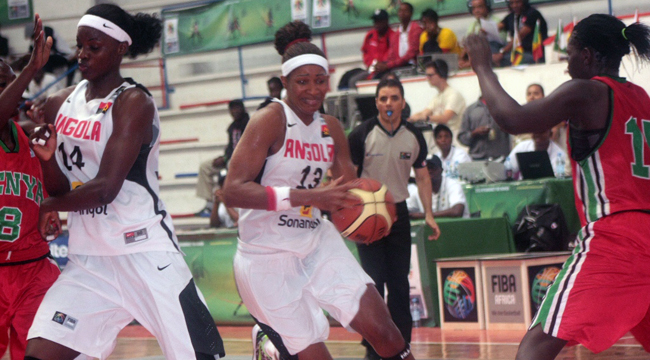 Build up matches are crucial when players who normally do not play together are in the same team. They are an opportunity for the coach to test his strategies and sharpen the offensive and defensive sets and work out defects in the game plan. Since Kenya played no build up matches, they had to learn by making mistakes in actual games. Indeed Kenya started poorly but improved with each game. They ended up finishing with 2 wins after an 0-3 start.
Results
In the first game, they went down 61-39 to a solid Cameroun team. Purity Auma scored 10 points and Silalei Shani added 9. Turnovers were the bane of the Kenya team.
In the second match, Kenya went down 74 to 49. Silalei Shani accounted for 17 points and Emma Nyakweba added 11.
Kenya played their best game of the tournament against defending champions Angola, going down by a narrow margin of 45-39. In fact Kenya led at half time and were tied at 31 going into the 4th quarter. But Angola sealed the game with a 14-8 run. Rose Ouma led Kenya with 11 points and Hilda Indasi added 8.The fact that Kenya lost narrowly top Angola who then went on to win the tournament speaks volumes about Kenya's potential.
Kenya lost 42-63 to Mali despite a solid first quarter in which the game was tied at 14. Indeed Kenya matched Mali point for point in the 1st and in the 3rd quarter which was 17-17. But a poor 2nd quarter in which they were outscored 7-15 and a poor 4th quarter in which the lost 4-17  were Kenya's undoing. Hilda Indasi had 10 points while Purity Auma added 9 points and 10 rebounds.
In the 4th match, Kenya were matched up against a Cape Verde team that has 3 players who are professionals based in Portugal and two who play college basketball in the USA. Kenya's win came largely due to a solid 2nd quarter which Kenya won 17-9. The game went into overtime and Kenya came away with a 64-63 win. Silalei-Shani-Owuor scored 15 points and grabbed 13 rebounds. Purity Auma added 11 points and 10 rebounds.
The 5th match was a classification match against Zimbabwe. Kenya used an up-tempo game to beat Zimbabwe 63-52. Hilda Indasi led all scorers with 21
In the last game, Kenya went down 61 – 43 to Cape Verde. Indeed it is always going to be difficult to beat a team twice. But Kenya were let down by a poor start that saw them trail 26-7 after one quarter. Angela Okoth scored 12 and Hilda Indasi added 8.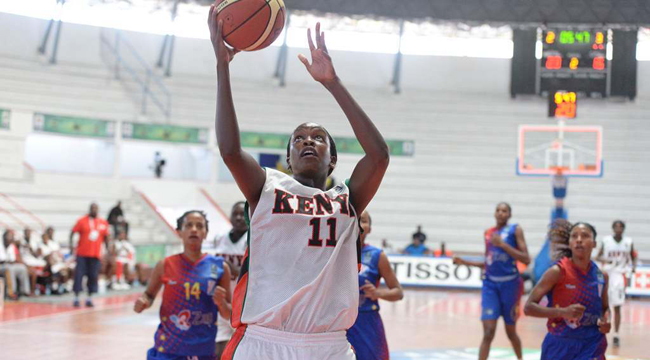 Statistics
At the time of Kenya's elimination, Silalei Shani-Owuor was 3rd overall in  rebounding with 7.4 per game. Purity Auma was 5th overall in rebounding with 7.3 per game.  Hilda Indasi was second overall in steals per game with 3.6.
Summary
Given the difficult circumstances that the Kenya ladies endured before the tournament, it was a good effort. Kenya played with limited training, no build up matches and with most of the foreign based players unavailable.  With better planning from KBF, sponsorship Kenya can join the continental giants.
Missed Opportunity
As this column posited 3 months ago, the Afrobasket 2013 was a glorious opportunity for Kenya basketball officials to sell the team to the Kenyan public and perhaps gain sponsors. That opportunity appears to have been missed as the Kenyan public is largely unaware that Kenya was at the Africa basketball championships and the tournament received very scant coverage in the Kenyan papers.