Qualification
Kenya's qualification campaign started on a sour note when they lost 2-1 to Sierra Leone in Freetown. Kenya were reduced to 10 men in the first half when Brian Mandela was sent off for a rash challenge. Sierra Leone had taken a 2-0 lead in part due to a controversial penalty before Michael Olunga reduced the deficit with a brilliant free-kick. Still Kenya fans were livid because they thought the loss was due to the inexperience of coach Stanley Okumbi. The perception that Okumbi was selected because at the time he also coached Kariobangi Sharks, the team owned by FKF Chairman Nick Mwendwa. Even the team sponsors Sportpesa chimed in suggesting that Mwendwa was too inexperienced.
Okumbi would later be replaced by Belgian coach Paul Put who quit after only a few months citing lack of adequate support from FKF and the government. He in turn was replaced by Frenchman Sebastian Migne. As luck would have it, Sierra Leone was disqualified giving Kenya a huge advantage over Ethiopia since the latter had actually beaten Ethiopia.
Kenya capitalized on this advantage forcing a scoreless draw away to Ethiopia before beating them 3-0 at Kasarani with goals from Olunga, Eric Johana and a Victor Wanyama penalty. Kenya would then score an upset 1-0 win over Ghana at Kasarani thanks to an own goal. By this time Kenya was certain of qualification. They lost their last match away to Ghana 1-0 due to a late goal.
With qualification in the bag, coach Migne named an interim squad of 28 that would attend training in France. Controversy surrounded the selection as fans wondered why Jesse Were and Anthony Akumu who were doing very well in the Zambian league were left out.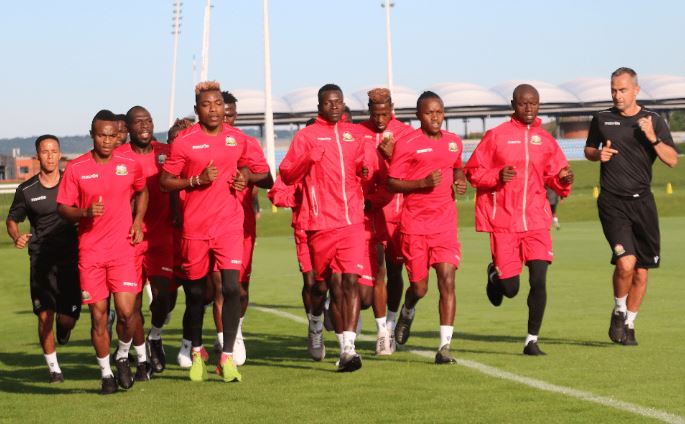 Kenya trained in France prior to the tournament
While in Europe, Kenya played a friendly against Madagascar whom they beat 1-0 and another against DR Congo which ended 1-1. After the training period in France, five players were dropped from that squad when the final team was named. Among those dropped was Brian Mandela who picked up an injury in France.
Final Squad
| No. | Pos. | Player | Caps | Club |
| --- | --- | --- | --- | --- |
| 1 | GK | Farouk Shikalo | 0 |  Bandari |
| 2 | DF | Joseph Okumu | 1 |  Real Monarchs |
| 3 | DF | Aboud Omar | 33 |  Sepsi Sfântu Gheorghe |
| 4 | DF | Joash Onyango | 5 |  Gor Mahia |
| 5 | DF | Musa Mohammed | 35 |  Nkana |
| 6 | DF | Bernard Ochieng | 2 |  Vihiga United |
| 7 | MF | Ayub Masika | 16 |  Beijing Renhe |
| 8 | MF | Johanna Omolo | 21 |  Cercle Brugge |
| 9 | FW | John Avire | 0 |  Sofapaka |
| 10 | MF | Eric Johanna | 23 |  Brommapojkarna |
| 11 | MF | Francis Kahata | 32 |  Gor Mahia |
| 12 | MF | Victor Wanyama (captain) | 53 |  Tottenham Hotspur |
| 13 | DF | Eric Ouma | 18 |  Vasalund |
| 14 | FW | Michael Olunga | 31 |  Kashiwa Reysol |
| 15 | DF | David Owino | 52 |  ZESCO United |
| 16 | MF | Paul Were | 32 |   AFC Leopards |
| 17 | MF | Ismael Athuman | 9 |  Las Palmas Atlético |
| 18 | GK | Patrick Matasi | 19 |  Saint George |
| 19 | MF | Ovella Ochieng | 15 |  Vasalund |
| 20 | DF | Philemon Otieno | 6 |  Gor Mahia |
| 21 | MF | Dennis Odhiambo | 27 |  Sofapaka |
| 22 | FW | Masoud Juma | 6 |  Al-Nasr |
| 23 | GK | John Oyemba | 0 |  Kariobangi Sharks |
Match 1: Algeria 2 – Kenya 0
First a penalty slotted home by Qatari league top scorer Baghdad Bounedjah in the 37th minute. Then Manchester City midfielder Riyad Mahrez scored from a cross in the 42nd minute. And it looked like Kenya was in trouble.
Kenya's defence was at sixes and sevens in the first half. They had acute difficulty dealing with the long balls followed by diagonal runs that the Algerian side utilized. Often the diagonal ball left the attacker wide open with no defender in site, only for the Algerian attacker to miscue his first touch.
Kenya clearly suffered stage fright in the first half and if not for some timely tackles from the defence, matters would have been worse. They would have perhaps benefited from playing a team that has a similar style to Algeria and in front of a hostile crowd.
Francis Kahata had an off day. Whereas he is very good on the ball, his inability to shore up the defense left a huge gap on the left flank which Algeria exploited resulting in the penalty. To shore up the left flank, coach Sebastian Migne replaced Kahata with Eric Ouma Marcelo.
Algeria also applied the tactic of running at Kenyan defenders then tumbling at the slightest touch. Kenyans did not help themselves as they fell into this trap with a series of rash challenges. One such rash challenge resulted in a yellow card for Philemon Otieno. The second rash challenge from Dennis Odhiambo resulted in the penalty. Why Odhiambo would engage in a sliding tackle inside the box, knowing that the Algerians were falling at the slightest touch left many fans befuddled. Some wondered aloud why former Gor Mahia midfield ace Anthony Akumu was left out. Matters were not helped by the fact that Wanyama does not shore up the defensive midfield position as he once did.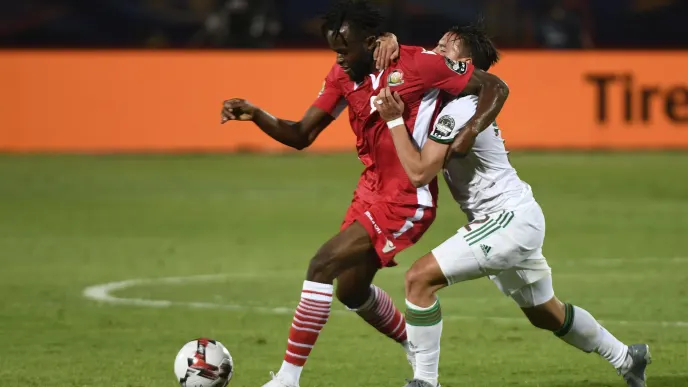 Kenya's performance in the second half was much better. Ouma not only solidified the left flank, he also made numerous forays upfront. The introduction of Johana Omollo created better coordination in midfield and Harambee stars were better able to keep the ball.
Still Michael Olunga never had a shot on goal. He was completely starved of the ball. Often Harambee stars tried to find him with a long ball. But he was often isolated with no team-mate in site to receive a head on pass.
Line-Up
Patrick Matasi, 20. Philemon Otieno, 3. Abud Omar, 2. Joseph Okumu, 5. Musa Mohamed, 21. Dennis Odhiambo, 12. Victor Wanyama, 11. Francis Kahata, 7. Ayub Timbe, 10. Eric Johanna, 14. Michael Olunga
Substitutes
Faruk Shikalo, 23. John Oyemba, 13. Eric Ouma, 15. David Owino, 6. Bernard Ochieng, 17. Ismael Gonzalez, 19. Ovella Ochieng, 8. Johanna Omollo, 16. Paul Were, 9. John Avire, 22. Masud Juma
Match 2: Kenya 3 Tanzania 2
Tanzania took the lead against the run of play. From a lightning quick counter attack, Mbwana Samatta found himself wide open on the left flank. Of all the players to leave wide open, this ought to have been the last one since he has an impressive goal-scoring record for TP Mazembe and now plays in the Belgian top tier. But Calabar was nowehere to be seen and neither was any other defender. Sammatta's shot was parried by goalkeeper Matasi right into the path of Msuva who duly netted.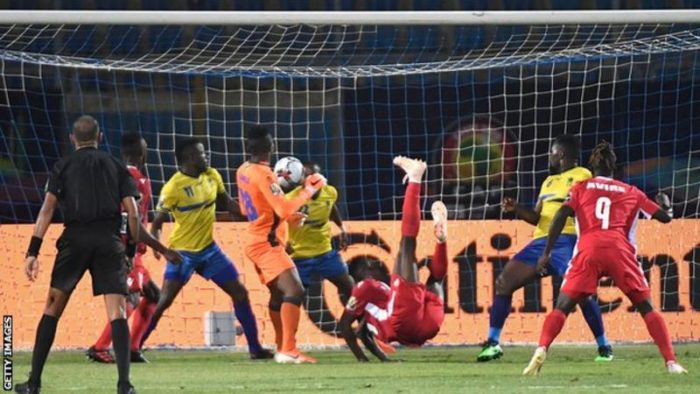 Kenya battled back gamely. The equalizer came via Michael Olunga who scored with a spectacular scissors kick from a goalmouth melee. Kenya had barely finished celebrating when Samatta found himself wide open again on the left flank. This time he made a clever run and latched onto a through pass, leaving Calabar in his wake. His first attempt was stopped. But he made good on his second attempt. Tanzania went into half time leading 2-1.
Kahata had a quiet game but he did not put a foot wrong and was precise with his passes. But he was replaced by John Avire before halftime as coach Migne who made a tactical change as he looked for urgency. To sharpen the attack, coach Migne also replaced Abud Omar. And John Avire of Sofapaka. impressed with his work rate.
Kenya once again battled back. From a set play, Belgium based Johana Omollo, a product of Ofafa Jericho high school, sneaked behind the Tanzania defence to head the ball home.
Kenya then appeared to take their foot off the accelerator. To add some urgency, coach Migne brought on Eric Omondi Johana. He did not have an impressive game. But his one moment of brilliance created the third goal. His mazy run down the right flank ended with a pass to Olunga who turned around and scored with a low drive past the outstretched Tanzania goalkeeper.
Joseph Okumu was once again Kenya's most impressive defender. Omollo was solid and did not put a foot wrong. Wanyama was okay but had far too many errant passes. Often he tried to make decisive passes into the box when more patience was called for. He had a fine header saved by the goalkeeper in the second half.
Masika once again looked very lively on the flanks. However he wasted a lot of runs by giving the ball away. On the opposite flank, Ouma Santos impressed with his industry. He almost scored with a volley from close range in the 14th minute but was denied by the keeper.
Line-Ups
18. Patrick Matasi, 15. David Owino, 3. Abud Omar, 2. Joseph Okumu, 5. Musa Mohamed, 12. Victor Wanyama, 8. Johanna Omollo, 11. Francis Kahata 7. Ayub Timbe, 13. Eric Ouma, 14. Michael Olunga
Substitutes
1. Faruk Shikalo, 23. John Oyemba, 4. Joash Onyango, 20. Philemon Otieno, 6. Bernard Ochieng, 21. Dennis Odhiambo, 17. Ismael Gonzalez, 10. Eric Johanna, 19. Ovella Ochieng, 16. Paul Were, 9. John Avire, 22. Masud Juma
Match 3 Senegal 3 – Kenya 0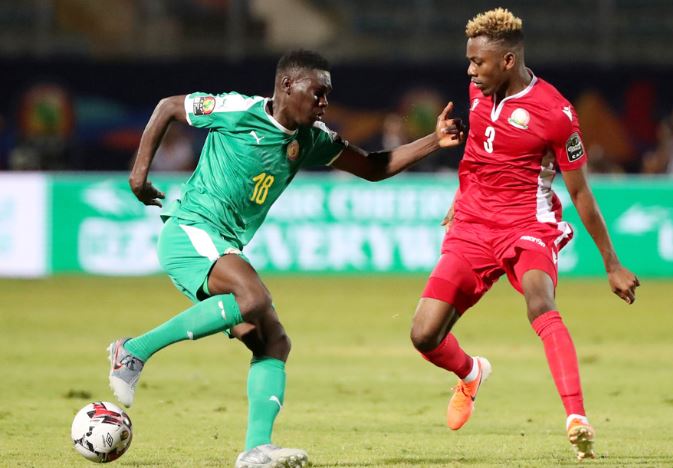 For a long period in the first half, it seemed Kenya was going to match Senegal as they strung together a series of passes, though they still did not manage a shot on goal in the first half. Johana Omollo in particular was useful when it came to connecting passing movements due to his ability to hold onto the ball under pressure.
Kenya defended stoutly in the first half. But they also have goalkeeper Matasi to thank. He made a number of daring saves including a penalty from Sadio Mane.
But Kenya soon ran out of steam. Started to give the ball away cheaply and unable to withstand the Senegal pressure, they started to boot the ball foreward to lone striker Olunga. This was futile because Olunga was always surrounded by two world class central defenders with no other attacker in sight.
Ayub Masika was to support Olunga. He tried to make incisive runs using his speed. Whereas he can outrun people in the Chinese league, he found the speedy Senegalese to be a different kettle of fish.
Wanyama was average. Dennis Odhiambo had Kenya's first shot on goal in the 76th minute. when he latched onto a rebound. His goalbound shot was parried by the goalkeeper.
Senegal's first goal came in the 63rd minute. From a left wing cross, Matasi misstimed his jump and missed the ball which sailed to an unmarked Ismaila Sarr. He made no mistake with a volley.
Sadio Mane would make up for his missed penalty by scoring in the 71st minute when he beat Musa Mohamed to a lose ball after Muhamed flailed on his attempted to clear the ball.
A rash challenge from Philemon Otieno gifted Senegal a penalty which Mande converted for the third goal
Line-Ups
Kenya: Patrick Matasi, Philemon Otieno, Abud Omar, Joseph Okumu, Musa Mohamed, Dennis Odhiambo, Victor Wanyama, Johanna Omollo, Ayub Timbe, Eric Ouma, Michael Olunga.
Senegal: Mendy, Ciss, Kalidou, Gassama, Gueye, Kouyate, Saivey, Ndiaye, Niang, Mane, Sarr.
Overall Player Ratings
| | | |
| --- | --- | --- |
| Player | Comments | Ratings |
| Johana Omollo | Stabilized the midfield as soon as he came on. Played a key role in keeping possession and connecting plays with his composure on the ball | 7/10 |
| Michael Olunga | Made the most of the opportunities that came to him. Fought gamely despite being isolated for the 1st and 3rd games | 7/10 |
| Eric Ouma | Solidified the left side defensively. Sent numerous useful crosses. Was quick off his mark to close down defenders. Had some wayward shots which should have been crosses | 6/10 |
| Joseph Okumu | Showed a lot of composure despite his youth and inexperience. Made several timely tackles | 6/10 |
| Patrick Matasi | Made several crucial saves including a penalty from Mane. Mistimed his attempts at gathering crosses | 5/10 |
| John Avire | Was a tireless workhorse when given an opportunity and a useful partner for Olunga. | 5/10 |
| Eric Johana | His brilliant run resulted in Olunga's winning goal against Tanzania. Did not show much else besides that | 5/10 |
| Ayub Masika | Worked tirelessly on either flank and often fell back to defend. But wasted a lot of runs by giving the ball away. | 5/10 |
| Bernard Ochieng | Solidified the right flank defensively when he came on as a substitute | 5/10 |
| Victor Wanyama | Battled for possession in midfield but gave the ball away too often via poor passes into the box when more patience was needed | 4/10 |
| Dennis Odhiambo | Had a good attempt on goal against Senegal. Gave away a needless penalty against Algeria | 4/10 |
| Musa Mohamed | There is no shame in being beaten by Mane. It was his only error of the tournament. But he did not do much else defensively | 4/10 |
| Francis Kahata | Was composed and did not misplace any passes. But was unable to contend with the speed and intensity of this tournament | 4/10 |
| Philemon Otieno | Was solid at times but was overwhelmed by the situation, resulting in two rash tackles that cost dearly | 4/10 |
| Abud Omar | Was unable to stop the marauding wingers of Algeria and Senegal. Did not contribute offensively | 3/10 |
| David Owino | Lost track of Mbwana Samatta, resulting in both Tanzania's goals. This was not the Calabar who earned his nickname by bottling Victor Moses | 3/10 |