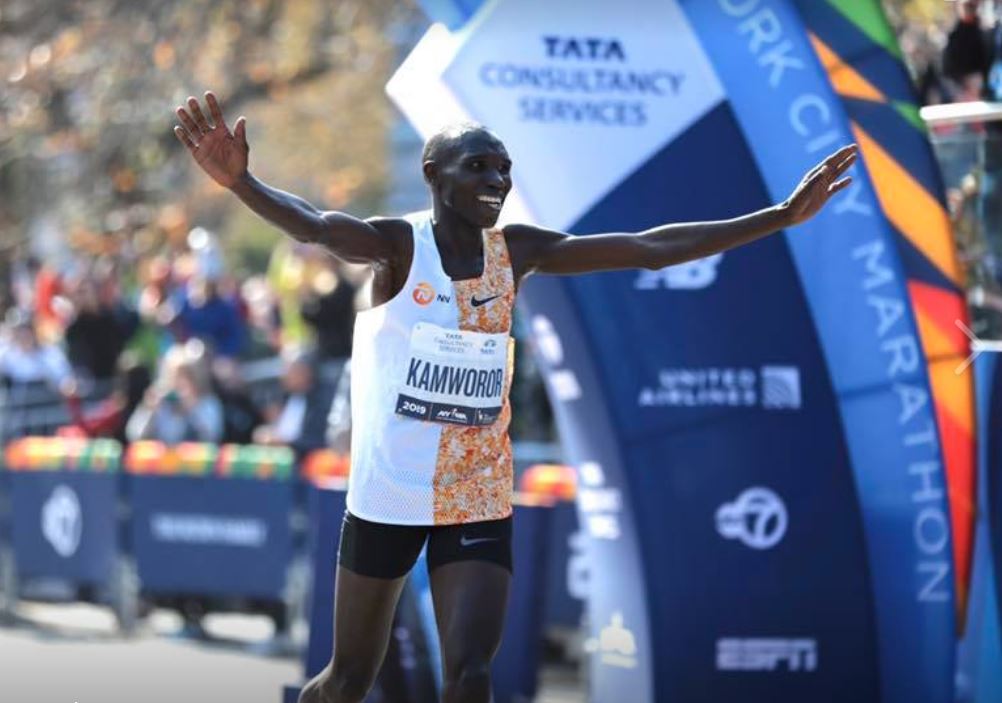 Geoffrey Kamworor won the New York marathon on Sunday November 3 2019. It marks the second time Kamworor has won this event. He also won it in 2017. On that occassion, he and Wilson Sang were engaged in an epic battle in which Kamworor finally prevailed by 3 seconds. In 2019, Kamworor won at a canter. The person who was seen as his likely challenger, Lelisa Delisa of Ethiopia, dropped out after only 7 miles. At mile 20, Kamworor was in the leading pack with compatriot Albert Korir, plus three Ethiopians, Tamirat Tola, Girma Gebre and Shura Kitata. It was at this point that Kamworor shifted gears, unleashing a 4:36 minute mile at mile 22 and a 4:31 mile at 25. That rapid acceleration shook off the challengers one by one. Korir was the last one to stay in contact with Kamworor. He ended up finishing second in 2:08:3, while Kamworor who ran the last mile alone, won in 2:08:13.
A man of all surfaces and all distances.
What makes Kamworor unique is his ability to simultaneously excel on the track, on the grass of cross country, in half marathons and in full marathons. It is true that there have been other legends who have excelled in all these distances. But not at the same time or even in the same season. The reason for this is that the training program required to excel on the track is rather different from that required to excel say in half marathons. As such, once many track legends go to the roads, they never return to cross country or the track. Eliud Kipchoge, Kenenisa Bekele, Paul Tergat, Haile Gebreselassie, all excelled in these events but in a sequential order, not simultaneously. None of them excelled on the track or in cross country or even in the half-marathon once they switched to full marathons. Kamworor is the only runner who has juggled all distance running categories at the same time. Amazing versatility.
Since 2015, Kamworor has been winning medals on the track at the world championships, he has won the world Half Marathon championships three times. He won the world cross country senior race three times and has now won the New York marathon twice. In 2019, also, he won the world championships trials, beating Rhonex Kipruto who eventually won bronze at the world championships. It is in the half-marathon where Kamworor really excels. In fact in 2019, he set a new world record at 58:01, blasting the previous record by 17 seconds.