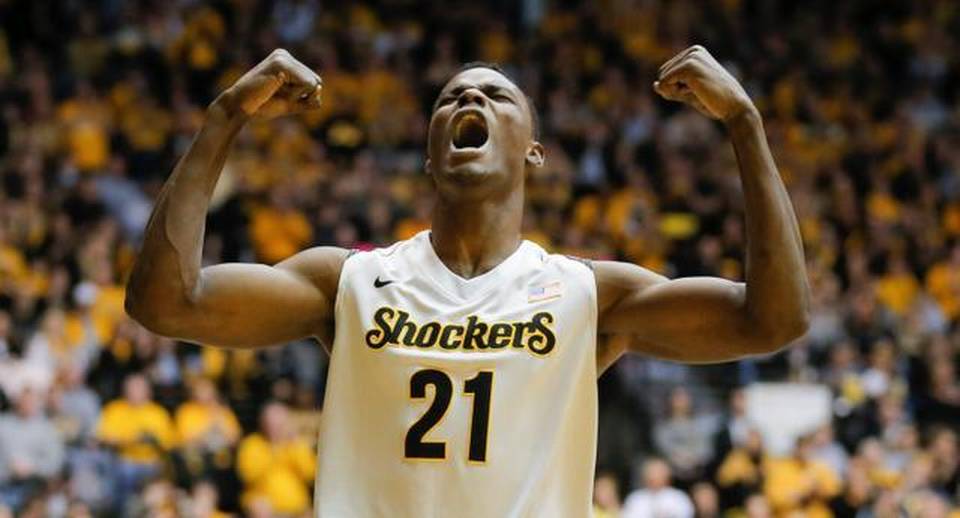 Bush Wamukota, a 7 foot center from Bungoma county, became the first Kenyan ever to play in the NCAA tournament sweet 16. The NCAA tournament is the equivalent of the NBA playoffs. It is a single game elimination (knockout) tournament. It features the best 64 teams in the top American college basketball leagues. The Sweet 16 is the 3rd round.
Wamukota who features at centre for Wichita State University often features as a role player to add size to the Wichita state interior. His primary strength is his shot blocking ability.
Biography
Early days in Bungoma
Tom Bush Wamukota was born on September 28, 1993 in Bungoma. His parents are Dan Wanyama and Nancy Sikobe. Kenyans will remember that Sikobe featured for the Kenya National volleyball team before proceeding to the US on a volleyball scholarship. Sikobe had been one of the stars of the Kenya volleyball team that played in the 2000 Olympics.
Wamukota came to basketball late. In his formative days, he practised his shots using a broken bicyle wheel as the goal. He later joined for Maseno secondary school under coach Paul Otula. Maseno is a basketball powerhouse and has sent more baskteball players to the USA on basketball scholarships than any other school.
At Maseno secondary
At Maseno, Wamukota never took basketball seriously until he was in form 4. As a third former, he was 6 feet 3 inches tall. He had a growth spurt at age 17 and by the time he was in form 4, he was 6'10". It was only then that he started to practise with the Maseno school team.
Wamukota described the lack of sports facilities in Kenya compared to the USA.
"There's not a lot of support for basketball or for sports like there is over here," Wamukota said. "I used to play in flip-flops or even barefoot sometimes, because I was growing so much it was hard to keep pairs of basketball shoes that fit. Also, as much as I was growing, it felt like I struggled with my coordination. It never seemed like I could ever get any better." he said to the Wichita Eagle.
Bush arrives at Wiley College
When his mother Nancy Sikobe left Kenya in 2003 to pursue a volleyball scholarship , she left her entire family behind and would not re-unite with Bush until 2012 when he came to NAIA schooll Wiley College, an NAIA school in Marshall, Texas, where mother , Nancy Sikobe, was the volleyball coach.
"That's the day I got my son back," Sikobe said, choking back tears. "That's the day I got my boy. You always dream, that when you make sacrifices, that the end result will be something better." she said to the Wichita Eagle newspaper.
Bush credits his mother for making his college basketball career possible.
"She is the only reason that I made it over here," Wamukota said. "Without her, there's nothing." he averred.
When Wamukota arrived at Wiley college, he expected a lot more. For one thing he thought he would be appearing on TV and even asked a team-mate. 'So when do we get to play on TV?'. The team-mate Tabrie Gibson then explained to him that NAIA schools, which are a step below NCAA schools do not appear on TV.
It was then that Wamukota started to work towards playing for an NCAA division 1 school. He worked hard on and off the court, going to the gym at 5 am and working on various aspects of his game. At Wiley college, he averaged 2.7 points and 2.6 rebounds. He was then able to transfer to Kilgore Junior college.
Bush Wamukota at Kilgore college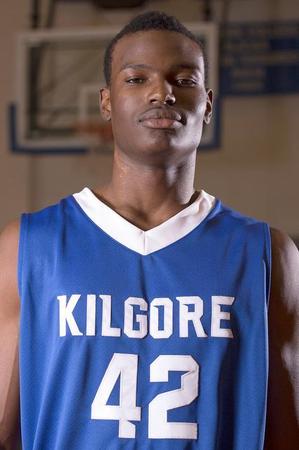 At Kilgore, Wamukota averaged 6 points and 6.8 rebounds in his one season. While at Kilgore, he met Wichita State assistant coach Greg Heiar during a recruiting visit. A visit from Wichita State head coach Greg Marashall convinced him to transfer to Wichita State to play his last two years of college basketball.
"The way they treated me, the way they made me understand they had an investment in me as a person and as a basketball player was a big deal," Wamukota said. "The program and the success they've had also meant a lot." said Wamukota.
Wichita State has been one of the most succesful basketball teams in the last three seasons. In 2013, they reached the final four (semi-finals) of the NCAA tournament. In 2014 they reached the 3rd round and now in 2015 they have reached the sweet 16 (4th round). The school has sent over a dozen players to the NBA including such players as Xavier McDaniel who played for the New York Knicks.
Bush Wamukota arrives at Wichita State
Once he arrived at Wichita State, Wamukota knew he had a steep mountain to climb as far as learning the game.
"I knew, coming in, this wasn't a situation where I was going to play 30 minutes a game, I was going to have to learn and develop," Wamukota said. "I've only been playing basketball for four or five years, so I'm still learning every day. Here, nobody can say they don't have a chance to get better every day at practice. There's a lot of support with my teammates, too." he said to the Wichita Eagle
Wamukota is mostly deployed for his defensive prowess, typically appearing for about 10 minutes a game.
Bush Wamukota in the 2015 NCAA tournament
During the sweet 16 match against Notre Dame, Wamukota played four minutes and had two rebounds and no points. Notre Dame won 81-70
In the 2rd round upset win over arch rivals Kansas, Wamukota played 14 minutes, scored 3 points and had 2 rebounds. Wichita State beat Kansas 78-65.
In the 1st round against Indiana University, Wamukota played 2 minutes with no points or rebounds. Wichita State won 81-76
During the 2014-2015 regular season, Wamukota played 32 games, averaging 6 minute per game, shooting 53.6% from the field, averaging 1.5 rebounds per game and 1.1 points per game
Wamukota is pleased with the progress he has made since his humble beginnings.
"I told myself before the season that this is a year to develop, to learn and any way I can help the team, that's what I want to do," Wamukota said. "Coach Marshall calls my name, I want to be ready to give (Darius Carter) or Shaq (Morris) a break, be ready to play defense."
Wamukota knows he has to work a lot harder to improve various aspects of his game prior to his last season in college basketball. He plans to hiy the gym harder to add 10 kilograms of muscle.
"I feel like my body is balanced I can do a lot of things," Wamukota said. "I need to keep improving on defense. I need to work on finishing around the rim. I think if you talked to (Marshall) he would say my touch is pretty good, but there's certainly a lot of things I need to work on."
His father Dan Wanyama is the current MP for webuye constituency.