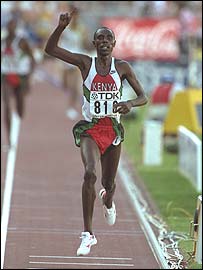 After a surprisingly brilliant performance at the 1987 world championships where Kenya won three golde medals, Kenya followed it up with an even better performance in 1991. Here Kenyan men won an incredible 5 gold medals.
The women also started to come of age at these championships. 1991 marked the first time a Kenyan won a medal at the world championships. Susan Sirma won a bronze medal in the 3000m, finishing behind two Russians who were likely part of a State sponsored doping program. Russian women were thoroughly dominant at these games, winning 8 gold medals.
800m: Billy Konchellah Retains his world title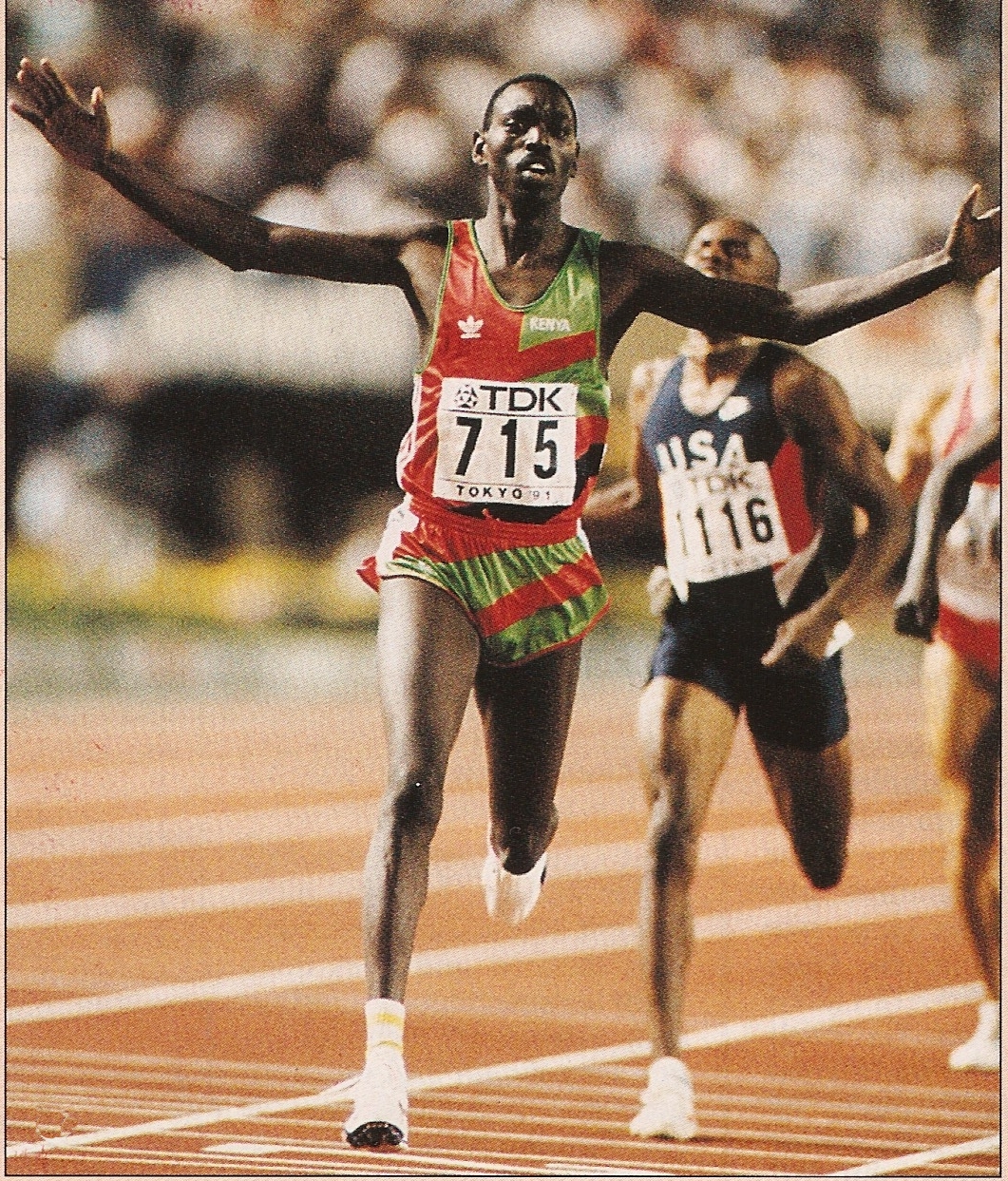 Kenya was well represented in the men's 800m final with Billy Konchellah being the defending world champion and Paul Ereng being the defending Olympic champion. They would have to contend with Jose Luiz Barbosa who had the fastest time of the year as well as the American Mark Everett.
Knowing Konchellah's legendary finishing kick, Barbosa and Everett set a torrid pace while Konchellah and Ereng lurked at the back. With 150m to go, it looked like Barbosa was running away with the win while Ereng gave chase. Ereng eventually gave up the chase, leaving it to Konchellah whose legendary kick carried him to victory as he passed Barbosa in the last 50 metres.
Race Video
5000m: Yobes Ondieki leaves the field gasping with a torrid pace
The 5000m race was bound to be a tough race. There was Moroccan Brahim Boutayeb, the 10,000m Olympic gold medalist from 1988. His compatriot Khalid Skah was world cross country champion in 1990 and 1991 and would later win Olympic gold in 1992. German Dieter Baumann was the Olympic silver medalist from 1988, and would win Olympic gold in 1992. Ethiopian Fita Bayisa had won gold at the 1991 All Africa games. Then there was Castro Domingo of Portugal who had won a silver medal at the previous world championship. A strong field it was.
Yobes Ondieki outwitted them all by setting a torrid pace starting at the second lap mark at which he uncorked a 59 second lap followed by a 60 second lap. Khalid Skah tried to give chase but started to fade at the fourth lap. It was here that Ondieki's pace started to punish the field and he started to open a gap. He ran the first mile in 4:02. The tactic worked to perfection as Skah was burned out after only four laps. Bayisa and Boutayeb tried to stay within shouting distance. Boutayeb soon fell off the pace leaving only Bayisa to chase Ondieki. But the 30 metre gap Ondiek had created was too massive such that even as he slowed down late in the race, the rest of the field could not catch him. Ondieki with a tactical master class won in 13:14.45, a championship record.
Race Video
10,000m: Tanui and Chelimo destroy the field
Coming into this race, the favourite was Moroccan Khalid Skah. He had shocked everyone by winning the world cross country championships in 1990 and 1991 with no one able to counter his swift finishing kick. Other contenders were Eammon Martin of Great Britain who had beaten Tanui to gold at teh 1990 Commonwealth games and Salvatore Antibo who was the European champion. Hammou Boutaib, the defending Olympic champion from Morocco was also in the race.
The conditions on that day were completely unsuited to pushing a strong pace. With high temperatures and high humidity, everyone expected a slow pace. But the Kenyans would have none of it. Knowing that they could not handle Skah's finishing kick, Richard Chelimo and Moses Tanui set off on a torrid pace. Chelimo especially took the race to the rest of the field, running the first several laps in 63 or 64 seconds, world record pace. Tanui stayed in shouting distance and the third Kenyan, Thomas Osano led the chasing pack. Most observers thought the pace was suicidal. But it was not suicidal for the Kenyans who knew what they were doing. It proved suicidal for Antibo who tried to keep pace with the Kenyans. He ended up finishing last.
Chelimo continued to push the pace, extending his lead over the rest of the field. With 5 laps to go, the more experienced Tanui started to reel him in. With 3 laps to go, Tanui and Chelimo were running in tandem, 40 metres ahead of the field. Skah started to make his move with 2 laps to go. But it was too late. Despite closing the gap, he could not catch the Kenyan duo. In the end. Tanui's experience won with Chelimo finishing a close second. Skah was third and Osano finished a creditable 4th.
Race Video
3000m Steeplechase: First World Title for Kenya.
Though Kenya had dominated this event for the past several years, No Kenyan had ever won the world title. Kenya was well represented in this event. Julius Kariuki and Patrick Sang who had taken gold and silver at the 1988 Olympics were in the race as was youthful upstart Moses Kiptanui. The trio led for much of the race. At the waterjump, all three were running in tandem. But it was the 20 year old Kiptanui who had an extra gear, beating the rest of the field. Sang finished second. Kariuki ended up 4th. It was the end of the road for Kariuki after an illustrious career that saw him win Olympic gold and World Intercontinental cup gold.
Race Video
3000m: Susan Sirma becomes first black African woman on the podium
History was made in the women's 3000m when Kenya's Susan Sirma ran a tactically astute race to take the bronze medal behind two Russians. No black African woman had ever won a medal at the world championships. Decades later, the Russian state doping program was exposed. Too late for many athletes who had lost medals to the Russians.
1500m: Silver for Wilfred Kirochi
Wilfred Oanda Kirochi finished second behind a dominant Noureddine Morceli of Algeria. Kirochi had shown a lot of potential particularly in his school days at Cardinal Otunga Mosocho. As a youngstar he won a silver medal at the 4th All Africa games in 1987 behind another Kenyan Sisa Kirati. Four years later he fulfilled his potential by winning World Championships silver.