The history of Kenya's successive campaigns in the Africa nations cup is a sorry tale of mediocrity caused by constant infighting, corruption, incompetence, greed and general mismanagement of the national team. The perpetrators of these misdeeds have primarily been KFF officials but some players and coaches are guilty as well. The biggest losers in this have been the fans who have been subjected to one humiliation after another and the players who have been unable to showcase their talents or play to their full potential. This page chronicles the various misdeeds committed by various parties. It reads like a novel but is based on fact. The shenanigans that have frustrated Kenya's performance at the African cup of nations could easily be turned into a movie.
Morocco 1988: Discord and animosity in the Stars camp creates disaster
For the 1988 ACN, a resurgent Kenya team buoyed by their superb performance at the 4th All African games, and coached by German Reinhard Fabisch in his first stint with the team, faced Zimbabwe in their final qualifier. They drew 1-1 away and held them to a goalless draw in Nairobi to qualify on away goals rule. But it was soon after this that the trouble started. Fabisch was soon sent packing by the KFF team of Joab Omino and Sammy Obingo apparently for criticizing KFF for not paying player allowances on time. Omino was quoted as saying that "Coaches come in dozens".
Motcom (MoW) coach Chris Makhoha was appointed as the new national team coach. His selection was questionable given that he had limited success at Motcom who were constantly battling relegation while yo-yoing between the Super league and provincial league. To be fair, Makhoha was an excellent youth coach, scouting and recruiting many talented youngsters and grooming them into stellar players at Kakamega high school, players like Mickey Weche, Owade "Zimbo" and the Musuku bros. But he never was able to transfer his success to senior level. Thus his elevation to national team coach defied logic especially considering that Kenya were due to play in their biggest tournament ever: Morocco 1988. Most Kenyan fans wanted KFF to hire another foreign coach. Bt in Kenya, decsions are rarely merit based.
Makhoha's reign is remembered for the discord that occurred between Gor Mahia players and AFC Leopards players, thus dividing the Harambee stars camp into two rival camps. Trouble started in January of 1988 when Gor Mahia players pulled out of the national team for the CECAFA cup. Gor had just won the Africa cup winners cup after a long strenuous campaign and the 9 players selected to the national team turned down the call up citing fatigue. Makhoha and team manager Joe Kadenge did not take too kindly to this act of what they considered betrayal and thus seemingly developed a grudge against Gor Mahia players. Matters came to a head when Harambee stars went to Brazil for a month long training camp. There was intense animosity between the two rival groups in the camp. Abass Magongo, then arguably the best Kenyan player was singled out as the ring leader and dropped from the team by the team management for dissent , much to the dismay of Kenyan fans. It is rumoured that George Onyango fundi was stabbed when a major scuffle involving the two camps ensued.
After the training stint in Brazil where they played top Brazilian teams such as Fluminense, Flamengo and Botafogo, The stars left for Morocco for the tournament. But the discord in the camp showed as a disjointed Harambee stars lost 3-0 to Nigeria and Egypt in the two opening matches. The match against Nigeria was a comedy of errors by goalie Washington Muhanji. First he tried to control a back pass with his feet rather than pick it up as was allowed back then. He missed it and the ball rolled into the net. Only a few minutes later he chased down a loose ball near the corner flag. Instead of clearing the ball, he tried to pass to a teammate. The pass was intercepted by Sam Okwaraji who scored into an empty net.
Finally in the last game against Cameroun, Kenya acquited themselves well. Peter Dawo who had finished as top scorer in the Cup winners cup of 1987 with 10 goals finally got into the starting lineup and came close on several occassions giving the Cameroun defense nightmares. The most memorable moment of the match came when David Ochieng in the Kenyan goal was beaten by a long range shot. The ball appeared to be destined for the net but Austin Oduor "Makamu" sprinted to the ball and made a  goalmouth save with a spectacular overhead scissors kick. The match will also be remembered for the phenomenal marking job that Makamu did on Roger Milla who was the tournaments top scorer. The final match ended 0-0.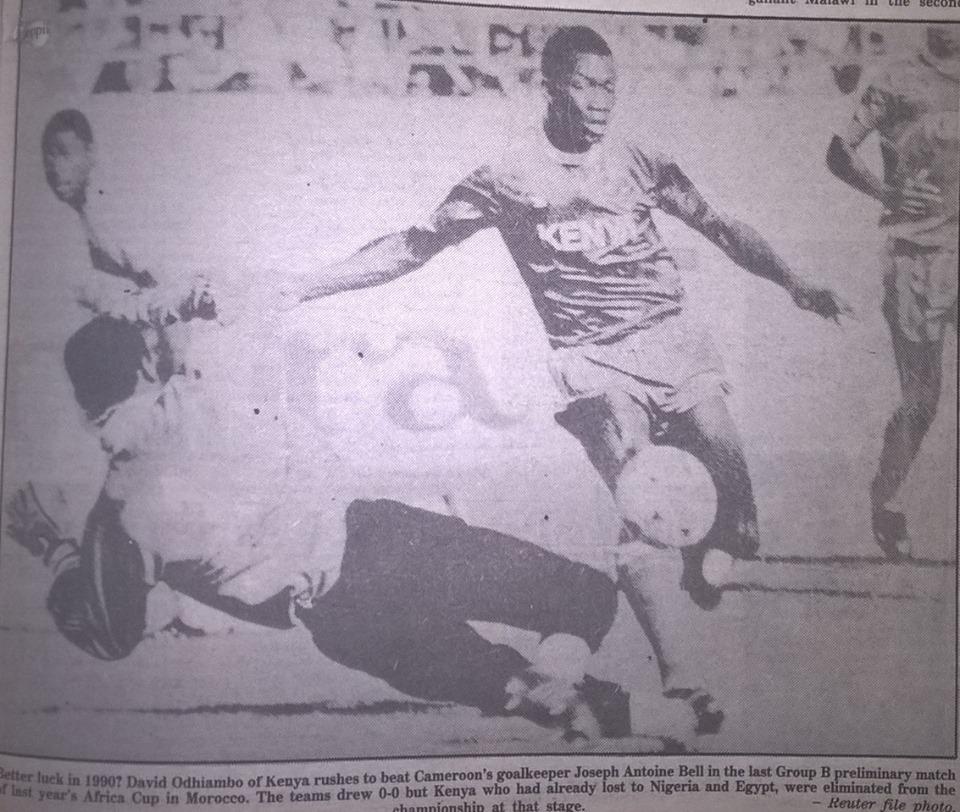 Algeria 1990: Some redemption
Kenya experienced a mini resurgence in the late 80s under coach Mohammed Kheri who will go down as arguably the best local coach ever to handle Harambee stars. Kheris player selection was beyond reproach and he was tactically astute. Back in 1986, he steered Bandari Football club to the brink of winning the Moi golden cup (now the presidents cup). Amazing because Bandari at the time was not in the Super league but in the Coast provincial league. A team full of unknowns like Ali Jeneby, Albert Oyoo, Ricky Solomon and Charles Okeyo among others. Had Bandari won the cup, they would have gone down as the only provincial league team ever to win the cup and would have denied Gor a chance to play in the 1987 cup winners cup which they eventually won. But an injury time goal by Hezborn Omollo gave Gor Mahia a 1-0 win and the cup. Kheri's ascension to national team coach was thus 100% merited.
Under Kheri the stars played excellent football. They went on to beat Liberia 1-0 at Nyayo stadium to qualify for the Nations cup thanks to a brilliant long range effort from George Onyango "fundi". That match will be remembered for the way Austin Oduor Marked the legendary George Weah out of the game. Weah  went on to enjoy success with AC Milan even becoming Euro-footballer of the year and possibly the greatest African striker ever. Prior to Liberia, Kenya faced Malawi. In the 1st leg in Nairobi, Malawi led at the half. But in the second half, Kenya were awarded a corner kick. Sammy Onyango "Jogoo" curved the corner kick directly into the net to equalize much to the relief of Kenyan fans. The match ended 1-1. Malawi had outplayed Kenya in leg 1 and expected smooth sailing in Lilongwe. Local fans lost hope when the stars players went on strike protesting non payment of allowances, a problem that continues to plague the national team as officials pay their own allowances and leave the players high in dry. With no allowances paid, the players often put up a shoddy performance. But this time Harambee stars finally boarded the plane to Lilongwe and rose above their problems to beat Malawi 3-2 in Lilongwe. A shell shocked Malawi coach, Clement Malola was lost for words as he decried his teams inability to cope with the  pace of Anthony Ochieng Ndolo  who scored twice. Ndolo was nicknamed "suzuki" by Gor Mahia fans due to his pace. Malawi clearly had not done their homework.
At Algeria 1990, Kenya redeemed themselves to a certain extent but were let down by inexperience. They lost 1-0 to Zambia in the opener, tied Senegal 0-0 and lost 0-2 to a world cup bound Cameroun. Muhanji in particular redeemed himself with a series of spectacular saves and was voted one of the best keepers. Magongo finally got a chance to showcase his skills and acquited himself well. Mike Okoth, Peter Mwololo and Muhanji played well enough to receive offers from Belgian clubs. Muhanji's standing contract with the army prevented him from joining the paid ranks. Mwololo had already signed with a team in Oman. Okoth was thus the only player able to join the paid ranks where he excelled , playing in the Belgian league for a decade.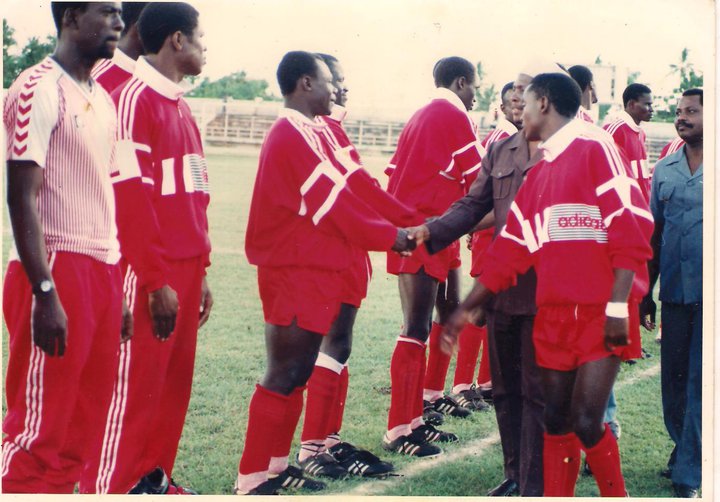 Kenya's football future seemed bright as Kenyan players started to attract European scouts and with young players coming up like Mwololo, Allan Odhiambo, Sammy Omollo waiting in the wings. All were members of Kenya's U-21 team, the first time Kenya had a U-21 team ever. However it never turned out that way. Mwololo having gone to Oman lost his lustre from playing in an inferior league. In fact all the Kenyan players who left for Oman came back worse off. Both Omollo and Odhiambo played exceptionally well in the local league. The former had a brief stint with Bournemouth in England's second league. Allan Odhiambo was a defender/defensive midfielder but was the local league's top scorer in 1991.  Quite an accomplishment for a defender
Senegal 1992: Incompetent coach fosters player dissent
Kenya qualified for Senegal 1992 by beating Sudan. Having tied the first leg 0-0, Kenya had to win the return leg played at Kasarani. Sudan took the lead in the 1st half. Henry Motego replied for Kenya in the 70th minute. With the score at 1-1, Sudan employed time wasting tactics as a 1-1 draw would have seen them through on away goal basis. Late in the second half, coach Kheri introduced Sammy Onyango Jogoo as a late sub. As time wound down, Jogoo deftly lost his marker, raced down the left flank and paused for his strikers to arrive at the penalty box. He took his time then delivered one of his trade mark inch perfect crosses. Mike Okoth rose above the Sudanese defence to head the ball home. Kasarani turned into a near delirium. Kenya had qualified for their 3rd consecutive Africa cup. The Sudanese were distraught and inconsolable. That was Sammy Onyango's last match in national colours. Fans will remember him as one the most complete players ever to don the Harambee stars jersey. An immaculate dribbler, equally adept with both feet , an excellent crosser and with a shot that scared the living daylights out of goalkeepers. A complete player who obviously worked hard to develop such fundamentals and was a product of the now defunct Olympic youth development centers founded by Bernard Zgoll. Mahmoud Abbas the legendary goalie said Sammy Onyango was the one striker he feared the most. Not only was his shot powerful but he could shoot unexpectedly and score from seemingly impossible angles.
Late in 1991, the Kenya Posts and Telecommunications declared that their employees would no longer be allowed to represent any other clubs besides Post Office clubs. This dealt a huge blow to self supporting clubs as many of their players were KPTC employees. Joining Gor or AFC in those days often led to securing employment at parastatals such as KPTC and acted as motivation for young players seeking employment. Legends like Keffa Tasso, Bob Ogolla, Ben Musuku, Mickey Weche and Sammy Owino "Kempes" were all KPTC employees. Sammy Onyango was the 1st player to leave Gor to join Kisumu Posta. Other parastatals soon followed suit. Others cut down on hiring footballers. This started the gradual decline of community clubs as they were no longer able to lure players by promising to secure employment for them The idea-less club officials of Gor and AFC failed to come up with a strategy to adapt to the new realities. The Sudan match marked the last time Jogoo donned the national team jersey after a stellar career that saw him play for the national team between 1983 and 1992.
Kenyan fans were in high spririts having qualified for Senegal 92 in dramatic style. But in typical Kenyan fashion, the top officials put paid to Kenya's hopes before they stepped on the field. The KFF caretaker committee led by politician Mathew Adams Karauri appointed Gerry Saurer as coach. Karauri himself had no football background and knew nothing about running a federation. He was appointed to the post based on his political connections. He in turn paid it forward by appointing Gerry Saurer as Harambee stars coach. Saurer had no qualifications as coach. His daytime job was as the manager of the 680 hotel. He managed to convince Alfred Sambu into hiring him as AFC Leopards coach. At the time Sambu was desperate to hire a European coach in order to emulate rivals , Gor Mahia who had hired British coach Len Julians and were enjoying success. Saurer failed to impress as AFC coach.
If Saurer failed to impress as AFC coach, his stint as stars coach was nothing short of disastrous. Players became disgruntled by Saurer's incompetence.   In the 1st game of Senegal 92, Kenya lost 3-0 to the hosts and played extremely poorly to a team that was itself struggling. Fans were at a loss as to why some usually dependable players looked sluggish and disinterested. It turns out that some played poorly in order to get Saurer fired. Too bad they chose the wrong venue and time. This may seem like the stuff of novels but it really happened. Kenya played better in their second match but lost 2-1 to Nigeria with Mickey Weche scoring the lone goal from the penalty spot.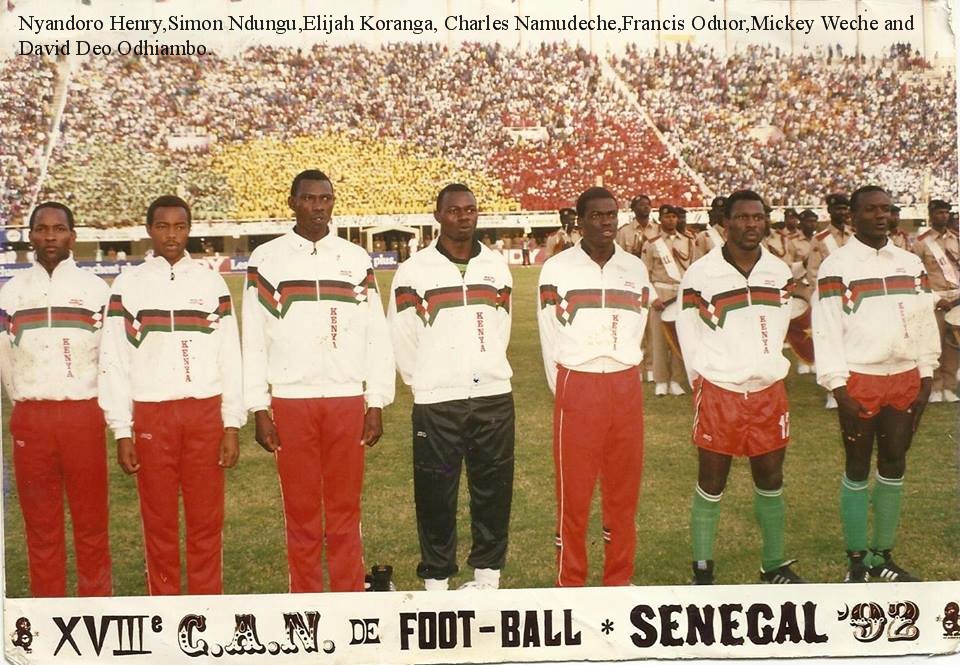 Nevertheless Gerry Saurer did some good for the Kenyan game. It was he who organized the 1986 Motokura cup, which featured top tier teams from Belgium, Japan and Holland. This is probably the most memorable tournament held in Kenya.
Kenya 1996: Betrayal by the President and the government
In 1993, Kenya was chosen as host of the 1996 Africa Nations cup, much to the delight of the Kenyan public who were overjoyed at the prospect of watching the stars of the time who included the likes of Abedi Pele, Weah, Okocha, Kalusha among others. The Kenya government committed to building a new stadium in Mombasa as a condition for hosting the tournament. But as time passed, it became apparent that the government was never going to come through on its promise. Kenyans wondered why. Was it lack of finances ? Was it sheer incompetence ?
CAF sent delegation after delegation to inquire on Kenya's progress. Each time they received promises that work on the new stadium would soon begin. And each time it never begun. Finally CAF lost its patience, revoked the hosting rights and awarded them to South Africa. Kenya was banned from ANC 96 as well as ANC 98. It later became clear that the government refused to build the stadium because the KFF at the time was led by Joab Omino, an opposition leader. The government feared that if KFF hosted the cup succesfully the opposition would look good in the eyes of the public and possibly win the 1997 general election. So one of President Moi's minions whispered in his ear not only to refuse to build the stadium , but also to sabotage Kenya' chances of playing in ANC 96. Had Kenya pulled out of hosting the cup earlier , they would not have faced the wrath of CAF and would have participated in the cup qualifiers And this is what made the situation worse. The government waited and never informed KFF or CAF that Kenya was never going to host the tourney. Instead they kept lying that progress on building the new stadium in Mombasa was about to begin. CAF punished Kenya by banning them from ANC 96 and ANC 98. Four years in the wilderness ! Kenya football was set back almost a decade and has never quite recovered.
In 96 and 98, Kenya boasted a host of excellent players such as Allan Odhiambo, Morris Sunguti, Sammy Omollo, Vincent Kwarula, "Zico" Otieno, Bonaventure Maruti, Musa Otieno, Tom Juma, Dan Ogada, Steve Okumu (Oliech's elder bro) and John Odhiambo "Baresi", Paul Oyuga among others. Chances are that if they parlayed their talents in front of Euro scouts, some of them would have joined the paid ranks in Europe and opened the doors for other Kenyan players. By getting Kenya banned for 2 consecutive ANC, Moi and his government denied these players a chance to cash in on their talents and bring a sense of pride to Kenyans. Kenya football was indeed set back for years. A whole generation of talented players lost an opportunity to play in Europe.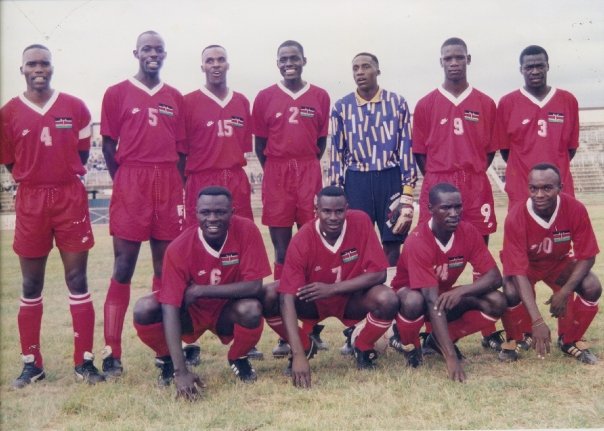 Ghana-Nigeria 2000: Another incompetent coach destroys Kenya's chances.
In 1999, the KFF team led by Peter Kenneth hired Abdul Majid as the next Harambee stars coach. Majid had achieved nothing as Rivatex coach and anyone who watched Rivatex play at the time knew that Majid was the wrong choice. During his reign as KFF chairman, Kenneth oversaw the most successful.  KFF era ever. The national league had 3 sponsors and the stadia were filled with fans. The local game was generally healthy. Which makes his appointment of Abdul Majid all the more baffling. Here was a man who had never achieved anything as coach and he was supposed to lead Kenya to ANC 2000 ? Suffice to say Kenya never even came close to qualifying, losing to Zambia both home and away, losing to Zaire both home and away and managing 2 draws with Madagascar. Kenya finished at the bottom of their qualifying group and were already knocked out midway through the qualifiers. The Abdul Majid experiment was over quickly but it lasted just long enough to get Kenya eliminated in a hurry. Another poor choice of a coach by KFF put paid to Kenya's chances.
Tunisia 2004: Player favouritism

Kenya finally managed to qualify for the Africa nations cup after a 12 year absence. They did so by collecting 13 out of a possible 18 points to finish ahead of Togo. Dennis Oliech scored several crucial goals and emerged as the most outstanding player in Kenya's qualification campaign and possibly the best centre forward Kenya has ever produced.
| | | |
| --- | --- | --- |
| | | Dennis Oliech was in sensational form, scoring several crucial goals to help Kenya qualify for Tunisia 2004 |
At the tournament, Kenya's lack of experience and lack of quality players was ruthlessly exposed in the opening 2 games. Whereas other countries had invested in youth development programs and were reaping the benefits, Kenyan players were simply not classy enough to be competitive at this level. George Waweru who was nursing a neck injury was inexplicably fielded against Mali. Coach Mulee has often been accused of having a preference for players who play for Tusker, the club he coaches. Mali duly took advantage to beat Kenya 3-1. Kenya had no answer for Spain based winger Mohammed Sissoko or France based Freddie Kanoute. Titus Mulama scored Kenya's consolation goal.
Against Senegal, Kenya were a no show in the first half, conceding all three goals in the 1st half. Dennis Oliech showed flashes of brilliance and looked dangerous each time he touched the ball. But the lack of support let him down. Senegal ran rings around the Kenyan defence in the 1st half. In the second half, the introduction of Tom Juma as defensive midfielder shored up Kenya's defence and freed up Robert Mambo to move up. Kenya played much better but despite coming close through Mambo Mike Okoth and Oliech, they could not score.
Kenya redeemed themselves in the last game beating Burkina Faso 3-0. The forward line combination of Dennis Oliech and John Baraza which had clicked so well in the qualifiers was again in sensational form. One wonders why Baraza never played in the 1st 2 games. He was clearly the best strike partner for Dennis Oliech. A brilliant combination of Oliech and Baraza saw Kenya score what was one the best goals of the tourney: Oliech ran diagonally across the penalty box and drew 2 defenders with him. He deftly back-heeled the ball to a wide open Baraza who in turn chipped the ball over the befuddled goalkeeper for Kenya's 3rd goal. Oliech had a hand in the other 2 goals: He took on the Burkina backline and goalkeeper Mohamed Kabore could only get a finger to his cutback, allowing Emmanuel Ake to stab the ball into an empty net. The goal spurred on Kenya who opened up the Burkina Faso defence with ease and it was not long before Oliech was rewarded for his enterprise when he got to the end of a long ball by Titus Mulama in the 63rd minute. Substitute Patrick Zondi was denied a chance to get Burkina Faso back into the game in the 74th minute by Kenyan goalkeeper Duncan Ochieng.
Egypt 2006: The Maina Kariuki nightmare extinguishes Kenya's chances
Maina Kariuki took over as KFF chairman in 2000, promising a new era of accountability and results and promising the bring football administration into the 21st century. Little did Kenyans know that Kariuki was going to usher what is probably the worst years of Kenya football in which the local game was entrenched in corruption on a grand scale, incompetence, selfish vested interests and constant infighting. Maina Kariuki himself set the ball rolling when he looted KFF coffers to the tune of millions of shillings. Gate receipts mysteriously disappeared and FIFA aid money could not be traced. Sponsors deserted the game in droves and fans left the terraces. The biggest losers in all this were the fans and the players. Kariuki himself doggedly held onto the KFF chairmanship through court injunctions. The brazenness and impunity with which Kariuki destroyed the local game yet still doggedly held onto his post is quite amazing. Not a shred of guilt, and no conscience.
Ever since the Kariuki era, every KFF official has taken it upon himself to loot the meagre KFF coffers as much as possible. The KFF has been caught in a mire of constant infighting, selfish vested interests and corruption on a grand scale. Officials like Alfred Sambu, Hussein Swaleh, Hassan Hajji, Mohammed Hatimy, Titus Kasuve, Dan Omino, Charles Ouma, Jacob Odundo, Sam Nyamweya, Peter Ochiel and a host of others will forever be associated with the worst period in Kenya football history that saw Kenya banned 3 times by FIFA. Things have become so pathetic that football officials are now better known than players.
The 2006 ANC qualifiers also doubled up as the World cup qualifiers. Kenya were suspended by FIFA from Jun 2 to Aug 6, leading to postponement of their first three fixtures. When FIFA lifted the ban, the players put their problems behind them and put on a spirited performance registering wins over Guinea, Malawi and Botswana. However continued fighting between the various KFF factions and FIFA resulted in losses in critical games against Morocco, Tunisia and Botswana. Players were demoralized by non payment of allowances. FIFA finally lost patience with Kenya and forced them to play their last home game against Tunisia in an empty stadium. The players were demoralized by KFF infighting and demoralized at having to play in an empty stadium. Kenya lost 0-2 to Tunisia and killed off any chance of qualifying for the 2006 ANC. Once again KFF incompetence, greed and corruption had killed off Kenya's chances of qualifying. The players once again lost an opportunity to showcase their talents to European scouts.
| | | |
| --- | --- | --- |
| | | Baraza and others helped steer Kenya to a 3-2 win over Malawi but their efforts were wasted by KFF officials |
Ghana 2008: More KFF corruption causes another FIFA ban, and another disastrous performance
Yet again Kenya were banned by FIFA due to constant infighting and misappropriation of funds. To be fair, FIFA are to blame for many of Kenya's problems. They tend to take sides and they often gave money to KFF without seeking accountability. It is this FIFA money that attracted vultures of the worst kind. People who know nothing about football administration but are eager to get their hands on the already meager KFF coffers.
KFF corruption resulted in the hasty departure of French coach Bernard Lama. Tom Olaba briefly took over the reigns before FIFA banned Kenya yet again. Jacob Ghost Mulee took over when Kenya was re-instated. But the FIFA ban and the resulting long layoff and lack of preparation saw Kenya lose their opening match 1-2 to minnows Eritrea, followed by a 1-3 loss to Angola. Its a shame because Kenya was handed what seemed to be an easy draw. But yet again the selfish vested interests of KFF officials killed off any chances Harambee stars had. Even as we write in June of 2007, there are still two factions claiming to be in charge of KFF. The rebel group is led by Sam Nyamweya a.k.a the chief vulture and Peter Ochiel. Charles Ouma of the rebel group trying to take over KFF actually had the audacity to ask Kenyan fans to be patient until they finally took over KFF. This typifies the selfishness of Kenyan officials. It is he (Ouma) who should be showing patience. Why can't he wait until the next election ? Is it too much to ask an official to put his selfishness aside for the country ? Does he realize that even if his group takes over, chaos will still reign because the ousted group will seek endless court injunctions and FIFA interventions ?
Kenya's chances of qualifying for ANC 2008 were dealt a crippling blow when they were held 0-0 by minnows Swaziland. Fans blamed coach Mulee for fielding players who were past their best simply because they played in foreign leagues. Further accusations were levelled against Mulee stating that he coerced players into joining Tusker FC by stating that they would only be considered for the national team if they joined Tusker. It was even stated that he directly profits from selling some Tusker players to lower division Scandinavian teams. The national team is thus a front for marketing players he wants to sell.  The accusations were levelled by other club coaches. It is really sad that a person who is supposed to be looking out for the best interests of the players could resort to exploiting them instead. Eritrea finally ended Kenya's campaign with a 1-0 win. Kenya's football it seems cannot sink any lower having lost both home and away to Eritrea.
| | | |
| --- | --- | --- |
| | | Mulee (right) has come under suspicion of engaging in corrupt activities |
The larger issue here is that KFF corruption and infighting yet again denied Kenyans a chance to watch their team in the ANC. Instead of building the game, the clowns we call officials were busy fighting each other to get access to the meagre KFF coffers. Players lost a chance to showcase their skills yet again. MacDonald Mariga had impressed talent scouts in England but a move to the premiership came a cropper because Kenya's low ranking (124) made it impossible for him to gain a work permit. Kenya's low ranking was due to the numerous FIFA bans. Other Kenyan players including Oliech and Patrick Oboya could have used this opportunity to show their skills to potential clubs and get a much needed transfer.
How much more of this selfishness, incompetence and greed can Kenyans take ?
CAN 2010 : Promising team derailed
Kenya embarked on the 2010 nations cup with what looked like a solid start. There was an element of stability as the popular Francis Kimanzi had been hired well in advance of the qualifiers. Francis Kimanzi took over as national team coach. He led to Kenya to what looked like it was going to be a succesful qualifying for the 2010 Africa nations cup. In the first round of qualifiers, Kenya finished second behind Guinea and ahead of Namibia and Zimbabwe to qualify for the second phase. Most impresive were the 2-0 home wins over Zimbabwe and Guinea. It was here that the wheels came off. Due to a disagreement between Mohammed Hatimy, The FKL chairman and Bob Munro, Francis Kimanzi was forced out as coach of Harambee stars. To replace him, the German Antoine Hey was hired.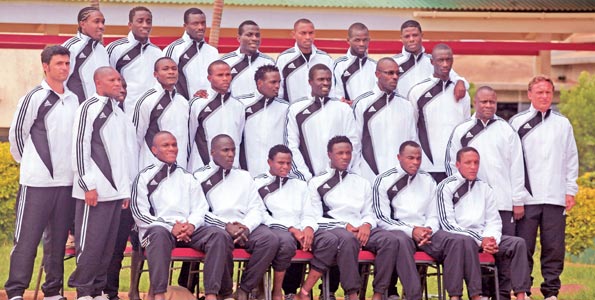 The hiring of Antoine Hey was a lousy idea because his track record was abysmal. Mohammed Hatimy and his KFF team should have known this. Hey's stint as Harambee stars coach was disastrous. Not only did Kenya underperform but Hey and striker Dennis Oliech could not see eye to eye. He sidelined Oliech for 2 games much to the chagrin of the Kenya public. Under him Kenya lost 0-3 to Nigeria and lost both home and away to Tunisia. The only win was lucky one at home to Mozambique. It was defender Julius Owino who scored while attempting to cross the ball. Kenya finished at the bottom of the group.  Hey was finally forced out and replaced by Twahir Muhiddin. Oliech made a comeback in the last match against Nigeria. He gave the Nigerians a torrid time and scored the 1st Kenya goal as Kenya lost 2-3 to Nigeria.
Once again what looked like a promising start was derailed by poor leadership in this case by Mohammed Hatimy and Titus Kasuve.
2015 : Poor Preparations yet again
For the 2015 Africa Nations cup qualifiers, For the 2015 Africa Cup of nations, Kenya was been handed what seemed like a very manageable qualification draw. They were to play minnows Comoros in the preliminary round. Should they beat Comoros, they were to play the winner of the contest between Lesotho and Liberia. The winner would then proceed to the group stages, specifically  group C which as Burkina Faso, Gabon and Angola. The top two teams from each group will qualify along with the best 3rd placed team.
It seemed like a very manageable qualification group. And Kenya's top 3 players Dennis Oliech, Macdonald Mariga and Wanyama all had recent European champions league experience.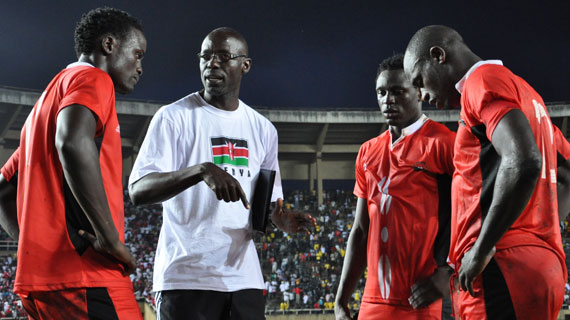 There was also a strong cadre of players featuring in Europe such goalkeeper Arnold Origi, midfielders Ayub Timbe, Francis Kahata, Jamal Mohamed and Johana Omollo. On paper it looked like one of the best teams Kenya has fielded ever.
National team captain Victor Wanyama pleaded with FKF to schedule friendlies in order to enable the team to gain a measure of cohesion. Nothing was done by the Sam Nyamweya led FKF. Kenya scraped past Comoros in the opening round, winning 2-1 on aggregate.  The players continued to ask for better preparations and friendlies. In June of 2014, the players were handed free tickets by the President Uhuru Kenyatta to attend the ongoing world cup and gain some inspiration. While Kenya players were busy enjoying themselves in Brazil, Lesotho were busy training.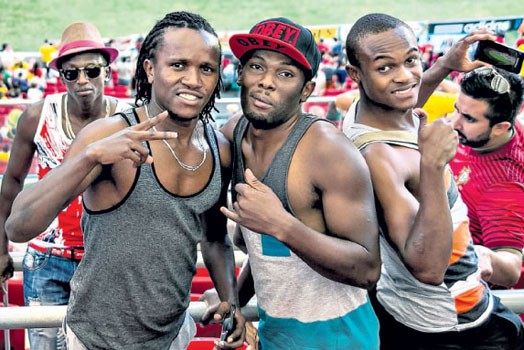 An ill prepared Harambee stars side ended up losing 0-1 to Lesotho on aggregate, once again putting paid to Kenya's efforts to qualify for the AFCON. This time Kenya did not even make the group stage.
2017 Player sabotage and ill-advised coach selection
Kenya started their campaign for the 2017 Africa nations cup on a solid note, forcing a 1-1 draw away to Congo-Brazzaville. Kenya gave a good account of themselves with Paul Were scoring Kenya's goal in the first ten minutes. Congo were lucky to equalize.
But the wheels came off the train in the second match. Player indiscipline doomed Kenya's performance against Zambia. The night before the match, a section of the Kenya players went out partying and stayed out late into the night. They went on to put on a listless performance against Zambia in front of a huge crowd at Nyayo stadium. Fans who had given up on the stars had attended the match hoping they would continue with their impressive performance having held Congo away. They were disappointed with the lacklusture performance. Kenya lost 2-1 with Michael Olunga scoring the consolation goal. A furious coach Bobby Williamson banned the Tusker duo of Danson Kago and Jesse Were from the national team.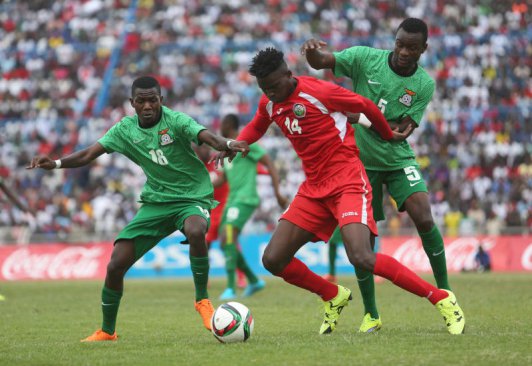 In the meantime, FKF elections were held in December of 2015 ushering in a new office. Nick Mwendwa replaced Sam Nyamweya as FKF chair. One of his first actions was to send coach Bobby Williamson packing. He said FKF could no longer afford his hefty salary. But much to everyone's surprise, he replaced Williamson with Stan Okumbi,  an unproven coach who was in charge of Kariobangi Sharks, a team owned by Mwendwa. Sharks were in the second tier at the time and Okumbi had no accomplishments.
In his first match against Guinea Bissau, Okumbi named two Sharks players: Ovella Ochieng and Pattilah Omoto. Fans suspected that Okumbi was under instructions from Mwendwa to give Sharks players as much exposure as possible so that Mwendwa could benefit financially should the duo be signed by a European team. In fact fans suspected that this was the main reason that Okumbi, an inexperienced coach was named as national team coach.
Kenya went on to lose twice to Guinea Bissau (home and away), thus gifting them a ticket to the Africa nations cup. By the time Kenya played their last two matches, they were already out of contention. Now that they were out of contention, they went on to put on solid performances , beating Congo Brazzaville 1-0 at home with a goal from Eric Johanna and forcing a 1-1 draw away to Zambia with a goal from Ayub Timbe Masika.