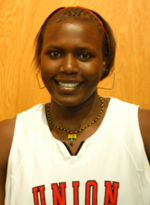 Josephine Achieng Owino is the most accomplished female basketball player Kenya has ever produced. Standing at 6 foot four inches and with a powerful frame, she she became the first Kenyan male or female to be drafted top the top tier American league in 2010 after having been voted the NAIA player of the year in 2008 and 2009.
She started to play basketball when she joined Mombasa high school in 1998. It was coach Philip Onyango who introduced her to the game and convinced her to join Mombasa high which at the time had a tradition of producing good basketball players.
By the time she was in her third year in high school she made her way into the Kenya Ports Authority basketball team. She was so dominant that she was selected to play for the national team at the East and Central Africa basketball championships. At this tournament she was voted the most valuable player. Quite an achievement for a 17 year old. During her last year in high school, she joined the Kenya commercial bank team under coach Ronnie Owino, before rejoining KPA.
In 2004, she was offered a scholarship to Union University in Jackson, Tennessee. Having not been acquainted with the structured American way of playing basketball, she redshirted the first two seasons. She finally stepped on the court  for Union University in 2006. That year she was part of the team that won the NAIA titloe, her first of 3 national titles she won in college.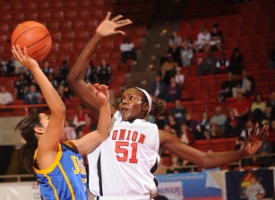 In 2008 she was selected as the TranSouth Conference Women's Basketball Player of the Week and also named Co-TranSouth Player of the Week.
In her final season Owino averaged 19.3 points and 8.5 rebounds per game, leading Union to their fourth NAIA national title and earning her second straight NAIA Player of the Year award.
Owino was part of three national title teams, including the 2005 title during her red-shirt season, the 2006 title as a freshman, and the 2009 title this season. During those five years, Union tallied a 21-2 national tournament record with the three titles and two semifinal appearances. She was named the 2009 NAIA Tournament Most Valuable Player and was selected All-National Tournament in each of her four years," the website says.
During her four playing seasons at Union, she racked up 2,240 points and 1,034 rebounds for a career average of 15.8 points and 7.3 rebounds per game. She was voted NAIA player of the year in 2008 and 2009. Her exploits attracted the interest of WNBA scouts who begun to attend her games.

In 2010 she was drafted by the Washington Mystics as the 28th overall pick. However after playing in preseason games, she was waived due to a combination of factors. Due to cost cutting, WNBA teams were reducing their roster sizes from 12 to 11. And the Mystics needed to replace guard Marissa Coleman who was injured.
Having missed out on a chance to play in the WNBA, Owino joined Turkish side Cankaya Universitesi  who play in the Turkey-TBBL. She played 17 games: averaging 9.4ppg, 5.9rpg, 1.1spg, FGP: 52.2%, FT: 57.1%. For the 2010-2011 she joined Dynamo-NPU Kyiv in the Ukraine-UPBL.